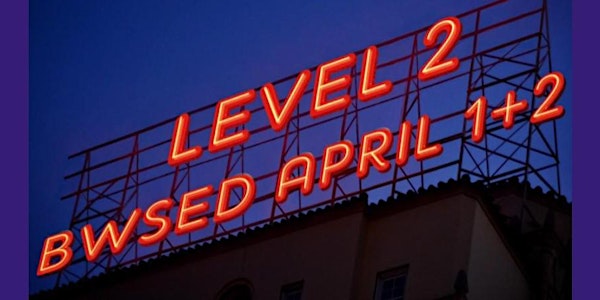 BWSEd Level 2: Certificate in Wine & Wine Tasting via Zoom
NOW NATIONWIDE! BWSEd Level 2 is a foundation course for experienced beginners and enthusiasts, ideal for wine lovers and wine pros alike.
About this event
1 day 4 hours

Mobile eTicket
So many people want to come to the Boston Wine School, but there's only one problem: not everybody lives in Boston!
Great news - we've fixed that! Now you can order your class wines online for nationwide delivery and experience that famously snob-free Boston Wine School education no matter where you live.
SATURDAY + SUNDAY, 1 - 5pm EST each day
ORDER WINES ONLINE for delivery at least one week before class
WHO SHOULD ATTEND Level 2 is a foundation course for experienced beginners and enthusiasts. It assumes basic exposure to wine and some technical wine tasting knowledge. This program is appropriate for both consumers and professionals in all wine, food, hospitality and service industries.
WHAT YOU WILL LEARN This program focuses on the unique role that place plays in the world of wine. Students will learn the major wine regions of Europe, how wine making techniques influence wine style, and the language of wine. The aim of Level 2 is to provide a broad range of knowledge about wine history, wine agriculture, and wine making.
LEVEL 2 PROGRAM FORMAT 8 hour program 16 wines tasted
LEVEL 2 PROGRAM SYLLABUS Veni Vidi Vino: Wines of Italy | The Language of Wine | Tour de France: French Wine Fundamentals | Wine & Food: Making the Perfect Match
TASTING SYLLABUS (tentative)
Part 1 Italy 2020 Tiefenbrunner Pinot Grigio | 2017 Oddero Barolo | 2018 Castello di Bossi Chianti Classico | 2018 Gulfi Sicilia Nero d'Avola
Part 2 Words 2021 Lubanzi Chenin Blanc | 2018 Altano Douro Red | Villa 2018 Sparina Barbera Monferrato | 2016 Bodegas Bodegas Muga Rioja Reserva
Part 3 France 2018 Domaine Caves Du Prieure Sancerre 2018 | 2019 Domaine Diochon Moulin A Vent | 2018 Chateau Nicot Bordeaux | 2016 Château d'Aigueville Côtes du Rhône Villages
Part 4 Food 2020 Bodegas La Cana Rias Baixas Albarino | 2016 Ponzi Willamette Pinot Noir | 2017 Klinker Brick Old Vine Zinfandel | 2017 Parducci Small Lot Mendocino Merlot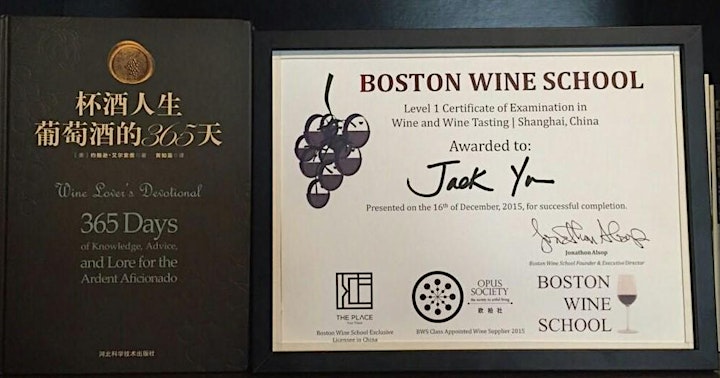 REGISTRATION REQUIREMENTS Guests, students and certificate candidates must meet the legal minimum age for the retail purchase of alcoholic beverages in the country where the program is being held: 21 in the USA and China.
CERTIFICATE REQUIREMENTS Complete classroom program | Complete classroom wine tasting exercise | Multiple choice exam of 25 questions | Minimum passing score 75%

ORDER WINES ONLINE
USA: We deliver to more than 90% of the population with no problem. Make sure to order your wines at least 10 days before class to assure delivery.
Other USA: There are a few states where it's legally impossible to ship wine: Utah, Kentucky, others. If you live in one of these states, you'll have to shop for your own wines, so please contact wineclass@bostonwineschool.com and request a shopping list.
International: Wine delivery is limited to the USA. If you live elsewhere, you'll have to shop for your own wines, so please contact wineclass@bostonwineschool.com and request a shopping list.
YOUR EDUCATOR
JONATHON ALSOP is founder & executive director of the Boston Wine School, author of The Wine Lover's Devotional and In Vino Veritas, and a commentator for National Public Radio on WGBH | Boston Public Radio and Under The Radar.
He began writing about wine, food and travel in 1988 and emerged as a wine expert through his syndicated wine column. He has contributed numerous articles to the Associated Press, Frequent Flyer Magazine, La Vie Claire, Beverage Business Magazine, Mobil Travel Guides, Fodor's Travel Guides, Boston Globe, and many others.
Jonathon founded the Boston Wine School in 2000 where he teaches wine and food classes in a dedicated 100% snob-free zone. His new book Wine Life: A Collection Of Verses will be published in 2023.