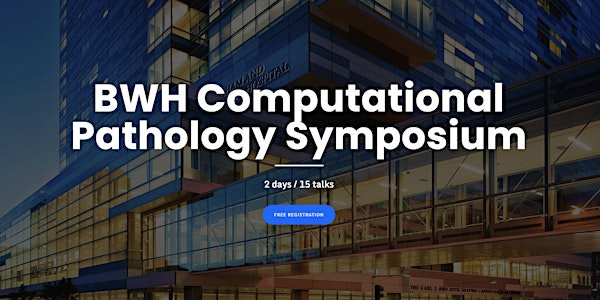 BWH Computational Pathology Symposium
Brigham and Women's Hospital Computational Pathology Symposium
About this event
Recent advances in computational pathology have led to a significant interest in AI-driven diagnosis, prognosis and therapeutic response and resistance predictions from gigapixel whole slide images. The goal of the symposium is to be a forum for exchange of ideas and knowledge between the Boston research community and the broader digital and computational pathology. The symposium features key speakers in this area who will present their research and we will use a Slack-based environment for broad discussions, questions and answers corresponding the work that would be presented at the conference.
Jeroen van der Laak - Radboud University Medical Center
Yinyin Yuan - The Institute of Cancer Research
Anant Madanbushi - Case Western Reserve University
Nasir Rajpoot - University of Warwick
Thomas J. Fuchs - Mount Sinai Medical Center
Joel Saltz - State University of New York at Stony Brook
Michael Feldman - University of Pennsylvania
Richard Levenson - UC Davis
Nicholas J. Durr - Johns Hopkins University
Pinaki Sarder - University at Buffalo, The State University of New York
Weijie Chen - FDA
Faisal Mahmood - BWH/HMS
Tae Hyun Hwang - Cleveland Clinic
Jakob Nikolas Kather - RWTH Aachen University
Moritz Gerstung - EMBL-European Bioinformatics Institute
Raj Singh - Northwell Health
Khalid Niazi - Wake Forest
Visit http://bwhcpath.com for more details.