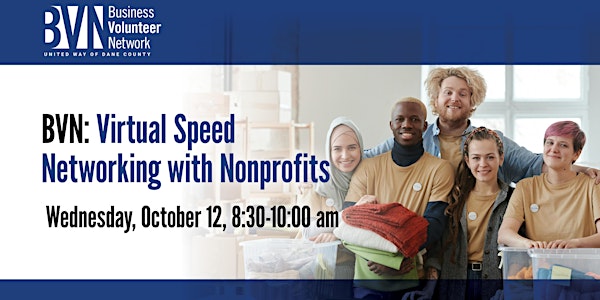 BVN: Virtual Speed Networking with Nonprofits
Unite our community and spark change through volunteerism by connecting local nonprofits and businesses.
About this event
Join us for a morning of speed networking between nonprofit leaders and Business Volunteer Network (BVN) members!
Wednesday, October 12, 8:30 – 10:00 am
For BVN members, this event will connect you with local nonprofits, their needs and how you and your colleagues can volunteer to help. For nonprofit leaders, this is a great opportunity to meet with BVN members, discuss volunteer opportunities with them and how their volunteerism will make an impact.
Event Schedule
8:30 am - Welcome
8:40 am - Review of speed networking and how breakout sessions will work
8:45 am - Networking
9:45 am - Closing remarks
10:00 am - Event ends
How Does it Work?
The structure of the event will be similar to speed dating. The nonprofits and BVN members will both be given a set of conversation points to cover, but please feel free to move your conversations off script. Each BVN member will be randomly matched with at least one or more nonprofit organizations, based on the number of BVN members some groups may have multiple nonprofits in their group.
Each BVN member/nonprofit group will have 5-7 minutes to connect, and at the end of each session, we will move BVN members to their next nonprofit group. Sessions will be held in breakout rooms via Zoom.
About BVN
The Business Volunteer Network (BVN) provides businesses with education, resources and networks to further their workplace volunteer programs. As champions of workplace volunteering, BVN strives to find the best volunteer opportunity to match employees' interest and passions. And believe that volunteering isn't just one day of service at a local charity for a few hours. It's about doing good for others, and making that belief a way of life.