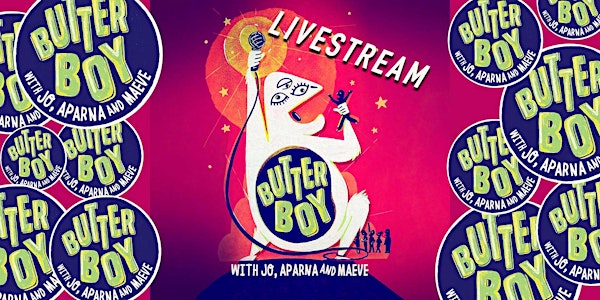 Butterboy: Live From Home! Streaming March 23
Description
WHAT IS BUTTERBOY?
Butterboy is a weekly stand-up comedy show hosted by three chuckle monsters every Monday in Brooklyn, NY. Each week they come clutching with them a horde of the freshest, silver-tongued comics and phone sex operators this world has to offer. Legends in their own right, these three friends, Aparna Nancherla, Maeve Higgins and Jo Firestone (or a mix of these three and/or guest hosts!) combine forces to host the funniest and best show in town! Accompanied by the musical stylings of our DJ Donwill and the sensual silence of a rotating Elvis impersonator, you won't want to miss it. Plus, find out which parts of this blurb are bold, unapologetic lies! Starting March 23, Butterboy will be available via live stream! Once you purchase a ticket, you will receive an email with a link to our unlisted YouTube stream. Please keep it a secret!

WHY ARE WE STREAMING?
In these difficult times, Butterboy wants to be sure that our fans and performers are staying safe! Because of this, we have pushed pause on our live weekly stand-up show in Brooklyn and we now bring it to you directly into your homes! Will it be weird to watch stand-up with no audience laughter? Probably! Will all of the performer's wifi connections hold up? Probably not! But will we all do our best to give you the funniest hour of comedy possible? Without a doubt! So please join us for this experiment in social distancing, comedy, and friendship.
WHERE WILL YOUR MONEY GO?
Your generous donation will go directly to the people making this show, both in front of the screen and behind the screen. It's no secret that many comedians and event producers make their living by entertaining live audiences. Your donations are paying our performers for their services of laughter as they are without a regular source of income. This income will help them maintain the most basic level of living. Some of our performers are all set and have asked that the money goes to those who need it most, so know that only those needing an immediate income will receive them. Plus...

DONATING A PORTION OF OUR PROCEEDS
10% of our proceeds will be donated to FOOD BANK FOR NEW YORK CITY (we will choose a new beneficiary each week).

WHAT SHOULD WE KNOW?
We are doing our best! We've had one test run for friends and family and the feedback was fantastic. Everyone has loved seeing comedians in their homes trying to figure out how to connect to an audience without seeing or hearing them. Of course tech issues may come up, but we're in great hands with our tech gurus Joshua L. Simon and Ben Leonard. As with our live shows, we ask that you do not record the show or redistribute in any way. We want this to be a safe space for our performers and a special event for our fans. Thank you for being here!
Butterboy is produced by Marianne Ways (MWAYS Productions LLC). Please email butterboycomedy@gmail.com with any questions.