Business Storytelling Masterclass & Deliberate Practice Program

Thursday, June 6, 2019 from 9:00 AM to 1:00 PM (MST)
Event Details
As a business leader, you are cranking out more content now than ever and it's important that it converts your customers. But chances are you're not being heard in our over-communicated world.
Now, you can join a select cohort of communicators who will learn three potent narrative frameworks to connect with people and move them to action.
Introducing the Business of Story 8-Week Deliberate Practice Program where you will learn to wield the applied science and bewitchery of storytelling.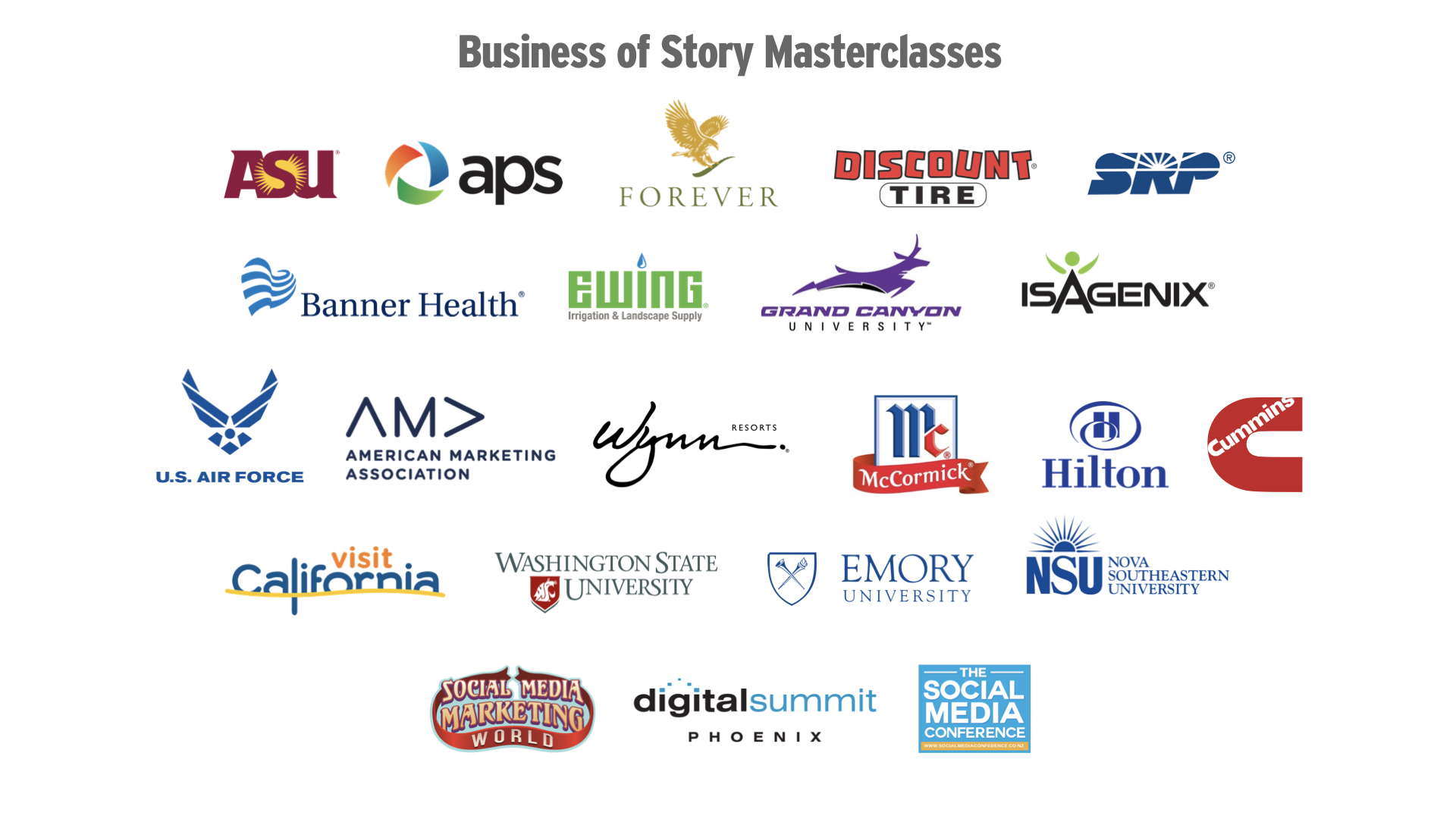 Learn how you can use three proven narrative frameworks including the Story Cycle System™ to develop powerful storytelling for everything in your business -- from clarifying your brand story to engaging marketing messages to converting customers to recruiting top talent and creating irresistible presentations and sales pitches.  
You'll clarify your story to distinguish you and your brand in a crowded, noisy world.
You'll amplify your impact by getting your audiences to care through the stories you share.
And you'll simplify your life: a focused story helps you say "No" to distractions and "Yes" to forces that support your journey.
What You'll Get From the Workshop + Deliberate Practice Program:
Half-day of business storytelling instruction and inspiration followed by 7 weeks of clarity as you refine your brand's story further


Learn how to increase your personal influence, clarify your professional story, and grow your organization, sales, and people  


An interactive DIY Business Storytelling Workbook to guide you through the proven 10-step Story Cycle process


A crystal-clear brand story aligned with your business' mission, values and position in the marketplace to share with customers and clients, employees, and investors


Better communication and presentation skills, both online and off


This Hands-On Storytelling Training is Right for You if:
You are struggling to find and articulate your core personal, professional and/or organizational brand story

Your team is dazed and confused about the direction of your organization and you need to get them to buy into your story

Your clients rely on you to be the most compelling communicator in the cacophony of communication we all compete in
What's the ROI of getting your story straight?
Take a look at some examples of past brands we've worked with and how their companies grew after they clarified their stories.
---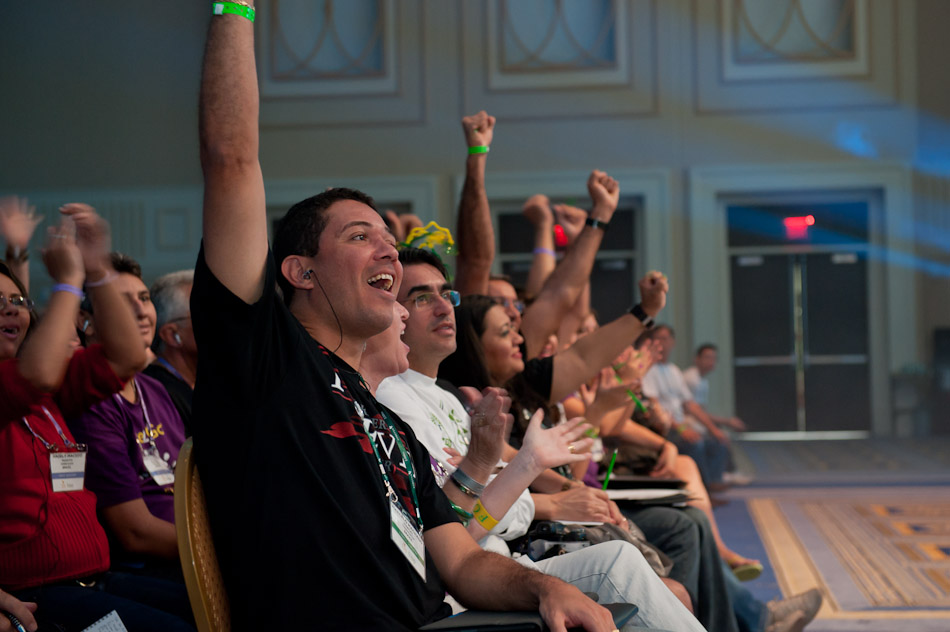 The Curious Design of our Storytelling Training
The deliberate practice program actually starts before week one. You will receive a pre-work assignment to familiarize you with the storytelling concepts and frameworks you'll be learning. Plus, you will determine three crucial elements of your brand story that will make your distinctive narrative shine (And that's before we even begin!).
You will also participate in our private Facebook group to commune with your cohort and learn from each other. Here you'll benefit from a wealth of additional Business of Story resources shared throughout our two-month story forum.
Then you will apply the three frameworks to your brand story elements during the half-day masterclass that kicks off week one of the 8-week deliberate practice programs.
After, pick Park's brain as he will be available until 2 pm to answer questions and provide additional direction.
Can't attend in Phoenix? Participate live via Zoom! We will send out a Zoom link before the conference so you can join us for the workshop if you can't be here in person.
8-Week Deliberate Practice Program
Your masterclass is followed by seven weeks of story assignments served up on the eLearning platform Thinkific.com. Each assignment takes typically 10 to 15 minutes to complete and is designed for you to immediately apply to communication challenges and opportunities. This is how you make storytelling a habit and grow as a more effective communicator.

Save your place now! The is a select cohort of communicators committed to growing as top storytellers. Seating is limited.
Can't attend in Phoenix? Participate live via Zoom! We will send out a Zoom link before the conference so you can join us for the workshop.
---


Testimonials
See Park in action and learn what people are saying about the Business of Story experience:
"Park's storytelling session blew our people away and immediately made them more powerful communicators." – Jennifer Russo, Director of Corporate Communications at Banner Health
"Your perspective on storytelling greatly impacted our newly appointed Air Force Brigadier Generals and Senior Executive Service Members. Equipping our senior leaders with this vital skill-set helps facilitate strategic messaging, influencing, and engaging audiences at every level." – David Goldfein, General, USAF Chief of Staff
"Park gave me the insight I needed to live into my most powerful story." — Anjella Crowe, Manager of Alliances & Partnerships at Silverline CRM.
"90 minutes in a workshop with Park Howell during Social Media Marketing World 2018 is changing EVERYTHING I write and touch this week from routine email to client proposals. EVERYTHING! Amazing." – Laura Bond Williams, Principal, Momentum Public Relations
"Park introduced me to the art of storytelling. He offers a very engaging and dynamic program that is a game changer for communicators. Check it out." – Colin Williams, Regional Communications Officer at American Red Cross
"One of the most gratifying comments I've heard (from multiple sources) was that no previous conference speaker has ever before known so much about IACP or so clearly understood who we are and what we do!!!!!!!!!!!!." — Talia L. Katz, JD Executive Director
"Thank you so much for the invaluable storytelling advice!! I'm now using your tips to stand out in my professional career." — Fernando Cruz Rio, Sustainability Leader
"Park Howell is a master storyteller, capturing his audience and inspiring listeners to learn how to best tell their own story. Our members raved about his presentation – you will too!" — Diane Brossart, President & CEO of Arizona Forward
"Park's presentation is a gift." – Ilknur Dönmez, Economic Development, Haarlemmermeer, NL
"Enchanting!" – Mary Ann Jacobs, Council for Logistics Research
---
Masterclass Agenda

Introduction & warm up 9:00 am

Why storytelling is more important now than ever to be heard and understood 9:15

ACTIVITY: Experience how humans are hardwired for story 9:30

Introduction to the And, But & Therefore (ABT) narrative framework to focus your story 9:40

ACTIVITY: Create and share individual ABTs and workshop them with your cohort 10:00

Introduction to ABT support stories and their five primal elements 10:30

ACTIVITY: Capture three moments/scenes that have shaped who you are today 10:50

BREAK: 11:00

ACTIVITY: Workshop the moments/scenes with the gathering 11:15

Introduction to the Story Cycle System™ 11:30

ACTIVITY: Crafting individual stories using the Story Cycle System™ 11:40

ACTIVITY: Workshop individual stories with the gathering 12:00
Deliberate Practice Program Agenda
Week 1: Half-day masterclass as outlined above

Week 2: And, But & Therefore assignment and worksheet to encourage daily use

Week 3: Using the five primal story elements to create your ABT support stories

Week 4: Outlining presentations, proposals and white papers using the Story Cycle System™

Week 5: Creating a narrative roadmap using the ABT, support stories and the Story Cycle System™

Week 6: Using brand descriptors to create story categories and organize your content

Week 7: Building your story library

Week 8: 60-minute video conference coaching session with you and the cohort to bring it all together
When & Where

Better Business Bureau Serving the Pacific Southwest
1010 East Missouri Avenue
Phoenix, AZ 85014


Thursday, June 6, 2019 from 9:00 AM to 1:00 PM (MST)
Add to my calendar
Organizer
Park Howell is a trusted brand story strategist and sought-after keynote speaker on story marketing. He has helped many international brands including Coca-Cola, Bayer Pharmaceutical, Cummins Diesel, American Express, and United States Air Force.
The widely popular Business of Story podcast helps leaders of purpose-driven organizations clarify their stories to grow revenue and amplify their impact. Each episode brings you the brightest content creators, advertising creatives, authors, screenwriters, makers, marketers, and brand raconteurs that show you how to craft and tell compelling brand stories that sell.
Learn more about working with Park Howell and getting your brand story straight through workshops or inspiring storytelling keynote presentations.