Business of Baking Sugar Cookies - The Basics Spring Session
What does it take to create sugar cookie masterpieces from scratch? How do you make royal icing? Considering selling your sweets?
Date and time
March 27 · 6:30pm - April 3 · 8:30pm CDT
Location
The Collective OK 239 N Broadway Edmond, OK 73034
Refund Policy
Contact the organizer to request a refund.
Eventbrite's fee is nonrefundable.
About this event
About the In-Person Class!
This class is for the beginner cookier or for the person who wants to learn how to decorate cookies for their family's special events. Creating custom sugar cookies is a work of art that you can learn how to do. If you are wanting to learn how to create and sell custom sugar cookies, this is where you should begin!
This is the first course in the series of three Business of Baking Sugar Cookies Courses. This course focuses on the tips and tricks to baking cookies and making royal icing. We will make different royal icing consistencies so that you can learn to outline and flood a cookie like a professional.
This class will take place on Monday March 27th 6:30 - 8:30 pm and Monday April 3rd 6:30 - 8:30 pm. Classes are at The Collective 239 N Broadway Ave, Edmond, Oklahoma.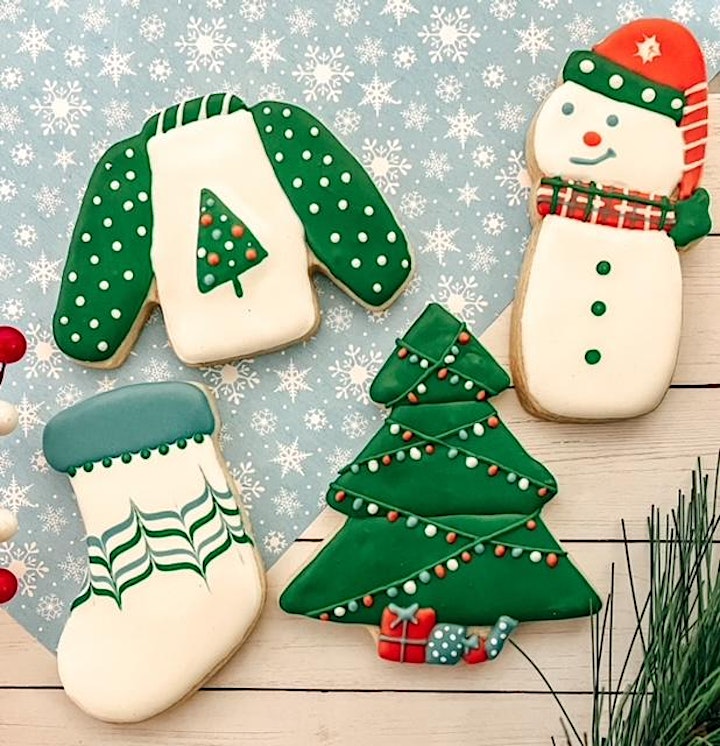 FAQ
Cookie Decorating Basics Class
Learn to make amazing, decorated cookies for your own parties or take your first steps to starting your own custom cookie business.
2 sessions 2 hours each
What you learn:
• Royal icing consistencies
o How to make different consistencies for different techniques
o How to color royal icing
o How to bag royal icing
o Types of bags, tips or no tips
o Different types of icing used in decorating sugar cookies
• Techniques
o Learn to flood like the TikTok influencers
o Outline
o Dipping
o Wet on Wet technique and when to use it
o Add some details
• Storage Tips
• Packaging Tips and Tricks
• Baking and Rolling Tips and Tricks
What You Will Receive to take home:
• Reusable practice cookie
• Scribe
• Starter icing bags
• Three Gel colors for class
• Royal Icing recipe
• Class book with space for notetaking
• One cookie cutter
FAQ:
Will we make cookies in class?
Not in this class, however, I will give you a reusable cookie to practice on and a cookie cutter that you can use to make a few cookies to bring to the second class for more practice.
Will we make royal icing in class?
I will provide the royal icing in the first class and we will make different consistencies and colors together in class. For the second class, you will bring your own royal icing and we will practice making different consistencies and colors together again.
What do I need to bring to class?
For the first class, I will provide everything you need. For the second class, you should bring to class:
• Class book
• Reusable cookie or a few cookies made with the cookie cutter provided on day one
• Royal icing that has not been separated out into consistencies and colors
• Scribe
• Tipless icing bags
• Your spatula, bowls, and cup for mixing and bagging icing
• A container to lay your cookies flat for transport home
Class 1:
Introductions
Royal Icing
Mixing
Coloring
Bagging
Outlines and Floods
Storage Tips
What to bring next week
Class 2:
Royal Icing
Mixing
Coloring
Bagging
Outline and Flood
Packaging Tips
Baking and Rolling Tips
Add Details to cookies
Where are the classes located?
This class will be held at the The Collective at 239 N Broadway, Edmond, OK.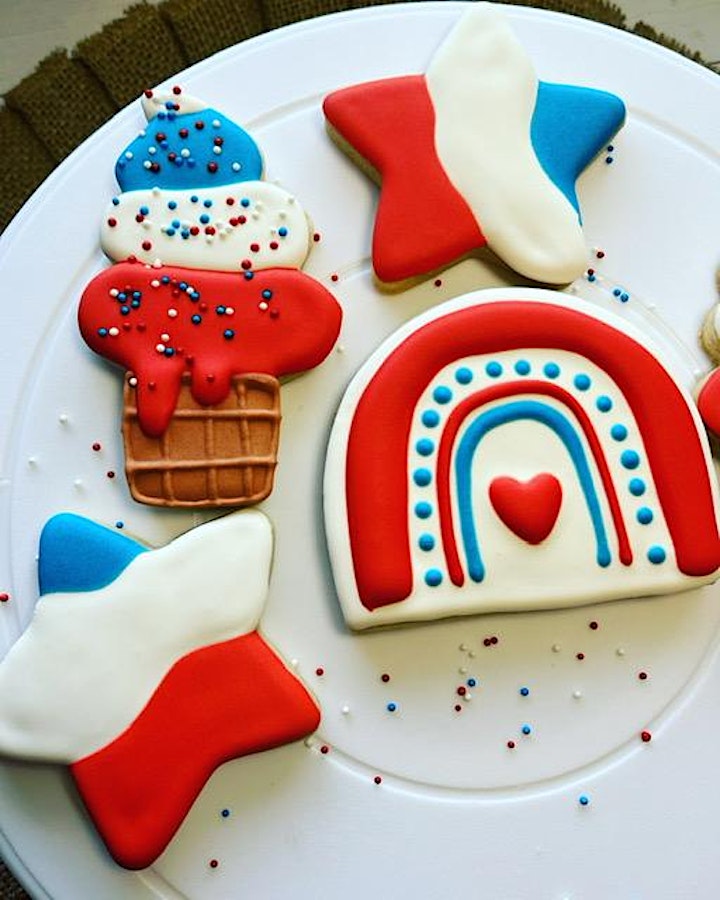 Covid / General Cancellation Policy for In-Person Classes:
While Oklahoma is on the up-swing with Covid cases, that still doesn't rule out that an attendee may come down with the virus. You will not be required to wear a mask throughout the class; however, you can choose to wear a mask if you'd like! If you are feeling sick or have a fever, please stay home and get better. Send me an email as soon as possible so that we can get you into the next available class. Email topthattreats@gmail.com
Showing Symptoms Before 5 Days Out:
If you're sick prior to the 5-day refund cutoff, you can cancel for a full refund! And might we say thank you for quarantine-ing (is that a word??). To request a refund through Eventbrite, follow these steps. Please note that Eventbrite will not refund their fees, so it will only be the amount of the ticket before processing fees.
Showing Symptoms After 5 Days Out:
For any sickness symptoms prior to your class's start time but after the 5-day refund policy, please email us before your class's start time, and we'll give you a credit for the next class!
You Don't Show Up Or Email Prior To Class:
If we do not hear from you before your class's start time, and you do not show up for class, we won't be able to offer you a refund or a credit regardless if you're sick. So please reach out to us if you're feeling sick before class starts!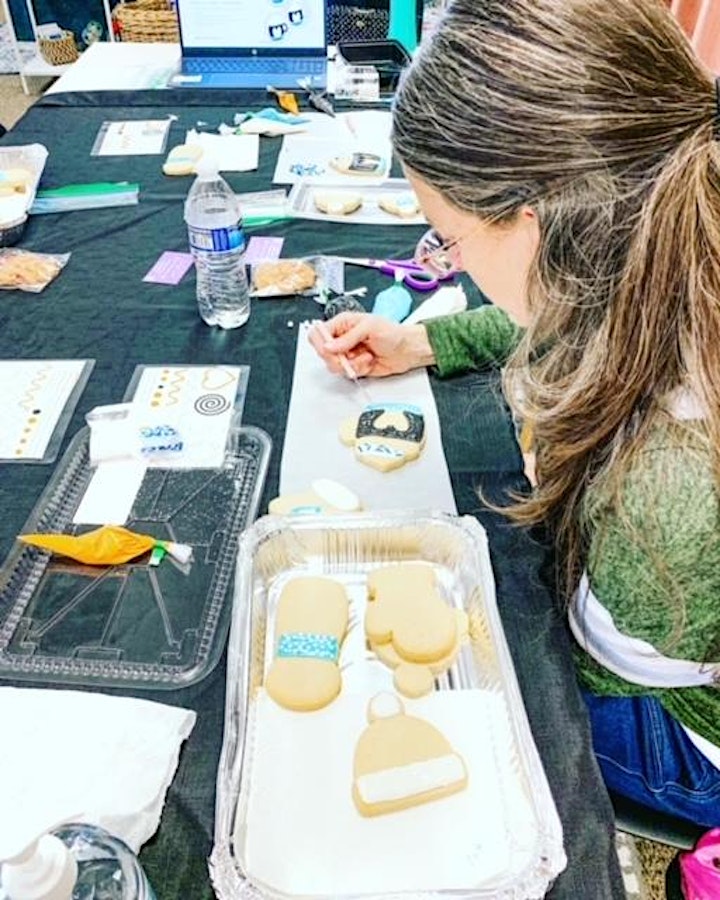 Allergens: Eggs, gluten, wheat, and dairy are present in the kitchen used to bake these cookies and icing. Please consider your allergies before registering.
Eventbrite Fees: Your ticket price includes your Eventbrite fees; however, Eventbrite does not refund fees. If you cancel your ticket for a refund, we'll give you a refund less the Eventbrite fee - since we don't get this back either. Eventbrite keeps it regardless if you show up or cancel. :( *sad face*