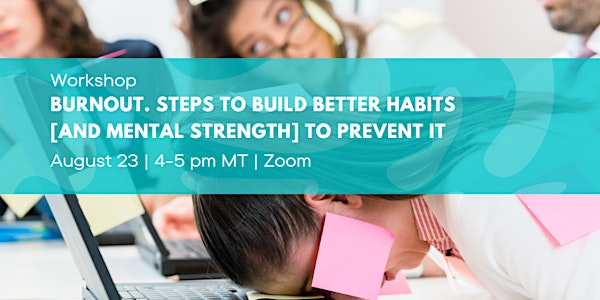 Burnout! Steps to Build Better Habits [and Mental Strength] to Prevent It
You are burned out. Full stop. Period. The end. We've got the event for you to get out of "burn out, but I keep working" mode.
Date and time
Wednesday, August 23 · 3 - 4pm PDT
Refund Policy
Contact the organizer to request a refund.
Eventbrite's fee is nonrefundable.
About this event
You're experiencing burnout, loss of productivity, or chronic stress and want to find a way out of it.
Let's help you identify what could be sabotaging your work, career, small business, or life performance.
You're going to do a little work inside this event to help you get over, under, and through it coming out unscathed and ready to put burn out to bed with certified leader Ivette Flower. Through a few exercises, you'll learn to apply simple techniques to your work and personal life, reducing your "self-sabotage," which you'll figure out before the workshop by taking a quick test.
In the end, you'll build powerful, long-lasting habits that stick and increase mental strength, sister. Yes. That's a thing. We learn to work our bodies for strength and health reasons but never learn to work our "brain muscle" to do the same damn thing using what's called, Positive Intelligence training. Google it!
Workshop Exercise:
Learn about the 10 saboteurs and how to identify your top 3
How to strengthen your mental muscle to change your brain's response to challenges
Use science-based tools to create long-lasting goals and habits, including "next steps" to get it done
Pre-Event Stuff
Find out what's sabotaging you right now. Take the short assessment before the workshop.
So what are saboteurs? They're the voices in your head that generate negative emotions in handling life's everyday challenges. They represent automatic negative thoughts, feelings, and response patterns. They cause all of your stress, anxiety, self-doubt, frustration, restlessness, and unhappiness. They sabotage your performance, well-being, and relationships.
Post-Event Offer! Goal-Setting Worksheet and an opportunity for a free coaching session to overcome your top saboteurs.
Sign up today. Space is limited.
About Our PresenterIvette Gonzalez Flower is a corporate speaker, trainer, certified leadership coach with the International Coaching Federation, and a Positive Intelligence Coach for individuals and teams. Ivette founded iFlower Solutions after experiencing burnout as a top-producing senior sales executive in business-to-business sales. For over 15 years, she ranked within the top 5% nationally and earned a 6-figure income working part-time. Her clients get more done in 12 weeks than most do in 12 months.
iFlower Solutions provides corporate training, workshops, and coaching to individuals and teams who want to reduce self-sabotage and level-up work performance. Check us out at iflowersolutions.com.
About SecondActWomen
Founded in 2018 in Denver, Colorado, by Barbara Brooks (56), SecondActWomen spurs the businesses, encore careers, and lives of women over 40. The pro-age membership community delivers high-level peer-to-peer professional and personal development programs, events, and tools to move dynamic women in their 40s, 50s, and 60+ forward to grow businesses, land jobs, and cultivate meaningful relationships.
Become a member today at secondactwomen.com and at @secondactwomen on Instagram and LinkedIn.
About the organizer
We're ReDefining Women 40 & 50+ 
We're a new type of membership community.
SecondActWomen is a social enterprise providing live and virtual development programs, online tools, and monthly meetups to help women 40 & 50+ reimagine what's possible in businesses, career, and life...and do it!
We host hands-on workshops, intensive boot camps, signature events, digital resources, and done-for-you tools for GENXBOOMER women to thrive in their second act.