About this Event
When: Tuesday, October 27, 2020
Time: 12:00 - 1:00
Where: via Zoom a link will be sent to you
Hosted by:
UCSF Staff Assembly, Administrative Management Professionals,Diversity & Inclusion Certificate Program Alumni, 4CI Staff Subcommittee
We are looking forward to seeing you there!
Presented by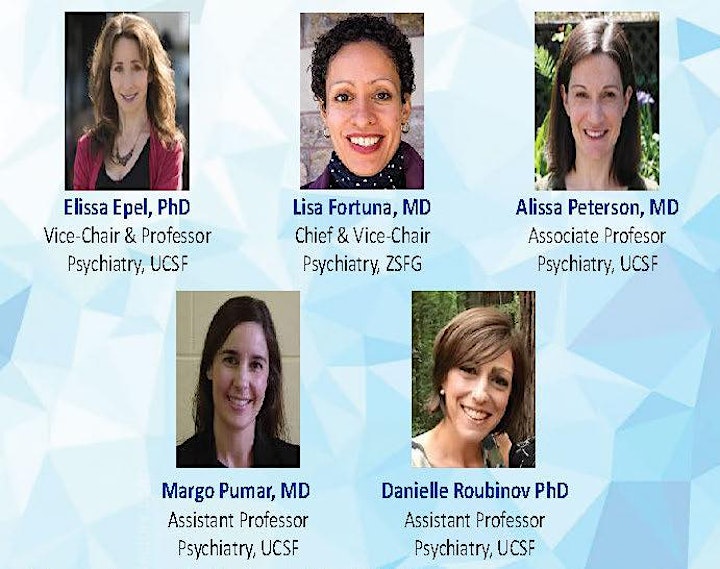 Presenters
Overview and Introduction - Margo Pumar, MD
Associate Clinical Professor in the Department of Psychiatry and Behavioral Sciences. Her clinical roles here at UCSF are in Perinatal Psychiatry and Transplant Surgery. She is also the Associate Medical Director for Integrated and Collaborative Care and the Director of Special Interventions for the UCSF Employee Coping and Resiliency Program developed in response to the Covid-19 pandemic.
Self-Care & Racial Trauma Amid the Coronavirus Pandemic - Lisa Fortuna, MD, MPH
Chief of Psychiatry at Zuckerberg San Francisco General Hospital and Vice-Chair at Zuckerberg San Francisco General Hospital/UCSF. Associate Professor of Clinical Psychiatry, UCSF. Dr. Fortuna is an NIH funded investigator for studies on Latino and immigrant mental health, integrated care, access to care and PI for Patient Centered Outcome Research Institute (PCORI).
Defining and Fostering Resilience - Danielle Roubinov, PhD
Assistant Professor in DPBS and Affiliated Faculty for Pediatrics, Child and Adolescent Psychologist, Member of the Center for Health and Community, Academic Researcher, recent pub, "How a Pandemic Could Advance the Science of Early Adversity."
Positive Coping During Uncertainty and the Upcoming Election - Elissa Epel, PhD
Professor and Vice Chair for Adult Psychology of DPBS She is the Director of the Aging, Metabolism, and Emotions Center, and Associate Director of the Center for Health and Community. She studies psychological, social, and behavioral pathways underlying chronic psychological stress and stress resilience that impact cellular aging. She is the President of the Academy of Behavioral Medicine Research, and co-chair of the Steering Council for Mind & Life Institute, and co-lead of the UCSF Task Force on Climate Crisis and Mental Health. She is involved in interventions for climate distress and activation.
Your Own Personal Surge Plan - Alissa Peterson, MD
Associate Clinical Professor of Psychiatry, clinical faculty at Zuckerberg San Francisco General Hospital (ZSFG) as an attending physician on the inpatient psychiatry service. Dr. Peterson serves as the Site Director for Psychiatry Residency Training at ZSFG and an Associate Program Director, in charge of clinical rotations, program evaluation, and faculty development. She is also a UCSF Medical School Bridges Coach