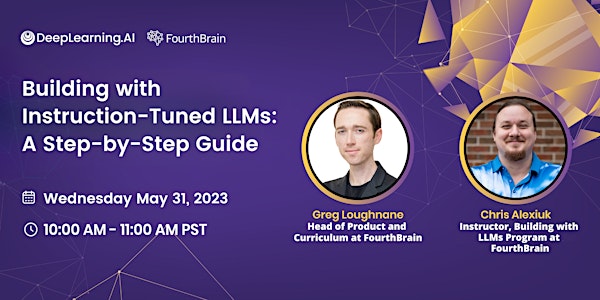 Building with Instruction-Tuned LLMs: A Step-by-Step Guide
Join us for an interactive workshop on Instruction-Tuned LLMs
Date and time
Wednesday, May 31 · 10 - 11am PDT
About this event
Following emerging LLM best practices in the industry, you'll learn how to take an instruction-tuned LLM off the shelf to create powerful AI applications using custom input-output fine-tuning approaches.
You'll see just how easy instruction-tuned LLMs are to leverage relative to base model LLMs. This event will also include an introduction to instruction tuning as well as the commercially available open-source models that are emerging on the Generative AI scene.
Who should attend the event?
Learners who want to leverage instruction-tuned LLMs in their AI Applications.
Learners who want to understand fine-tuning of LLMs and emerging best practices.
Learners who are interested in reviewing the best instruct-tuned, open-source LLMs.
Why should you attend the event?
To see an LLM AI application be fine-tuned and deployed to Hugging Face step-by-step.
To learn how easy it is to incorporate instruction-tuned LLMs into your applications.
This event is intended for those with knowledge of the basic principles of LLMs, including prompt engineering, and who are interested in using advanced supervised fine-tuning approaches to unlock capabilities that large pre-trained foundation models already have but are hard for users to access via prompt engineering alone.
Event Agenda
40-minute interactive workshop
10-minute Q&A: Taking live questions from the audience
How to attend the event:
When you register, you will receive a Livestream link via email three days before the event.
Can't attend the live YouTube event? Don't worry. Register now to get the recorded session after the live event.
​​About the instructors:
Dr. Greg Loughnane is the Head of Product & Curriculum at FourthBrain, where he leads their portfolio of Machine Learning Engineering and Machine Learning Operations (MLOps) courses. Over the past decade, he has worked as a product manager, data science consultant, and ML researcher, but his real passion has always been in teaching. He is fascinated by what the workforce of the future will look like and enjoys coaching young and career professionals on how to future-proof themselves against 21st-century technologies like AI and 3D Printing.
Chris Alexiukis an Instructor at FourthBrain, where he plays key roles in curriculum development, delivering live in-classroom demonstrations, and one-on-one student support, and career coaching. During the day, he's a Founding Machine Learning Engineer at Ox. He is also a solo YouTube creator who builds weekly with the latest and greatest Generative AI and LLM tools.
About FourthBrain
FourthBrain's mission is to bring more people into the growing fields of Machine Learning and Artificial Intelligence.
We are increasing the talent pool and enabling more people to make an impact in the field with our flexible, accessible education programs that create pathways to leading-edge ML and AI careers for engineers, data scientists, and business leaders.
Our graduates are a new generation of AI and ML practitioners who have more than just technical ability; they have an awareness and mindset of what is needed to create real value with end-to-end AI solutions at scale.
About the organizer
DeepLearning.AI was founded in 2017 by machine learning and education pioneer Andrew Ng to fill a need for world-class AI education.