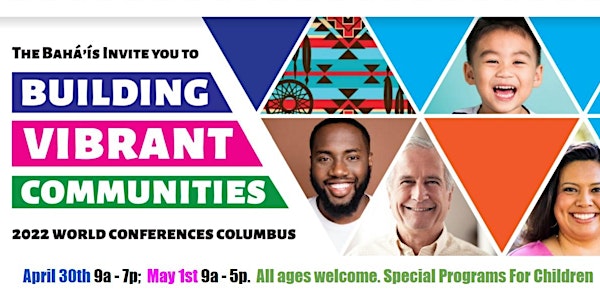 Building Vibrant Communities - 2022 World Conferences - Columbus
This is a free conference whose aim is to explore a unified vision for the betterment of the world.
When and where
Location
The Fawcett Center 2400 Olentangy River Road Columbus, OH 43210
About this event
The Building Vibrant Communities 2022 World Conferences Columbus is one of many gatherings being convened by Bahá'ís world-wide to strengthen our capacity as individuals, communities and organisations, to contribute to a better world, founded on our inherent oneness. The conference is focused on inspiring individuals and communities to release the potential that lies within to act. We will be exploring our journey thusfar, and how going forth we can better contribute to social transformation through:
Examing a vision for humanity
Building Vibrant Communities
Contributing to Social Transformation
This conference draws upon Baha'u'llah's teachings about the oneness of humanity, and its role in social progress and racial unity. Attendees can expect a gathering that welcomes diverse cultures in unity & loving fellowship. There will be presentations, small group discussions, devotions, music, food and more. Families are especially welcome, as are young adults and teens. Special programs will be offered for children.
If you're not happy with the world around you and have ever wondered what you can do to make a difference, we invite you to join with friends, families, colleagues, and neighbors, across Franklin County, to explore a unified vision for a better world.
Masks are optional, but highly recommended