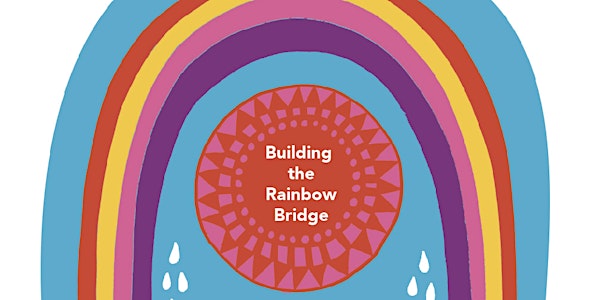 Multiple dates
"Building the Rainbow Bridge" by Rainbow Bridge Press
The Rainbow Bridge is a collaborative, color coded way to talk about love and different ways that people connect and build relationships.
Date and time
July 20, 2021 · 5pm - September 21, 2021 · 8pm CDT
About this event
"Building the Rainbow Bridge" by Rainbow Bridge Press
The Rainbow Bridge is a collaborative, color coded way to talk about love and the different ways that people connect and build relationships. We believe that love is the energy that connects living things.The Rainbow Bridge shines a light on the different ways we give and receive love and offers a new perspective and framework to build self-understanding, self-love, and self-expression. The Rainbow Bridge is a work in progress that currently includes a series of zines and related workshops. We hope you'll help us build the bridge!
Rainbow Bridge Press is exploring the facets of love through a prismatic perspective.
Lesley Numbers is a printmaker, teacher and mama who seeks to make the world a more joyful, beautiful and loving place. G agrees. Lesley and G are co-creators of Rainbow Bridge Press.
Each event has its own focus (some dates and colors have been updated):
8/3 Blue:
Ways of giving and receiving communicative love.
8/17 Green and Yellow:
Ways of giving and receiving friendly love and confident love.
8/24 Orange:
Ways of giving and receiving passionate love.
8/31 Red:
Ways of giving and receiving secure love.
9/7 Brown (6-8pm):
Ways of giving and receiving environmental love.
9/14 Pink and Gold (6-8pm):
Ways of giving and receiving purposeful love and rewarding love.
9/21 Rainbow (6-8pm) - All the Love
This event is open to anyone who participated in at least one of the ten previous Building a Rainbow Bridge workshops. In this workshop, we will envision and create a collaborative zine to share with the community.
Location:
Outside of the tiny house at the Garver Feed Mill.
Logistics and Accessibility:
Please bring your own chair, drawing/writing supplies and a notebook or journal. Some drawing supplies will be available. Events are for ages 18+, sensitive content might be discussed. Workshops include an overview of the Rainbow Bridge project, creative exercises and a zine. Up to 20 people per event.
Participants must be vaccinated. We will meet unmasked, outdoors, weather permitting. Please bring a mask.
One entrance to an optional space has stairs only (no ramp).
$10 suggested donation for the workshop and a zine.
Other Info:
In the event of bad weather, workshop will move indoors.
A Home Stretch Performance
Home Stretch is a "distributed festival" of small artistic acts taking place in Madison, WI between the summer solstice (21 June) and the autumn equinox (22 September). By appointment, local artists are offering intimate performances and other arts experiences throughout the summer.
In this time of transition between COVID lockdowns and eventual reopening, Home Stretch explores how forms of performance and other kinds of aesthetic sociality can help us re-learn how to be together.
The title Home Stretch refers less to the idea of the final part of a race, since the pandemic is far from over. Rather, it's about artists stretching their homes into public space, and the public stretching out of lockdown bit by bit. These art experiences are a chance to stretch both social and artistic muscles.
All events are free to attend, though some performers may pass a hat or request donations to specific causes. Information and registration is at homestretch.art.
Home Stretch is a project of Spatula&Barcode, a Madison-based arts collaborative devoted to conviviality, criticality and commensality. More information about Spatula&Barcode can be found at https://spatulaandbarcode.net/ and you can follow @spatcode on Instagram (if you post about Home Stretch on social media, we encourage you to use #homestretch).
Home Stretch is funded in part by grants from the University of Wisconsin Division of the Arts and the Madison Arts Commission, with additional support from the Wisconsin Arts Board.
About the organizer
Spatula&Barcode is dedicated to making events in which the performance of place and of hospitality are central aesthetic concerns. Discourse, food and swag are persistent elements of our work.
Spatula&Barcode was founded in 2008 by Laurie Beth Clark and Michael Peterson (both Professors in the Department of Art at University of Wisconsin - Madison).