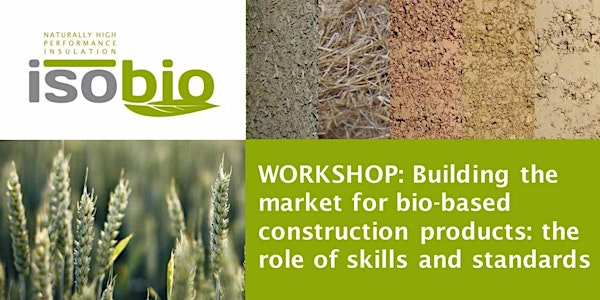 Building the market for bio-based construction products: the role of skills and standards
When and where
Location
Rue d'Arlon 63 Renewable Energy House 1000 Bruxelles Belgium
Description
The ISOBIO project is pleased to invite you to its third workshop, this time focusing on the importance of skills and standards for the take up of bio-based construction products.
Natural construction materials have made a revival in the past few years, in part due to their lower environmental impact. But in order for them to return to mainstream use, better product standardisation as well as skills training will be essential.
Join us and speakers from the sector to discuss current actions being taken and debate the way forward.
Agenda
12:00 Networking lunch
13:00 Sustainable construction: materials and methods
Mike Lawrence, University of Bath - ISOBIO: a radical approach to using natural construction materials at scale
Patricio Moreno, Acciona - Integrating the supply chain for natural materials

Valentin Colson, Cavac - Non traditional vs traditional insulation solutions: How to integrate bio-based materials into the French regulation

14:00 Skills and standards in bio-based construction: case studies
Rowland Keable, Earth Building UK and Ireland - Addressing the Gap: Skills Training Initiatives in the UK Earth Building Sector
Ken de Cooman, BC architects & studies - Breaking down the triangle client-architect-contractor: new building processes using in situ local materials
Ulrich Röhlen, The German Association for Building with Earth -

Building with Earth:

Standards and Skills in Germany
Howard Jeffrey, Skanska - The ECO-SEE project: Aims, challenges and preliminary results
15:30 Panel debate with speakers of the day
16:30 End