Multiple Dates
Building the Engine of Community Development in Detroit: 2020 Annual Summit
The Impossible is Now Possible. Another Us is Now Necessary. What Should Happen Next in Detroit's Neighborhoods? And Who Will Step Up?
About this event
All participants who register and attend the Summit will receive a $15 gift card!
ZOOM LINK NOW IN SESSION DESCRIPTION
JOIN BUILDING THE ENGINE FOR ITS 2020 SUMMIT: A VIRTUAL TWO DAY GATHERING OF DETROIT'S VOICES OF ALL AGES:
THE IMPOSSIBLE IS NOW POSSIBLE. ANOTHER US IS NOW NECESSARY. WHAT SHOULD HAPPEN NEXT IN DETROIT'S NEIGHBORHOODS? AND WHO WILL STEP UP?
Hosted by:
Alondra Alvarez, Congress of Communities
Orlando Bailey, BridgeDetroit and The Urban Consulate
Yusef Bunchy Shakur, Michigan Roundtable and Community Movement Builders
Session 1 was a powerful success. Join us for Session 2:
TODAY, December 3rd, 4:00p–7:00p
Breakout group discussions followed by a plenary discussion on priorities and next steps. And we added another breakout session!          
NEW! An Informal Conversation: Revolutionary Love Between the Generations - Facilitated by Orlando Bailey and Alondra Alvarez with Donna Givens, Madhavi Reddy and Maria Salinas
Policy and Politics in the Neighborhoods: The Detroiters' Bill of Rights Working Group - Bridging Communities, Inc., Villages CDC and Detroit Action.  Featuring Phyllis Edwards, Mac Farr, Council President Pro Tem Mary Sheffield, Council Member Raquel Castaneda Lopez
Development in the Neighborhoods: The Equitable Development Table - U of M, Deep Dive Detroit LLC, Building Community Value and Doing Development Differently in Detroit.  Featuring Trina Shanks, Lauren Hood, Chase Cantrell and Sam Butler 
Justice and Police Behavior in the Neighborhoods: Detroit Justice Center, Transparency and Police Accountability Coalition and Detroit Will Breathe.  Featuring Eric Williams, Gloria House/Aneb and Nakia Wallace
Equity and Property in the Neighborhoods: Detroit Future City and its Center for Equity Engagement and Research.  Featuring Kimberly Faison, Ashley Clark, Nicole Brown and Pier Davis
Mental Health in a Time of Virtual Learning: A discussion designed and facilitated by local students, by the 482 Youth Organizing Collective.  Featuring Surabhi Prasad and Amna Khalyleh
SESSION 2 ZOOM LINK:
https://us02web.zoom.us/j/89717255210?pwd=ZUtrM2VSQVVvMjNORW5hTjZKZXZHdz09
Meeting ID: 897 1725 5210
Passcode: 062450
Dial by your location
        +1 929 205 6099 US (New York)
        +1 301 715 8592 US (Washington D.C)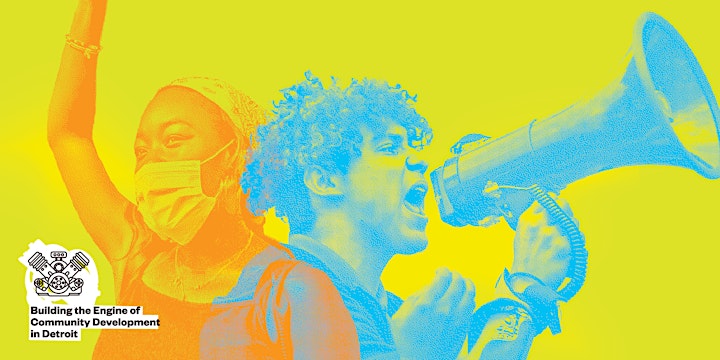 Organizer of Building the Engine of Community Development in Detroit: 2020 Annual Summit