Description
The job of discussing potential natural hazard risks and solutions—and motivating people to take action—is definitely not a "one size fits all" challenge.
In this course, participants will learn how to
•Respond to difficult questions with more confidence using social science and risk communication principles;
•Develop an effective risk communication strategy that incorporates these principles;
•Recognize differing values within their audience;
•Identify why people perceive and respond to risk the way they do; and
•Practice these new skills.
This is an exceptional, low cost training offered jointly by the Coastal Training Programs of the Elkhorn Slough and SF Bay National Estuarine Research Reserves, and NOAA's Office of Coastal Management.
Registration starts at 8:30, training will start at 9:00am.
Spaces are limited. Limited scholarships available, please explain need, email wetlands@sfsu.edu if interested.
We put a lot of time and effort into these trainings and expect those who register to attend. If you are unable to attend for any reason, please let us know immediately so that someone from the waitlist can fill your spot. No shows are highly frowned upon, and will jeopardize participation in future Coastal Training Program workshops.
Instructors:
Stephanie Fauver (stephanie.fauver@noaa.gov), meteorologist and training specialist, NOAA's Office for Coastal Management.
Gwen Shaughnessy (Gwen.Shaughnessy@noaa.gov) climate adaptation specialist, NOAA Office for Coastal Management.
What are my transport/parking options getting to the training?
Public transportation is easiest option.
Parking is also available in the SFSU parking lot # 20
http://parking.sfsu.edu/visitor-information
What is provided?
Coffee, tea, and light breakfast snacks will be provided, along with handouts.
All course materials will also be made available electronically.
Lunch is on your own, and there are many inexpensive options on campus, lines can be long so feel free to bring a lunch as well.
Where can I contact the organizer with any questions?
Wetland Science and Coastal Training Program Coordinator-Aimee Good, wetlands@sfsu.edu, 415-819-2073
Meeting Location:
We will meet in the Faculty Commons in the J.Paul Leonard Library, which sits on Holloway Avenue but opens to the quad (see red stars below).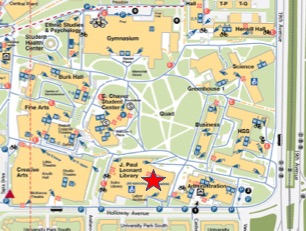 http://www.sfsu.edu/~sfsumap/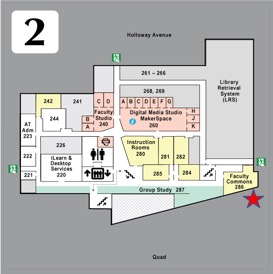 Faculty commons, Library 286 is on the SW corner of 2nd floor of library
https://library.sfsu.edu/second-floor-map