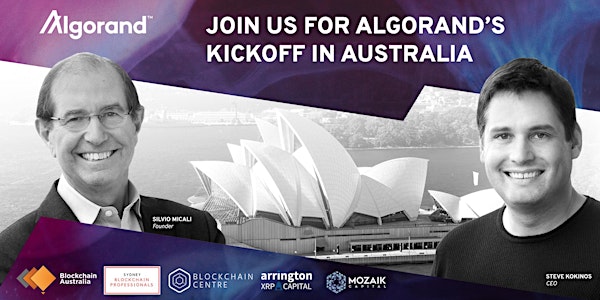 Building Products and Services for a Borderless Economy with Algorand
Event Information
Location
Fishburners
Level 2 11-31 York St
Sydney, nsw 2000
Australia
Description
Come along to learn how Algorand is driving Fintech Adoption of Blockchain Solutions.
Algorand's long-awaited Australian debut, hosted by Australian partners Mozaik Capital, Arrington XRP Capital, Sydney Blockchain Professionals and Blockchain Australia.
Algorand's founder and Turing Award winner Silvio Micali will present alongside CEO and entrepreneur Steve Kokinos, inviting the local and vibrant community of partners, developers and enthusiasts to join the project live.
Silvio and Steve will explore the financial use cases that are coming to life as blockchain technology and cryptocurrency markets continue to mature, as well as the capabilities that make Algorand technical stack exceptional.
More about Algorand
A first-of-kind technology platform, Algorand is built open-source project on three decades of computer science research, presenting a new platform built to scale for billions of users. Algorand represents a new milestone in the continued evolution of blockchain technology, purpose-built for businesses, technology builders and open-source developers with SDKs in Java, Javascript, Go and Python.
Since the launch of the Algorand mainnet in the middle of this year, the technology and use cases have continued to gain momentum globally, with a wide array of universities, validators, enterprises and developers embracing the platform.
We invite students, researchers, developers and blockchain enthusiasts to join us as we explore Algorand's vision for financial adoption as well as the unique technological advances underpinning the project.
**
What we'll do
6:00pm Arrivals & networking
6:30pm Presentation- Part 1 - A quick update on Algorand since Mainnet Launch. Achievements to date, roadmap for 2019 (smart contracts, developer tools, working with the international Swaps and Derivatives Association (ISDA), Launch of Vault, Pixel and Atomic Swaps)
7:00pm Pizza break
7:30pm Presentation- Part 2 - Panel Discussion - How does blockchain technology revolutionize trust within enterprise and capital markets?
8:00pm More networking
8:30pm Meetup ends

About the Speakers
Silvio Micali - Algorand, INC. (Founder)
https://www.youtube.com/watch?v=QOMpPZZeguQ
Silvio has been on the faculty at MIT, Electrical Engineering and Computer Science Department, since 1983. Silvio's research interests are cryptography, zero knowledge, pseudorandom generation, secure protocols, mechanism design and blockchain. In particular, Silvio is the co-inventor of probabilistic encryption, Zero-Knowledge Proofs, Verifiable Random Functions and many of the protocols that are the foundations of modern Cryptography.
In 2017, Silvio founded Algorand, a fully decentralized, secure, and scalable blockchain which provides a common platform for building products and services for a borderless economy. At Algorand, Silvio oversees all research, including theory, security and crypto finance. Silvio is the recipient of the Turing Award (in computer science), of the Gödel Prize (in theoretical computer science) and the RSA prize (in cryptography). He is a member of the National Academy of Sciences, the National Academy of Engineering, the American Academy of Arts and Sciences and Accademia dei Lincei.
Steve Kokinos - Algorand, INC. (CEO).
Steve is a serial entrepreneur, most recently co-founder and Executive Chairman of Fuze, where he was responsible for corporate strategy. Under his direction, the company transformed the way enterprises view collaboration as a key driver of business visibility, process improvement, and results. Today, Fuze has over 700 employees servicing over 1500 enterprise customers around the world.
Prior to Fuze, Steve was co-founder of BladeLogic, Inc., a recognized leader in the data center automation market with a Fortune 500 client list including GE, Time Warner, Microsoft, Cable & Wireless, Walmart, and Sprint, among others. Bladelogic held a successful IPO and was later acquired by BMC Software for ~$800M.
Code of Conduct
Be excellent to each other.
The goal of this event is to inform and provide a harassment-free experience for everyone.
Language or imagery which belittles individuals based on personal characteristics protected under the Australian Human Rights Commission Act 1986 is prohibited.
Our events are safe environments for the expression of personal work and ideas. Participants are required to provide feedback in a positive manner. Ridicule, bullying or personal embarrassment will not be tolerated.
Participants violating these rules will be sanctioned or expelled from the event without a refund at the discretion of the organisers.
If you are being harassed, notice that someone else is being harassed, or have any other concerns, please contact one of the events organisers. We will treat your claim seriously, and take immediate action.


Date and time
Location
Fishburners
Level 2 11-31 York St
Sydney, nsw 2000
Australia