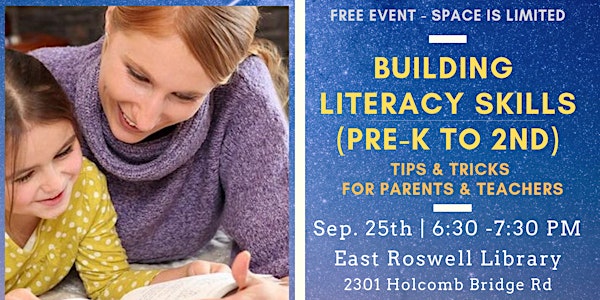 Building Literacy Skills: Tips and Tricks for Pre-K to 2nd Grade
When and where
Location
East Roswell Library 2301 Holcomb Bridge Road Roswell, GA 30076
Description
Learn the tips and tricks for building strong foundational reading skills in Pre-K to 2nd grade. During this interactive presentation led by Dr. Nora Schlesinger, parents and educators will learn how to prepare pre-readers and young readers for literacy success. Learn how to incorporate literacy skills through fun and engaging activities at home and school. And know what signs to look for in children who may be struggling with reading skills and how to help.
During this presentation, parents and educators will learn:
• Ideas for stress-free, fun, engaging activities you can do at home/school
• How to recognize the signs that a child is struggling with prerequisite or foundational reading skills
• Resources you can access after the presentation
Presenter: Dr. Nora Schlesinger was a classroom teacher for almost 20 years. She is a Certified Dyslexia Therapist and has a Ph.D. in Speech and Hearing Science from Arizona State University. She is currently an Assistant Professor of Literacy at Kennesaw State University in the Department of Elementary and Early Childhood. Dr. Schlesinger's research interests focus on reading and writing development and disorders, such as dyslexia and dysgraphia. Her research interests also include structured language instruction and training for preservice and in-service teachers and understanding the impact it has on children's literacy.
Outreach events such as this provide opportunities for individuals to connect in person with parents, educators, and others interested in learning and engaging in discussions about dyslexia and related topics. Outreach events are free and open to the public.
This outreach event is brought to you by the following like-minded groups and organizations:
The International Dyslexia Association (IDA) is a 501(c)(3) non-profit, scientific and educational organization committed to creating a future for all individuals who struggle with dyslexia and other related reading differences so that they may have richer, more robust lives and access to the tools and resources they need. Visit https://dyslexiaIDA.org.
The International Dyslexia Association Georgia (IDA-GA) offers information on dyslexia and evidence-based interventions, referrals, free outreach events, conferences, the Dyslexia Dash, and teacher training scholarships and grants. Visit https://ga.DyslexiaIDA.org.
North Fulton - Kids Identified With Dyslexia (NF-KID) is a parent group created to promote awareness of dyslexia to parents, teachers, and administrators. Our goal is to advocate for children with dyslexia and to provide a supportive community for families, helping to ensure that children with dyslexia and related learning disorders meet their full potential and soar to reach new heights. For more information about NFKID, visit https://www.facebook.com/NorthFultonKID/.
Decoding Dyslexia GA (DDGA) is part of a network of parent-led grassroots movements across the country concerned with the limited access to educational interventions for dyslexia within the public education system. Visit https://www.facebook.com/decodingdyslexiaga/.