Building Green Justice: Power, Discourse, and Community
Description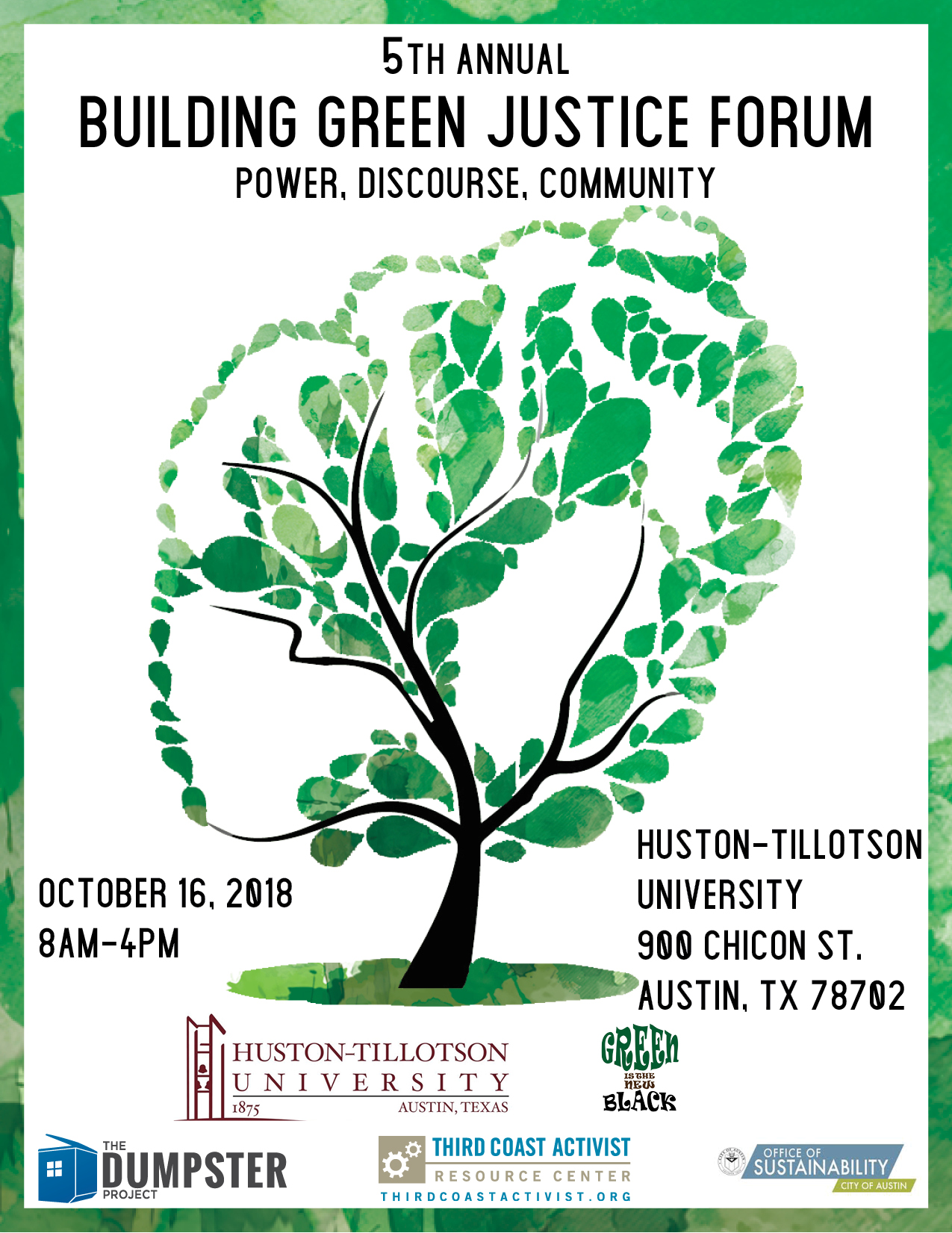 Overview
Huston-Tillotson University is hosting the 5th annual Building Green Justice Forum on Tuesday, October 16th. This year's theme is "Power, Discourse, and Community." The ways that we think and talk about environment, justice, and community affect how we create and access knowledge and power. Join us as we apply environmental justice principles to challenge conventional environmental movement approaches to knowledge and power across economic, literary, political, religious and scientific/technological frameworks. This year, we are excited to share that workshops, speaker sessions, and participant feedback will be used to generate instructional tools for HT's new Environmental Justice academic program. You, our BGJ community, will become part of the EJ curriculum to train our next environmental justice leaders at HT!
Schedule Overview
8:30-8:45 am | Welcome and Introduction
8:45-9:15 am | Historical Perspectives on Discourse, Community, Power: Theo Francis, Huston-Tillotson University
9:15-9:35 | Local Work Spotlight: Max Anderson and Vanessa Ramos, V&M Productions
9:45-11:15 | Panel: Power through Discourse: What can members of the EJ Community learn from each other?: Janis Bookout (Earth Day Austin), Kenton Hammer (Equitable Food Initiative), Kacey Hanson (Dell Medical Population Health), Shannon Jones (Austin Public Health, retired), and Shawanda Stewart (Huston-Tillotson University, with Alaine Hutson moderating.
11:20-12:30 | Lunch and Networking
12:30-1:30 | Facilitated Feedback and Discussion: Karen Magid and Amanda Masino, Huston-Tillotson University
1:30-2:30 | Afternoon Keynote: Building Green Justice with Raj Patel, University of Texas at Austin LBJ School of Public Affairs
2:30-4:30 | Concurrent Workshops: Dealing with a Silenced EPA, led by Israel Anderson (EPA, retired); Faith and Environmental Justice led by Mike Clawson (New Story Initiative); Critiquing Texas Pollution Benchmarks led by Andrew Dobbs (Texas Campaign for the Environment); Writing and Speaking on Public Policy with Robert Jensen (UT Austin School of Journalism); New Leaf Regenerative Agriculture with Wandaka Musungera (Multicultural Refugee Coalition), Restorative Community Building with Gina Tillis (Huston-Tillotson) and Donna Hoffman (Blackshear Bridge).

All events will take place on the Huston-Tillotson University campus, 900 Chicon St., Austin, TX 78702.
All sessions in Dickey-Lawless except for lunch in the Davage-Durden Student Union

Event Logistics
Parking: free and open in the HT lot on Chalmers Ave. The west entrance to campus is directly across from the parking lot. To making a campus parking request in advance, please contact the Forum organizers.

Sponsorships
The forum is brought to you by Huston-Tillotson University, Green is the New Black, the Dumpster Project, Third Coast Activist Resource Network, and City of Austin Office of Sustainability.
Please contact Co-Organizers Amanda Masino (ammasino@htu.edu) and Karen Magid (kmagid@htu.edu) for more information on tabling, sponsoring, and attending.