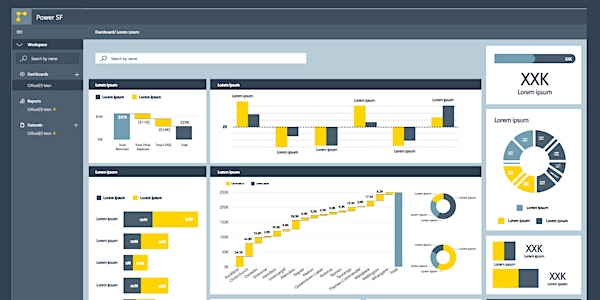 Building Effective Dashboards with Microsoft's Power BI
Use this free webinar to learn how to create dynamic, interactive dashboards using Microsoft Power BI
About this event
On August 30th (Tuesday) at noon CST, Novastratus will be hosting a free 90-minute technical webinar demonstrating how Power BI can be used to create an advanced analytics dashboard.
Organizations today want to use their data to understand company performance and help predict future opportunities. Microsoft's Power BI tool makes data analysis a tool that the average business user can master. The idea is to get the software for analytics out of the programmer's department and into the hands of the business owners making the critical decisions.
Dashboards are an easy way to summarize massive data that can be hard to digest. This webinar will show how users can create interactive dashboards that track company performance. We will show ways to put together visuals that allow executives a simple glance to know if the company is on-track and running optimally. This webinar is about 90% demo with very little PowerPoint.
This webinar is not a high-pressure sales event but a technical deep dive into Power BI Dashboards. Novastratus does sell training and services around Microsoft's Power Platform (which includes Power BI), but we will not spend more than 5 minutes discussing our offerings. So instead, this webinar will be a deep dive into creating and publishing analytic dashboards. The presenters will also take live questions throughout the webinar and stick around after answering any individual questions.
Here is what the session will cover:
• Connecting to large data sources and making them relational.
• Creating measures and calculated columns to analyze data more efficiently
• Laying out the dashboard with Key Metrics
• Adding interactive visuals to the dashboard to tell a narrative story
• Setting filters on visuals to control the narrative
• Using Microsoft's AI/ML libraries for deep analysis
• Formatting the dashboard graphically for readability and design
• Publishing the dashboard within your organization for consumption
Power BI is a small but critical piece of Microsoft's Power Platform products. Come to this webinar to learn why organizations everywhere utilize Power BI for data analytics.
Register now to reserve your seat for this free compelling event.