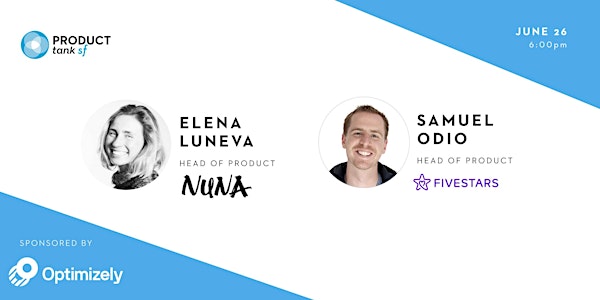 Building an Effective Strategic Vision for Your Product & Team
When and where
Location
Optimizely HQ 631 Howard Street #100 San Francisco, CA 94105
Description
In this edition of ProductTank SF, you'll hear Elena and Sam's techniques for creating a tangible strategy that helps align your team and drive your product forward.
About the Talks:
The Power of 7 - Getting to Organizational Alignment through Vision and Principles
by Elena Luneva
If the company does not have a clear direction, all opportunities sound like good opportunities. The way to get to organizational alignment is by creating a clear vision, strategy, and product principles. Elena's talk will enable you to work with your teams to align on where you are going and develop the frameworks to help your team make decisions. You'll define at least 7 formats to level up your vision and principles from artifacts to tools each person building your company can use for organizational alignment.
You Need a Product Strategy
by Samuel Odio
You just found yourself responsible for a product (or worse, a team and a product). You think it's not doing well and it could be better. You need a plan that's better than "fix it; show ads." You've heard of this thing called strategy from your MBA friend, but it all seems very theoretical and frankly, a waste of time. After all, what's more important than the user?


Most resources today on strategy aren't very helpful, causing many product managers to overlook strategic thinking entirely. If you think SWOT analyses, Ansoff matrices and other strategic frameworks are MBA jargon, but at the same time want to develop a clear sense of what's next for your product, this talk is for you.
---

About the Speakers:
Elena Luneva, Head of Product, Nuna
Elena Luneva is a people-centric product leader that empowers teams to ship products that matter and scale the business. She has a strong track record of delivering products, scaling global businesses and building teams across BlackRock, Opentable, LiquidSpace, and Nuna. Elena is a valued partner in the e-suite to drive focus, alignment and make tough decisions. Elena currently serves as an advisor to Founders and C-Suite executives guiding them through product viability, team alignment, customer centricity and hiring diverse teams. She is a coach to the next generation of product leaders. Elena holds a B.S. in both Computer Science and Biology from New York University and an MBA from New York University and London Business School.
Samuel Odio, Head of Product, Fivestars
Sold two companies. Now sweeping floors at Fivestars.
---
Thanks to our sponsor Optimizely!