Virtual event discussing business solutions to climate change and envisioning a new future focused on the elements of equity and access.
About this event
Building a Resilient Future Through Responsible Business is the first event in a new quarterly series of mini-conferences offered by the Changemakers Coalition of Colorado. This two-hour virtual event will explore business driven solutions in the themes of environmental justice, sustainable urban development, climate change, and supply chains. Attendees will have the opportunity to choose what topics they find most interesting with our breakout sessions, and will walk away with inspiration and actionable ideas on how to drive change as individuals, in their businesses, and as a collective community of changemakers.
The Changemakers Coalition of Colorado's goal is to provide high-quality educational content to all of Colorado's unique business communities. We will strive to keep our events free and accessible to all. Please consider making a donation to support our efforts.
AGENDA:
10:30am: Welcome and Plenary - 25 min
Plenary Speaker: Gloria Neal, Director of Public Affairs, Office of the Mayor, Michael B Hancock
10:55am: Transition/Break - 7 min
11:02am: Breakout Sessions – 66 min (choose one)
Session A: Building Resilient and Just Communities: This session will explore the topic of community resilience from the perspective of sustainable and urban development, and how vulnerable groups have been impacted or may continue to be impacted by COVID-19 from a community perspective. Attendees will hear examples of best practices in Colorado and how they can help make their community resilient and just, from the personal, business, and community perspectives.
Session B: Localized Impact: The Crucial Role of Socially & Environmentally Responsible Supply Chains: This session will explore the many angles of the food system, including the interdependency of food chains, people, and business, and how this influences the creation of equitable food access for all. Hear from leading academic and business experts in the field of responsible food supply chain management and learn how to apply their best practices in your industry. This session will feature a case study of Danone's work in the field, their lessons learned, and how to make lasting impact.
12:08pm: Break - 7 min
12:15pm: Closing Discussion & Looking Forward - 15 min
Closing Speaker: Lori Pace, Associate Broker, Kentwood Real Estate // Inclusion Consulting Specialist
12:30pm: Event Ends
ABOUT CCC:
Who are we? The Changemakers Coalition of Colorado (CCC) is a new cross-sector partnership of the State's foremost organizations working to support responsible and sustainable business in the front range. We are the collective voice of B Local, Best for Colorado, the Center for Ethics and Social Responsibility (CESR) at Leeds, Good Business Colorado, and the Masters of the Environment (MENV) graduate program at CU Boulder. We represent the intersection of business owners, students, educators, legislators, employees, and conscious consumers who care about their communities and the environment. The CCC brings together the specialized knowledge and perspectives of each organization to create high quality content and events that will catalyze deeper collaboration and impact amongst all changemakers of the Colorado sustainable business community.
Our goal: We seek to unite and activate the incredible community of responsible business changemakers in Colorado in order to magnify our collective voice and impact through enriching events and networking opportunities. Our programming focuses on the activation of the responsible and sustainable business community through relevant education, collaboration, and actionable takeaways for all who participate.
Who is our programming for? The CCC is for anybody passionate about making the world a better place than how they found it. We believe that one of the best ways to create large-scale and lasting change in our communities and environment is to improve one of the biggest systems in the world - business. Responsible business comes down to the individuals that make up businesses - employees, leaders, and consumers. Whether you're a seasoned entrepreneur, a student, a community member, or a future leader, your voice is welcome here. If your interest in sustainability and responsible business has just begun, and you want to know more, you are also welcome here. Here are some of the people we engage with:
B Corps and Benefit Corporations
Interdisciplinary professionals and practitioners who are already doing CSR/Sustainability work, and those who are interested in the field, or want to pitch a sustainability initiative at their workplace and don't know where to start
Members of historically underrepresented communities in the sustainability and business sectors, including BIPOC
Learners and educators - both current and alumni of academic programs, including students at our partner programs MENV and CESR at University of Colorado Boulder
Community members, artists, and activists
Legislators and local politicians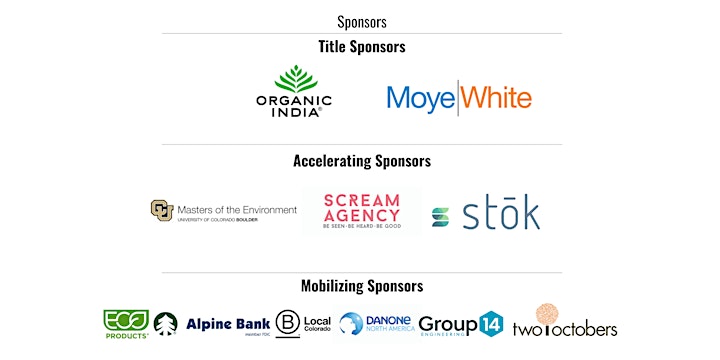 Organizer of Building a Resilient Future Through Responsible Business