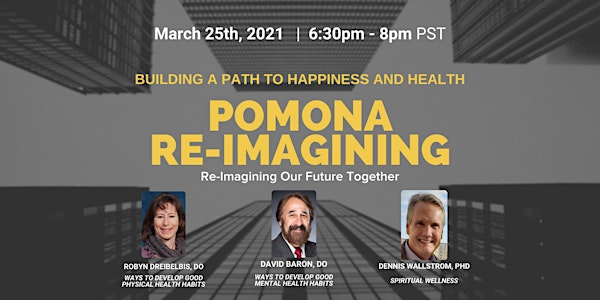 BUILDING A PATH TO HAPPINESS AND HEALTH
BUILDING A PATH TO HAPPINESS AND HEALTH
About this event
Pomona Re-Imagining Invites You to - BUILDING A PATH TO HAPPINESS AND HEALTH
Thursday, March 25, 2021 | 6:30 p.m. to 8 p.m. PST
Wellness matters. Everything we do and feel impacts—and is impacted by—our well-being.
Optimal wellness keeps us relaxed, healthy and positive. To achieve community well-being, we need to build individual and family well-being.
Experts will share the common traits of "super-well" communities around the world and why they are so well. They will share the tools, techniques, and resources to allow all of us, together, to transform Pomona into such a community.
Our community partners will be asked to lead "listening sessions" to learn the top wellness priorities of their constituent groups. This feedback will equip Western University of Health Sciences and other vital partners to:
Build a Pomona community wellness program and resource network
Establish achievable and measurable community wellness goals
Track progress to further support community wellness.
Presenters:
Robyn Dreibelbis, DO – Ways to Develop Good Physical Health Habits. Examples from Blue Zones project, Framingham Heart Study and Lebanon Health Study/Live Longer Lebanon
David Baron, DO – Ways to Develop Good Mental Health Habits. Managing Stress, Meaningful Relationships, Nuances of Control, Engaging in Stimulating Mental Activities
Dennis Wallstrom, PhD – Spiritual Wellness. Meaning, Purpose, Sense of Balance and Peace, Integrating One's Values & Beliefs with Bettering Oneself and the Community at Large.