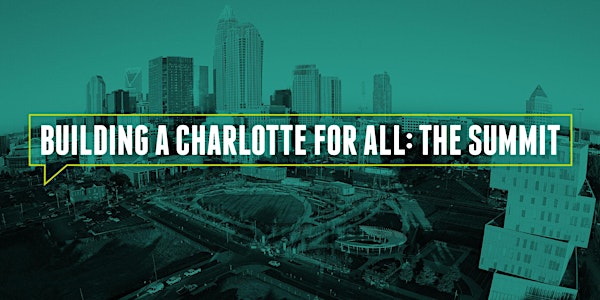 Building a Charlotte for All: The Summit
Join us Saturday, January 11 for a special one-day summit focused on equitable development in Charlotte.
When and where
Location
UNC Charlotte Center City 320 East 9th Street Charlotte, NC 28202
About this event
As someone working and advocating for equitable development in Charlotte, please join us and fellow practitioners, city leaders, and interested citizens for this special one-day summit. Together, we will honor and be inspired by our respective work in the space as well as work to develop common tools and language to help us accomplish our equitable development goals for the City.
With the CharlotteFuture 2040 Comprehensive Plan, the 2040 Center City Vision Plan, and the Mecklenburg County Parks and Recreation 10-Year Master Plan all underway, it is essential that we understand how we can work together to advocate for generation-shaping policy that leads to true equitable development in Charlotte.
Over lunch, we'll hear from our keynote speaker, Jay Pitter, MES, an award-winning placemaker and author whose practice mitigates growing divides in urban centers across North America. "Cities are becoming increasingly divided," Jay writes. "Public spaces have the power to foster understanding, inspire meaningful community participation and ownership, and instill joy. Every park, market, street, and alleyway is a litmus test for belonging."
See the full schedule below. Upon registering, you will be asked to choose which session you would like to attend for breakout session A and breakout session B.
Building a Charlotte for All: The Summit Schedule
9:00 - 9:30 a.m. Check-in
9:30 - 10:00 a.m. Kick-Off Presentation from Assistant City Manager and Chief City Planner Taiwo Jaiyeoba
10:15 - 11:45 a.m. - Breakout Session A. Choose one of the following sessions:
TRANSPORTATION IS FREEDOM: A BROADER VIEW ON AFFORDABLE LIVING, led by Sustain Charlotte. It's no secret that the Charlotte area is becoming a more expensive place to live. In this session we'll explore ways to build communities and support transportation choices that reduce the cost of living a healthy, connected, and opportunity-rich life. Participants will learn how to assess their own neighborhoods, partner with other neighborhoods, and use effective tools to build a more equitable Charlotte.
WHY CHARLOTTE NEEDS AN AFFORDABLE HOUSING AND ECONOMIC EQUITY COMMUNITY PLAN, led by Equitable Communities CLT. Join Equitable Communities in a discussion of Why Charlotte Needs an Affordable Housing and Economic Equity Community Plan. We will touch on how history laws & policies have created the situation we have today. The discussion will include what is the current state of activity surrounding affordable housing, wage disparity and how growth is impacting the City and County. The primary topic to be discussed is how may a Community Plan focusing on Affordable Housing and Economic Equity help achieve better results for the Community. We will wrap up the session with ways to take action. This will be an interactive discussion session.
WE ARE CREATIVE INTERVENTIONISTS: ADVOCACY, COMMUNITY AND CREATIVE SPACE, led by the League of Creative Interventionists. The League of Creative Interventionists uses art and culture as a tool to reimagine the social and physical landscapes of our cities. This workshop will review our methods, share strategies for developing location-specific projects, and help participants imagine a project that can work for their target communities.
12:00 - 1:30 p.m. The Future of Placemaking is Equitable. Award-winning placemaker and author Jay Pitter will share her evidence-based placemaking principles, stories, and lessons from brilliant local leaders for creating inclusive public spaces.
Boxed lunch will be provided
1:45 - 3:00 p.m. Breakout Session B. Choose one of the following sessions:
PLACEMAKING ACTION PLAN WORKSHOP, led by Jay Pitter, MES. Vibrant public spaces are predicated on equitable participation and the collective vision of local communities. However, critical placemaking processes are often driven by a small number of decision-makers a select group of community leaders. As cities continue to grow and become more diverse, public spaces will play a greater role in ensuring the safety, mobility and belonging of all residents. This workshop will provide placemakers with tangible tools for achieving this goal. Everyone will have the opportunity to apply equity-based placemaking principles to their important projects. Participants will receive an action plan template, check list, terms of reference and individual project feedback.
SUSTAINABLE COMMUNITY WEALTH BUILDING, led by the West Boulevard Coalition and the Three Sisters Market. This session will be focusing on creating opportunity for institutional investment in corridors. Recent work by the West Boulevard Coalition will be used as example cases including the West Boulevard Playbook and Three Sisters Market.
3:15 - 4:00 p.m. Summit Wrap Up led by the City's Planning Development and Design Staff
Parking: The gravel lot next to UNCC Center City is typically $5. There are other lots at 7th St. and Brevard, metered spaces on the street and 7th Street Parking Deck. Metered parking spaces are free on the weekends!
Building a Charlotte for All: The Summit is presented by Building Community CLT: People + Places + Partners in partnership with Equitable Communities CLT, League of Creative Interventionists, Sustain Charlotte, West Boulevard Coalition and the Three Sisters Market.
Building Community: People + Places + Partners is brought to you by Center City Partners, The City of Charlotte, and The Knight Foundation.