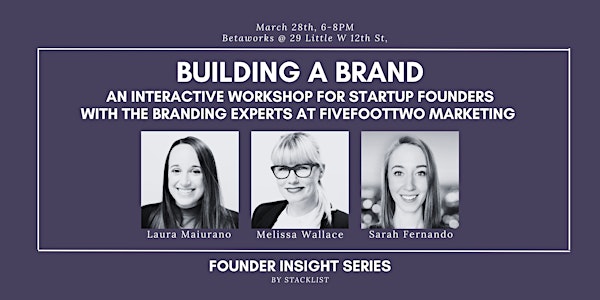 Building a Brand: An Interactive Workshop for Startup Founders
A 2-hour interactive working session led by startup branding expert Melissa Wallace and the team at Fivefoottwo Marketing.
Date and time
Tuesday, March 28 · 6 - 8pm EDT
Location
Betaworks 29 Little West 12th St. New York, NY 10014
About this event
Stacklist's Founder Insight Series is focused on branding for early-stage startups on March 28th! We're hosting an interactive workshop where founders will get professional instruction on the nuts and bolts creating their brand.
Why is this important? The more effective your brand is, the more customers will understand what you're offering, remember you and want to work with you. An effective and powerful brand is one that reflects who you are, communicates your identity to your audience and conveys the a message and tone that is reinforced at every consumer touchpoint. Here's what we'll cover
All the tools needed for building a brand house (vision statement, mission statement, company core values)
A brand personality and voice traits
A positioning structure: Competitive analysis, Persona development, Positioning Statement, Value proposition (customer facing message)
Framework for all messaging moving forward!
This workshop will be led by Melissa Wallace and the team at Fivefoottwo Marketing. Melissa has over 25 years of marketing experience from her consumer, B2B and creative agency background primarily focused in new technology and entertainment. While Melissa has held positions at consumer brands such as Superfly, DIRECTV, A&E and eMusic, she is widely recognized for her success in rebranding and accelerating the marketing strategy at Buddy Media (acquired by Salesforce.com for $689M). In 2018 Melissa partnered with Laura Maiurano to launch fivefoottwo, a Marketing Collective supporting early stage startups.
About the Founder Insight Series
Powered by Stacklist, The Founder Insight Series is a weekly series of panels dedicated to helping early-stage entrepreneurs get tactical lessons, advice and ideas from people who are farther ahead on the path. Each discussion is designed to ensure all attendees gain tools they can implement immediately and strategies they'll use forever. 
About the organizer
Stacklist is a community wide movement of startup founders sharing the tools they use to grow to help other entrepreneurs make faster, better decisions about business tools.