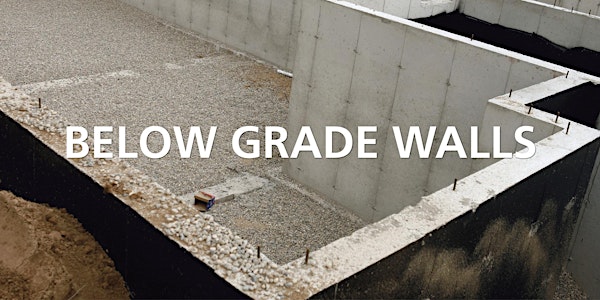 Building a better basement
Learn to build a better basement by examining primary issues, understanding the physics, and identifying successful strategies.
Refund Policy
Contact the organizer to request a refund.
About this event
DESCRIPTION
In this on-demand webinar we will take a hard look at below grade walls and what it takes to properly manage the potential for bulk water intrusion and keeping the indoor environment dry, healthy, and safe. We will look at the primary issues; condensation and bulk water intrusion. Understanding the physics of both new and existing below grade wall assemblies, we will uncover the root issues and identify two distinct strategies that work with water rather than against it to ensure a truly durable and enduring assembly. (webinar recorded 2/1/2019)
AS A RESULT OF THIS WEBINAR, YOU WILL BE ABLE TO:
1. How to properly isolate conditioned from unconditioned environments
2. What constitutes a capillary break and where to install them
3. How to effectively manage water intrusion on the interior
4. Best practices for insulating a below grade assembly
COST
Free to view
Pay $95.00 for credit
WHO SHOULD ATTEND
Builders, remodelers, architects, building performance consultants, code officials, contractors, designers, educators, government officials, home inspectors, HVAC contractors, renewable energy contractors, manufacturers, suppliers, utility representatives, weatherization specialists...and anyone involved in the residential building community.
AGENDA
Introduction
Brief background to establish common ground and improve audience receptiveness
Establish key fundamentals of the session
Basements: New and Existing. Walk outs and full basement
Transparency in estimating internally and with clients
Goals
Keep it dry
Keep it healthy
Make it comfortable
Make it efficient
Basement – New Construction
Typical below grade wall built to code today
Review of each part and its function
Control Layers
Review control layers
Thermal, water(capillary), air, Moisture
Purpose of each layer
Reflection of each layer in the wall and slab components
Pen Test
Identify control layers in standard wall assembly
Identify weakness/intersections in control layer
Best Practice – Basement wall and slab assembly
Walk through drawing of assembly
Pen Test on control layers
Best Practice – Existing basement wall (multiple) and slab assembly
Walk through drawing of assembly
Pen Test on control layers
CREDITS
In order to receive credit for viewing this webinar, you'll need to pass a short quiz. A link to the quiz will be provided in your registration confirmation email. Separate registration is required for each individual requiring continuing education credit.
All credits have different expiration dates, so it is to your advantage to take the quiz as soon as possible.
AIA Members of the American Institute of Architects will receive 1 LU for computer based course. This is an intermediate level course and expires 5.14.2022. Questions about AIA credits should be directed to Lonna Berg at 608.210.7157 or lberg@slipstreaminc.org. Click on the following link to read our AIA CES Provider statement: https://slipstreaminc.org/solutions/education-and-training/aia-ces.
BPI This webinar has been pre-approved for 0.5 BPI CEUs.
NARI This webinar is approved for 1 NARI CEU.
RESNET This course has been approved by RESNET for 1 professional development credit.
WI-DSPS Wisconsin Department of Safety and Professional Services has approved this course for 1 CEU for the following credentials: Dwelling Contractor Qualifier Certification and UDC-Construction Inspector Certification. Note that you may not retake the same course for credit more than once during the 1-, 2- or 4-year term of your specific credential.
This webinar will not be pre-approved for GBCI credits; however, if you believe the content is applicable to your credential, you can self-report credits.
SPEAKER
Michael Anschel, Otogawa-Anschel Design Build
Michael is a nationally recognized expert on green design and building with over 23 years of experience. He writes for various publications and trains and speaks at events around the country. Michael is the owner of OA Design-Build, an award winning and nationally celebrated firm. He also serves as CEO of Verified Green Inc. which consults with local government, product manufacturers, suppliers, builders and architects on green buildings. Michael led the effort to develop GreenStar Home Certification, and was past president of the national GreenStar Alliance.

OTHER INFORMATION
This webinar was recorded on 2/1/2019 and is approximately 58 minutes in length.
Please see our FAQ page, call 608.210.7114 or email our registration contact: registration@slipstreaminc.org.