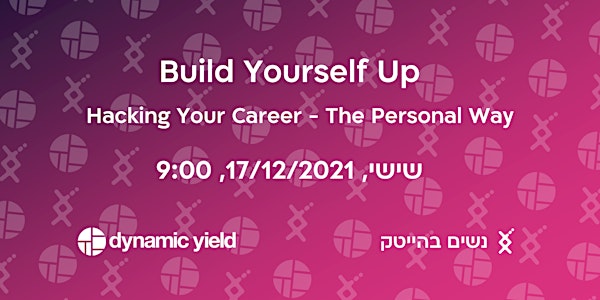 Build Yourself Up - Hacking Your Career - The Personal Way
זמן לדבר על הקריירה שלכן !
When and where
Location
אמות ToHa 114 Yigal Alon Street Tel Aviv-Yafo, Tel Aviv District 6744320 Israel
Refund Policy
Contact the organizer to request a refund.
About this event
מוכנות??
מתרגשות ומצפות לבוקר של הכרויות, סדנאות קריירה, נטוורקינג, אוכל, וכמובן גם סוואג…
מה בתוכנית?
9:00 – התכנסות וכיבוד.
9:30 – מתיישבות למליאה. הכרות ופעילות נטוורקינג.
10:15 – סדנאות לפי נושאים. כל מיני נושאים, הכל בהמשך…
11:30 – חזרה לקינוחים ופרידה.
** הכניסה לאירוע על פי מגבלות התו הירוק כי חשוב לנו שתרגישו בטוחות להגיע.
* מאחר ומספר המקומות מוגבל, עלות דמי רצינות ע"ס 30 ש"ח.
** מדיניות ביטולים והחזר דמי רצינות -
אין החזר לדמי רצינות.
דמי רצינות, כשמם כן הם :) נועדו לשמור לכן את המקום, ולכן, רגע לפני שאת נרשמת אנא וודאי שאת אכן יכולה להגיע. במידה ותראי שאין באפשרותך להגיע, ניתן יהיה גם לפרסם בקבוצת הפייסבוק על פינוי המקום.