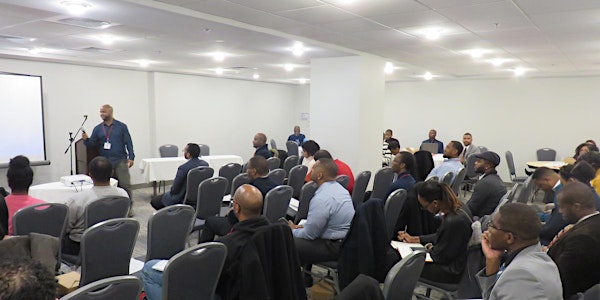 Build It In Baltimore: Developing A Consumer Electronic Device
Date and time
Thursday, October 11, 2018 · 6:30 - 8:30pm EDT
Location
The Engineer's Club 11 West Mount Vernon Place Baltimore, MD 21201
Refund Policy
Refunds up to 1 day before event
Description
The National Society of Black Engineers – Baltimore Metropolitan Area Chapter (NSBE-BMAC) will host Mr. Joshua Barnes, Vice President at Harbor Designs and Manufacturing, and Dr. James West for a discussion on turning your hardware-based idea into a Minimum Viable Product (MVP).
Harbor Designs & Manufacturing (www.harbordesigns.net) is a product design and contract manufacturing firm that can help take your idea from conception to production. Harbor Designs & Manufacturing helps large corporations and startups with new product research and development, prototyping, and contract manufacturing solutions. During this discussion, Harbor Designs & Manufacturing will discuss the product design and manufacturing process necessary to turn your idea into a reality.
Johns Hopkins University Professor Dr. James E. West has over 200 patents to his name. He is best known for his work at Bell Labs and the invention of the electret microphone now found in nearly all consumer products including your cellphone. A customer of Harbor Designs & Manufacturing, Professor West will share his insights on innovation and the commercialization of his latest project, an auto diagnosing digital stethoscope.
Networking will start at 6:30 PM, and the information session will start at 7 PM. We look forward to seeing you!
In addition, please consider attending the following event:
November 3-4, 2018 - Minority Innovation Weekend, a weekend summit designed to explore emerging technologies and aiding minority innovators in launching tech focused startups will be held on Saturday, November 3, 2018 and Sunday, November 4, 2018, at the University of Baltimore. Register for MIW 2018 by visiting https://miw.eventbrite.com
About the organizer
After the birth of the NSBE Alumni Extension in 1988, the National Society of Black Engineers Baltimore Metropolitan Alumni Chapter (NSBE-BMAC) was officially chartered in March of 1989 as one of the first ten Alumni Chapters in the country. NSBE-BMAC represents engineers, physicists, mathematicians, scientists, and other technical professionals in the Baltimore metropolitan area. Our mission is to assist African Americans in succeeding in engineering and other technical fields through professional and career development, education, mentorship, cultural awareness, and community outreach.

NSBE-BMAC provides an avenue for members to enhance their relationship with the engineering community by participating in a professional networking structure centered around science and engineering. NSBE-BMAC also allows its members to cultivate their personal development by participating in outreach programs to foster the needs of our youth and our community.