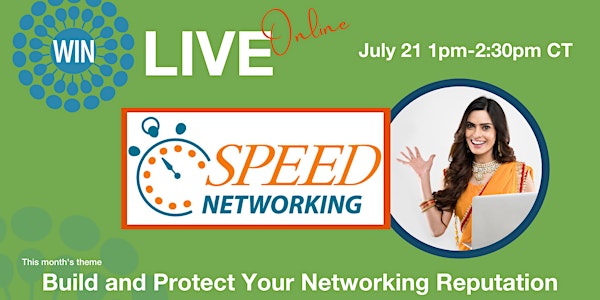 Build and Protect Your Networking Reputation
Come to this fun and energizing online event to easily and efficiently make quality connections!
When and where
Location
Zoom Link Password protected link in confirmation email Online, MN 55417
About this event
A reputation takes a long time to develop but can take just a moment to lose.
Come to learn ways to build and protect your networking reputation. We'll talk about positive ways to build your reputation and become known for our good work. We'll also note how to avoid simple mistakes that can tarnish our credibility within our networks.
Welcome to WIN's Monthly Networking online series where you'll gain and practice new networking skills and insights while you grow your connections with other uplifting women in business. Don't miss out! Mark your calendar for the third Wednesday of each month from 1-2:30pm CT.
Each month, Teresa Thomas shares networking tips and conversation starters related to a different networking theme.
WIN online events are 90 minutes in length so that we can incorporate more networking with the popular Win/Win Speed Networking format into each event.
WIN fosters networking experiences where you have a chance to:
1. Participate and learn through facilitated networking activities.
2. Build and deepen your network with meaningful and mutually beneficial connections.
3. Leave feeling energized and supported!
WIN's 2021 online event calendar:
January 20: Sharing Our Intentions for 2021
February 17: Joy of Connecting: Become a Networking Magnet
March 17: Measure Your Networking ROI
April 21: Networking Follow Up: Have a System
May 19: Incorporate Networking Into Your Marketing Plan
June 16: Intentionally Grow Your Network
July 21: Building and Protecting Your Networking Reputation
August 18: Nurture Your Network Before You Need It
September 15: Set Your Networking Strategy
October 20: Networking Nightmares and How to Avoid Them
November 17: Leveraging Your Network for 2022
December 15: Sharing Our Success from 2021
Meet Our Facilitator
Teresa Thomas is a networking expert and author of Win/Win Networking: Your Guidebook for Confident and Effective Connections and 50 Fun Things: Enjoy the Small Things. As the founder of Win/Win Connects, she catalyzes meaningful connections for people, possibilities and purpose. With over 25 years experience as a Connector, Teresa has facilitated hundreds of networking events, presented for countless groups, and helped thousands to connect and grow. Teresa has led WIN (Women in Networking) since 2007.
Event production by:
Cancellation Policy:  Win/Win Connects events count on advance registration therefore refunds are not routinely available. Please be sure that you are able to attend when you register. If you register and find you cannot attend, you may send a substitute in your place. We reserve the right to change this policy.