Description
Calling all designers, developers, makers, and entrepreneurs! This workshop will teach you the fundamentals of spacial UX, AR design, and AR development.
WHAT'S IT ALL ABOUT:
In this workshop, we will explore what it takes to create an ARKit project from an idea to app, with a great user experience. We will cover the basics of AR design, such as physics, locomotion, interaction, and plane recognition, and discuss huge industry opportunities. We will also dive deep into the mindset necessary to quickly build an AR application and rapidly prototype, without getting bogged down in the minutia.
OUR APPROACH:
We approach the process of making ARKit applications from a scrappy, product-focused, hacker perspective rather than an academic one. We will help you "learn how to learn" ARKit. This means that we will teach you how to learn independently with the existing (limited) documentation, build your development confidence with ARKit, and show you which steps to take next in your AR education. You will leave with a long list of resources so you can dive deeper in each area and theory. Because that's why we're here; to give you the tools and processes you need to get great AR products built. Talk less - build more!
We will cover strategy around designing and developing for a new medium with scarce documentation. How we avoid various pitfalls and trouble shoot on our own, so we can become independent, self-reliant AR builders. And by the way, it's easy to move an AR app from ARKit to ARCore, we'll show you!

TOPICS:
ARKit
AR Locomotion
AR Interaction
Plane Recognition
Unity ARKit Plugin
Mobile AR Design
Rapid prototyping
Unity Game Engine
Designing around problems rather than engineering through them
Converting ARKit products to ARCore
PRE-REQUISITES:
Basic familiarity with the Unity editor. Please complete the Roll-A-Ball tutorial before class if you have never used Unity.
TECH REQUISITES:
Unity 2017.2
Xcode 9
iOS 11 on a 6s OR iPad, or newer
---
ABOUT THE INSTRUCTOR:
Austin McCasland is a Senior UX designer at Westfield Retail Solutions, and focusses on traditional media, VR, and AR. He has given talks and created courses around designing for emerging media such as VR and AR. Ultimately - he is a product person, and loves the process of creating great things and putting them out in the world.
In his spare time you can find Austin creating VR and AR experiences, art installations, or tech experiments, and talking nonstop about all of them.

Check out some of his work!
http://www.austastic.com

http://www.paintspacear.com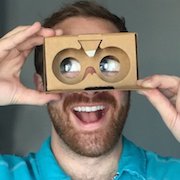 ABOUT UPLOAD
Upload is the leading news, coworking, events and education provider in the VR industry. For more info check out www.upload.io.
Questions?
Please contact admissions@upload.io with any questions.
Interested in a different kind of VR/AR workshop or future date?
Let us know with this quick survey!
Keywords:
augmented reality, unity, unreal, workshop, AR, virtual reality, mixed reality, AR workshop, Unity AR workshop, Unity VR, HTC Vive, Vive, Oculus, Oculus VR, HTC, Playstation, VR Experience, virtual reality workshop, unity workshop, hololens, Upload, UploadVR, Upload SF, Upload Collective, VR Training, Unity Training, Coding, Programming, Unity Development, Unity Development Workshop, OculusVR, UX Design, Design, VR Design, Prototyping, Spacial Design