BSC Workshop: Meditation and Mindfulness Fundamentals: Increase Presence + Focus In Your Work and Life

Monday, December 12, 2016 from 7:00 PM to 8:30 PM (CST)
Event Details
Join us on Monday, December 12th from 7:00PM to 8:30PM for our Be Social Change Workshop, Meditation and Mindfulness: Increase Presence and Focus In Your Work and Life, with meditation trainer and nonprofit professional Jenn Lishansky.
Meditation and mindfulness have become extremely popular among the most successful people in the world and rightly so: more and more scientific research shows that regular meditation can greatly improve the health of our mind and body. Practicing meditation and mindfulness can help us let go of distracting thoughts that cloud our minds, expand awareness of ourselves, others, and the world, as well as reduce stress, increase focus, and improve our abilities to be creative.
With just a few minutes a day, you can begin experiencing the benefits of meditation including:
Improved mental clarity and focus

A greater feeling of presence, positivity, and compassion

Higher energy levels and better sleep

Increased creativity and ability to manage change

Greater sense of balance in life and work 
In Meditation and Mindfulness: Increase Presence and Focus In Your Work and Life, you will learn a diverse set of meditation and mindfulness techniques that will allow you to access a state of stillness, self-awareness, and sense of calm wherever you are. You will learn how to prepare your body for meditation and be guided through a series of techniques that will build a foundation for establishing your own regular meditation practice. After each technique, there will be time to reflect about your experience in order to gain a personal awareness about methods that can be applied on an on-going basis. Then we will strategize around incorporating mindfulness in the workplace including tips and suggestions to reduce stress, increase tranquility, and inspire rejuvenation.
WHAT YOU'LL LEARN:
A diverse set of meditation techniques for creating stillness in the mind

How to use meditation to increase focus, self-awareness, and creativity

Strategies for practicing mindfulness at work to reinvigorate day-to-day experiences

Tips for carrying forward a regular meditation and mindfulness practice
WHO THIS CLASS IS FOR
Professionals, entrepreneurs, and anyone looking to reduce stress, increase focus and creativity, and experience more tranquility in their lives.
INSTRUCTOR BIO: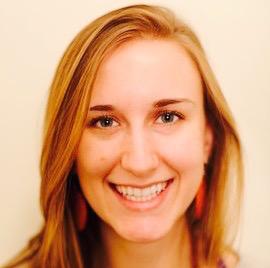 Jenn Lishansky has been teaching meditation for 15+ years. She got her start as an early adolescent, leading monthly meditation programs for families, and has been teaching ever since. Throughout her college and non-profit career, Jenn traveled the world studying various forms of meditation and learning from experts.
Jenn teaches meditation and mindfulness strategies to groups and individuals at companies throughout New York City, including at the NASDAQ, Grey Advertising, WeWork Coworking, Columbia University, and Journey Meditation. She also leads meditation retreats for families and young people throughout the East Coast.
When she is not teaching, Jenn manages East Coast and Midwest Chapters at buildOn, an education and service-based nonprofit that runs after school community service programs in low-resource communities and builds schools in remote communities around the globe. Previously, she worked at Seeds of Peace as their External Relations Manager where she managed online fundraising and communications, led a vast volunteer network of young professionals in New York City, and organized an international walkathon call Bridges to Peace. She also managed the Peace Market, a 1500+ event that raised over $300,000 annually. Throughout her nonprofit career and volunteer work, she has also developed curricula and lesson plans for teaching meditation, human rights, women's empowerment, civic engagement, literacy, and leadership. You can learn more about BuildOn here and Jenn's background here.


 Refund Policy: Refunds can be issued in full up to 48 hours prior to the start of the class by contacting Be Social Change.
Have questions about BSC Workshop: Meditation and Mindfulness Fundamentals: Increase Presence + Focus In Your Work and Life?
Contact Be Social Change
Save This Event
Organizer
Be Social Change




Be Social Change is New York's largest social impact community with a mission to educate and connect the next generation of purpose-driven professionals, entrepreneurs, and creatives. Through professional and personal development classes, community-building events, and resource-sharing tools, we empower people from all sectors and industries to pursue meaningful work and create lives that make the world a better place. Learn more >>