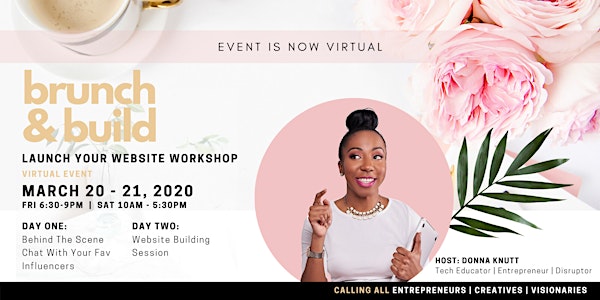 Brunch & Build: Launch Your Website Workshop [Virtual]
Brunch & Build was created to equip Entrepreneurs with tools & resources to develop their ideas, find clarity, and fulfill their purpose.
About this event
** Updates: 3/14/2020 **
Due to the health/safety protocols over the past few days regarding the Coronavirus, we've decided to make this a virtual experience instead of a live in-person event. We've adjusted the ticket prices and agenda to suit. Please see the updated agenda below. Grab your tickets and tell a friend! This just got 10x more exciting! We'll be adding new speakers who'll be joining us on Day One, which will be followed by a virtual website building session on Day Two.
** End of Updates **
Imagine This!
Me x You + Your Beautiful Idea/Business/Project = DONE!
Brunch & Build: Launch Your Website Workshop gives you a once in a lifetime opportunity to add me to your team for 2 days. You get to work with someone who has literally tried it all (and failed enough times for you and I both), and learn step-by-step what to do (and NOT do) to finally get your website launched, minus the hours on Google, Youtube, & Facebook Groups trying to figure it out on your own.
Launch Your Website Workshop, is the first of many in the Brunch & Build series. Join us for 2 days of high value training, inspiration, and empowerment. Here's what you can expect:
Agenda:
Day One (Fri March 20, 2020 6:30PM - 9PM):
I'll be chatting it up with some of my favorite ladies in the industry. Join us to learn how they got started on their journeys.
Day Two (Sat March 21, 2020 10AM - 5:30PM):
Hands on Website Building Session
Everyone leaves with a website, wisdom, and momentum to take their brand to the next level!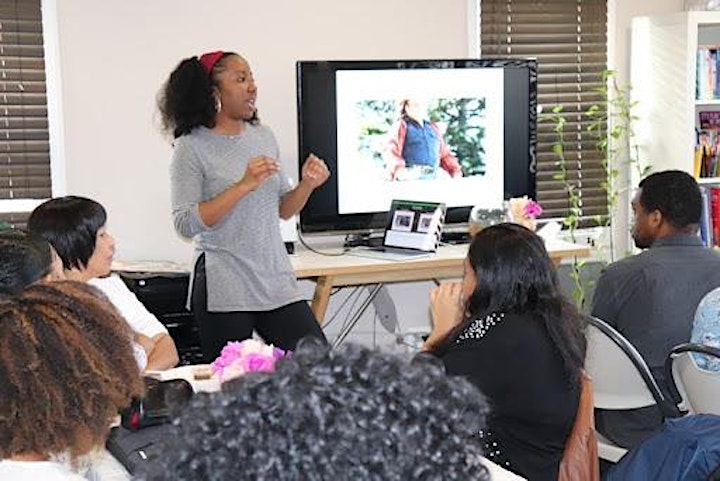 About the Host: Donna Knutt
I am a Mom, Serial Entrepreneur, Tech Educator, Investor, & Community Advocate. I am the Founder of Standout Simplicity, a Creative Agency serving high impact influencers and entrepreneurs globally, and currently work as a Computer Science Coach at Google Code Next in NYC.
My work focuses predominately on issues of equity, opportunity, and access for women and men of color at the intersection of Business, Technology, Wealth Creation, & Personal Development. As an entrepreneur I've had the opportunity to homeschool my son, and support my family and friends both financially and emotionally. It has not been easy, but it has been rewarding.
I've had the privilege of teaching around the world in places like Thailand, Trinidad and Tobago, and all over the United States. Brunch & Build is a response to a gap I've seen in my community for far too long, and I'm ready to fill it!
My Story:
I quit my job
When I quit my job over 4 years ago, I really had no idea how I was going to survive. I was scurred! Afraid of making the wrong decision. Afraid of making a mistake. Afraid of taking such a huge risk not knowing what would happen.
I figured it out
But as I leaped, God began to give me strategy. Somehow, I figured out how to make things work. I started a full service creative agency, ran multiple online boutiques, hosted events, and began helping other entrepreneurs build their brands. Within the past year I have been blessed to use my skills of "figuring it out" to purchase 3 homes (all cash), and I don't plan on stopping there.
I'm ready to pour
But I say all of that not to brag, but to show you what's possible. I've had to figure a lot of things out because it was never taught to me, but my mission with Brunch & Build is to pour back in heavy doses! I'm giving you the tools, my methods, frustrations, insight, and everything else that comes with this journey.
Join me, I promise it will be more than worth it!
Let's Build,
Dee
Meet Our Friday Speakers: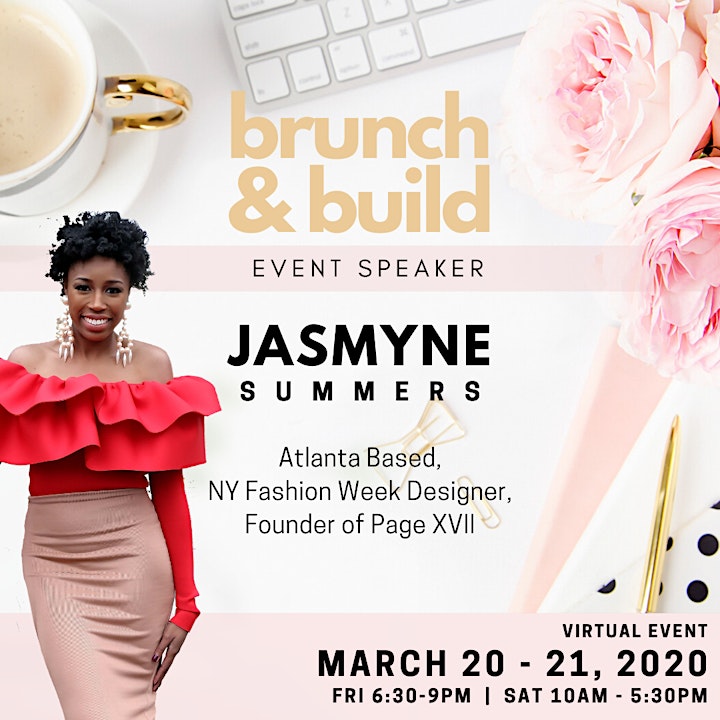 Jasmyne Summers
Jasmyne Y. Summers is an Atlanta based women's wear designer and founder of Page XVII By Jasmyne S., Inc. She was born in Augusta, Ga, raised in Statesboro, Ga, and currently resides in Atlanta, Ga, where she is building her brand. Her family is the driving force behind her ambitious spirit. Without God being number one in her life and the love from her family Jasmyne would not be the person she is today!
Page XVII By Jasmyne S., Inc. was founded in August of 2014 and can be described as chic, classic, elegant and for the woman who has a story to tell!
EVERYONE HAS A STORY... WHAT PAGE DOES YOURS BEGIN ON?
Page XVII recently released its 2020 bridal collection entitled "Trinity" that is now carried in Pink Parrot Luxe Bridal Salon in Jackson, Mississippi.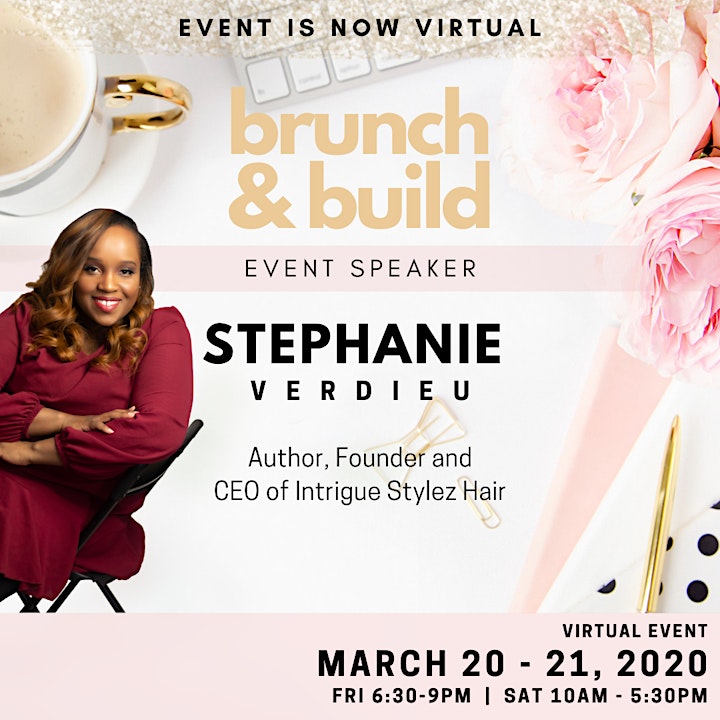 Stephanie Verdieu
Stephanie Verdieu is an Author and the founder and CEO of Intrigue Stylez Hair.
A former immigrant from Bahamas, with faith as small as a mustard seed knows how important it is to fully plug into the one true source God almighty.
Her dream of opening a hair salon started when she was a young girl still without legal status to the American dream, it was not until she got a glimpse of what God had in store for you was she able to tap into her dream becoming reality. Being a pregnant mom in college that did not stop her from becoming a business owner.
Throughout the journey, God was there every step of the way. Her paths would cross paths with a few mentors who would help her birth those dreams and desires that God placed with her. She is grateful for life coaches; friends and midwives that helped her birth her salon and helped her become an author.
Through all her trials and tribulations, she continued to stand on his word and promises for her life. Putting your trust in God and fully plugging into His purpose is her desire for everyone that hears her story and crosses her path. Awarded community leader in Plantation, FL 2017, Featured M.O.M in mom's magazine 2016 and transitioning to a new city in 2018 has made her believe in the plan that God has for her even more.