Description
BROOKLYN TECH WEEK 2019
NOVEMBER 6-10
Join us for TECH EXPANSION 2020
---
Welcome to the 2nd Annual Brooklyn Tech Week Festival
Click links below to register for one (1) event during 5-days
---
#BkTechWk

, is a 5-day gathering of growth companies, tech startups, investors, policymakers, data scientists, gamers and educators converging to share best practices,
big discoveries and networking-networking in
tech.
Register now!
URBAN TECH CON: Join 25 plus urban experts and technologists discussing how to shape a sustainable urban future. Engage and discover how smart cities will transform urban living, playing and working as we know it. Let's leverage technology and leadership to facilitate social mobility and equity. Entrepreneurs, investors and urban tech accelerators will share how to start and scale an urban tech business. Recently funded urban tech start-ups will present their latest and greatest products.
BLOCKCHAIN CRYPTO SUMMIT: The Blockchain Crypto Summit aims to answer core questions on the state of blockchain technology and cryptocurrency. As we exit Q4 of 2018, the experts recap an exciting year and look to forecast expectations leading up to 2020. Respected speakers outline record-setting accomplishments and view on the growth of blockchain.
STARTUP ECON: A full day of immersive learning, big connections, and events geared for entrepreneurs to gain access to resources, capital, networking, and partnership development. Startups receive a world-class accelerated learning experience from successful tech leaders sharing insight on growth, scalability, culture, venture funding, additional funding resources and much more.
WOMEN LEADERSHIP FORUM: This forum seeks to educate, inspire and encourage leadership among women in the pursuit of tech equality, investment opportunities, and fair practice. Existing and emerging leaders share their journey to raise awareness concerning the value of diversity.
BK URBAN HACKATHON: In the spirit of a creative/innovative Brooklyn creating the foundation for social mobility and equity for all--we kick off the BK Urban Hackaton on two foundational topics: blockchain/smart contracts and hacking a current deemed problem in business and tech. Let's come together to see how we can use these mechanisms to start improving the way we live, work and play in Brooklyn.
BK TECH WEEK PAST SPEAKERS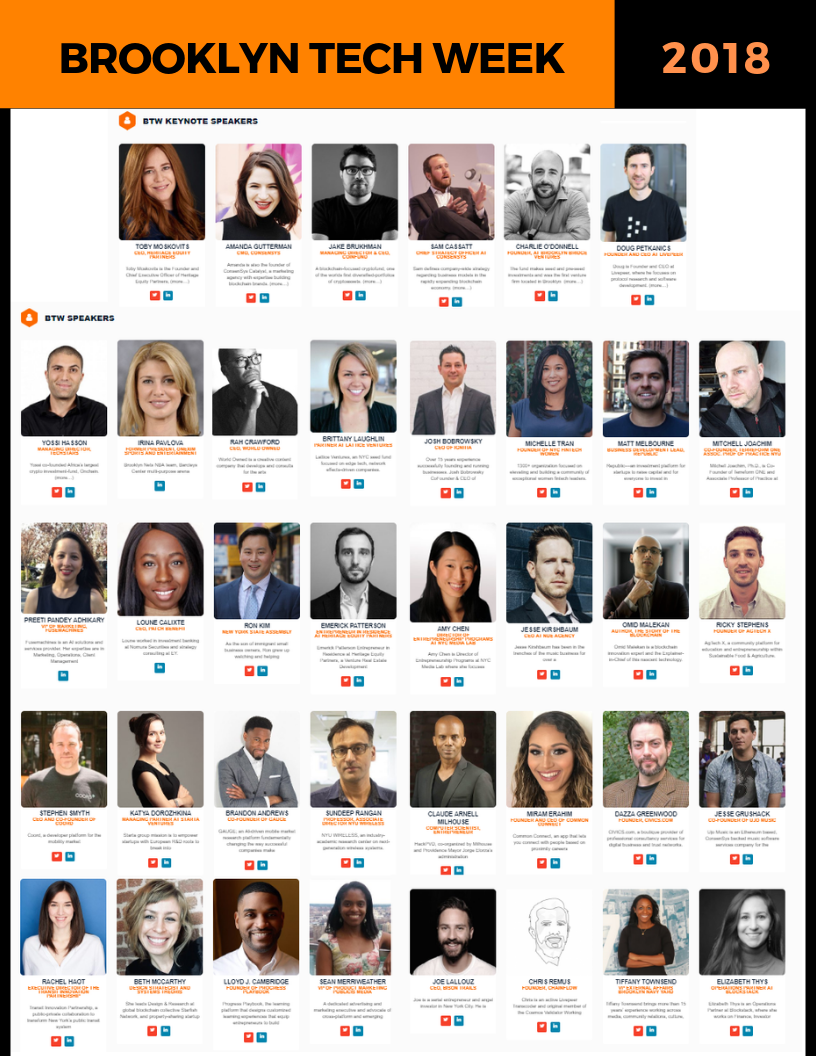 #Brooklyn #Startups #Investor #Entrepreneur #Accelerator
#StartupGrowth #GrowthStrategies #GrowthHacks
#Tech #FutureOfTech #AI #IoT #Blockchain #Cryptocurrency
#BigData #Fintech #AR #VR #RETech #PropertyTech #STEM
#ML #DataScientist #UrbanTech #Urban