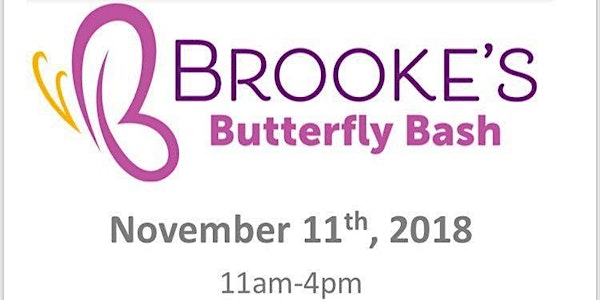 Date and time
Sunday, November 11, 2018 · 11am - 4pm EST
Location
Kiley Gardens 400 North Ashley Drive Tampa, FL 33602
Description
Why Lupus awareness...? Because my daughter Brooke passed away at the age of 18 from Lupus Oct 15th 2017. Her illness over the years defined her purpose of helping children by becoming a pediatric Nurse.... I am taking on her purpose of helping children in my own way . This event is to raise awareness, and funds for more research. My goal is to prevent another child from suffering like Brooke.

There will be a Butterfly Wing Contest that the audience will vote on.
So Please, wear your wings!

We will hear from our FL Chapter sharing some lupus education and our purpose
Live music by Cason Way and the Johnny G Lyons Band
Food Sponsored by the Ciccio Restaurant group - Green Lemon
Games: Corn hole, Wine ring toss, Picture frames for fun selfies
LOTS of Amazing Auction items... 2 Elton John Farwell Tour Corp Suite tickets,5 day cruise, 1 week resort getaway , spa packages, beautiful jewelry, Gift baskets from boutiques, Booze basket, Restaurant Gift cards, Tanning certificate, Travel gift basket, Bicycle, and Some of BB's Art from the Children's ABC Book will be Auctioned off with help from Michael Murphy, owner of Michael Murphy's Art Gallery .
BB's Children's ABC Book will be available for purchase @ $20. Limited supply...
Ticket price $50 good till Nov 10th.
Ticket price at door $60
$20 for Students 21 and under w/ ID
Included live music, games free food and 1 drink ticket
About the organizer
"About Lupus" Lupus is an unpredictable and misunderstood autoimmune disease that ravages different parts of the body. It is difficult to diagnose, hard to live with and a challenge to treat. Lupus is a cruel mystery because it is hidden from view and undefined, has a range of symptoms, strikes without warning, and has no known cause and no known cure. Its health effects can range from a skin rash to a heart attack. Lupus is debilitating and destructive and can be fatal, yet research on lupus remains underfunded relative to diseases of similar scope and devastation.
About the Lupus Foundation of America, Florida Chapter The Lupus Foundation of America, Florida Chapter is part of the only national force devoted to solving the mystery of lupus, one of the world's cruelest, most unpredictable and devastating diseases, while giving caring support to those who suffer from its brutal impact. Through a comprehensive program of research, education, and advocacy, we lead the fight to improve the quality of life for all people affected by lupus. Learn more about the Lupus Foundation of America, Florida Chapter at lupusfl.org. For the latest news and updates, follow us on Twitter and Facebook.