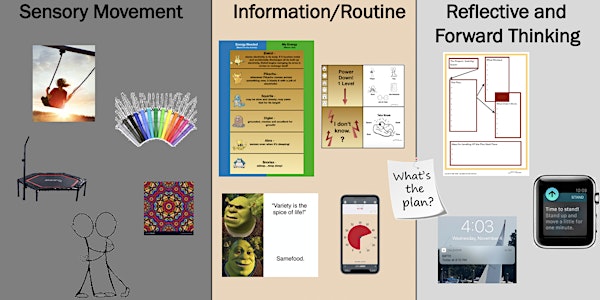 Bringing the Energy: And All the Autism Level UP! Tools to Regulate It.
Introduction to a suite of innovative energy regulation supports developed by Autism Level UP!
Refund Policy
Contact the organizer to request a refund.
Eventbrite's fee is nonrefundable.
About this event
Presented by:
Amy Laurent, PhD, OTR/L and JÂcqûelyn Fede, PhD
27 January 2023 from 9:00am-3:00pm EST (Friday)
Co-Founders & Co-Directors, Autism Level UP
This virtual workshop is designed to reframe our understanding of challenging behaviors by examining how energy (emotional) regulation skillset influences an individual's capacity to navigate their day, particularly when difficulties are encountered. Factors influencing and means of supporting energy (emotional) regulation are explored from both a first-person autistic perspective, as well as developmental perspective. Practical guidelines for providing supports for energy (and emotional) regulation to increase connectedness and active engagement in a variety of contexts will be highlighted!
Strategies for supporting individuals across the lifespan and at different developmental levels will be discussed. A focus will be placed on supporting autisitic and neurodivergent individuals, but the tools have applicability for facilitating engagement for a wide range of people.
Please note that this course is live and will start at 9:00 Eastern Standard Time (EST). There will be 1 session for this training. It will be recorded and registered participants will have access to the recordings for 3 weeks following the live event. Our virtual format is interactive and participants will have the opportunity share ideas, ask questions, and learn from one another throughout the evenings.
This course is appropriate for autistic people, educators, therapists, parents, carers, researchers, & students.
Time Ordered Agenda
Friday, 27 January 2023
9:00- 10:30 AM EST - Overview of energy (emotional) regulation and individual characteristics, as well as environmental factors influencing regulatory abilities
10:30 AM – 11:00 AM EST - Break
11:00 AM – 12:30 PM EST - Introduction of practical tools for gathering information and documenting factors influencing an individuals' regulatory profile.
12:30 PM - 1:30 PM EST- Lunch / long break
1:30 PM – 3:00 PM EST - Introduction of energy (emotional) regulation strategies appropriate for differing developmental levels (e.g., presymbolic, emerging language, conversational) AND discussion of how to create individualized Power UP and Power Down plans.