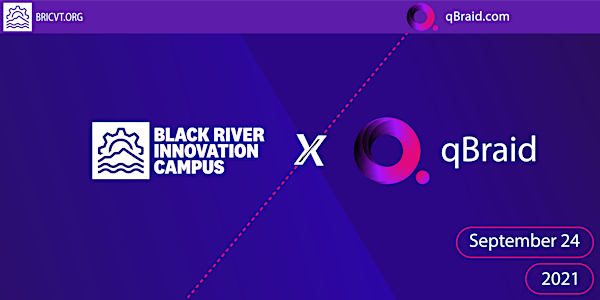 BRICvt x qBraid: Quantum Computing Summit
Join us for this virtual thought leadership event bringing together the top research and entrepreneurial minds in quantum computing.
Refund Policy
Contact the organizer to request a refund.
Eventbrite's fee is nonrefundable.
About this event
BRIC presents the "BRICvt x qBraid: Quantum Computing Summit" to be held on Friday, September 24.
qBraid and BRIC are bringing together virtually some of the best minds in Quantum Computing for a day of presentations, conversation, demonstrations and community building around the emerging Quantum ecosystem. You'll learn the following: What is Quantum Computing?, How is it used?, Where is it going?, Why is it important? and How will it impact me? .
You'll also see demonstrations of Quantum Computing projects and products that are an example of what to expect in the years ahead. Don't miss this opportunity to stay ahead of the curve professionally and educationally. We will also be announcing opportunities for researchers and entrepreneurs who are working on Quantum-based solutions.
The first 200 people to register will get a free qBraid-premium account for 3 months!
Organizers
qBraid is a quantum computing startup with a mission to accelerate the pace of the quantum computing revolution. qBraid provides a one-stop platform for learning and developing quantum software. In addition to providing the best environment for quantum software development, qBraid also focuses on educating learners through applications, hackathons, and training programs at leading institutions.
Learn more at https://qbraid.com
The Black River Innovation Campus (BRIC) is a 501(c)(3) non-profit designed to accelerate digital entrepreneurs and startups while increasing access to economic opportunity for rural economies. BRIC provides business consulting, curriculum, investment, office, multimedia and digital lab space and most importantly, a growing tech community with access to THE fastest in the nation, 10-gig+ fiber internet!
Check out our programs at https://bricvt.org
Speakers include:
Preeti Chalsani | Duality Accelerator, and Chicago Quantum Exchange
Andrea Coladangelo | UC Berkeley, Simons Institute, and qBraid co-founder
Sandy Irani | University of California, Irvine
Jiaju Liu | qBraid
Pooya Ronagh | 1QBit Hardware Innovation Lab
Denise Ruffner | IonQ Inc.
Kanav Setia | qBraid
James Daniel Whitfield | Dartmouth College, Amazon
Trevor Barlow | Black River Innovation Campus
The full schedule of the summit is available at https://bricvt.org/bricvt-x-qbraid.