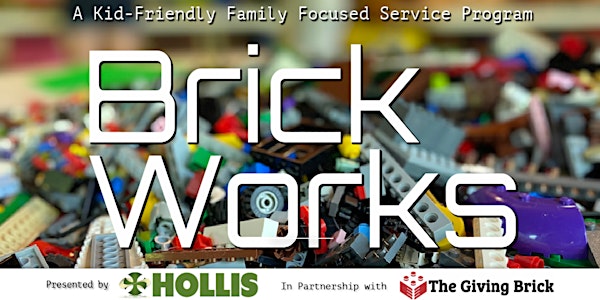 Multiple dates
BrickWorks: A Kid-Friendly Family Focused Service Program - Summer 2023
Help us help THE GIVING BRICK and children serves by CASA of Jackson County by sorting/separating lego bricks.
Date and time
June 7 · 10am - August 8 · 12pm CDT
Location
Hollis Renewal Center 11414 Kansas Avenue Kansas City, KS 66111
About this event
Join us at the Hollis Lodge for BRICKWORKS .
BrickWorks is a partnership between THE GIVING BRICK and Hollis. Hollis welcomes the public to the Lodge to break apart and sort donated Legos. These Legos eventually end up being repackaged into complete Lego sets which are distributed to children served by CASA of Jackson County.
2023 DATES:
Wed. June 7, 2023 | 10AM-12PM
Wed. July 12, 2023 | 10 AM -12 PM
Wed. August 8, 2022 | 10 AM -12 PM
FALL 2023 DATES TO BE ANNOUNCED AT A LATER DATE
CHOOSE 1 OR 2 HOURS!
We host the event for 2 hours. You are welcome to come to both or just choose 1 hour. If you plan on attending both please "buy" tickets for both days!
DO YOU HAVE LEGO BRICKS TO DONATE?*
Bring them with you! We will be collecting Lego bricks at each of our events this year.
WHAT IS HOLLIS BRICKWORKS?
During the summer of 2018, we introduced BrickWorks to the Hollis community. Partnering with the THE GIVING BRICK, a Kansas City based non-profit that collects used LEGO bricks, repackages sets, and gives them children served by CASA of Jackson County. Through out the summer families joined us at Hollis to experience the joy of working together as a community to serve others. During our BrickWorks service hours, we sort through donated LEGO bricks and break apart already assembled LEGO pieces. Because the events were met with such enthusiasm, we are continuing the program and will be introducing more BrickWorks dates throughout the year. 
All attendees are welcome to bring sack lunches, and explore the trails & hills of Hollis, play a game of GAGA ball, or sand volleyball before or after the service event (weather permitting)..
WHO CAN ATTEND? IS THERE A FEE?
This is a FREE kid-friendly, as well as a kid-at-heart event. All ages are welcome. This includes preschool kiddos! Parents, please plan on staying with kids ages 10 & under.
WHAT SHOULD WE BRING?
You are welcome to come early or stay after  to enjoy a picnic or hike the trails.  If you plan on hiking the hills, we do recommend bringing bug spray, and dressing for the weather! 
WHEN DOES THIS HAPPEN?
We will be offering BrickWorks through out the year. We will announce dates as as we schedule them. Anticipate a Spring Break offering, as well as numerous summer offerings. We might add additional times, so follow us on Facebook & Instagram as we introduce new dates. We would love to see you!
CAN I BRING MY OWN GROUP?
We would love to help you bring your own group to Hollis for a BrickWorks day! We have already coordinated events for Home School & church groups. Give us a call or reach us via email!
WHERE DOES THIS HAPPEN? WHERE IS HOLLIS?
This service project will take place in the Hollis Lodge at Hollis Renewal Center. We are located just south of the Kansas Speedway. Exit I-70, at the 110th Street exit and head south and follow the signs to Hollis.
Hollis Renewal Center 11414 Kansas Avenue Kansas City, KS 66111
MORE QUESTIONS?
We are happy to answer any questions you may have. Please contact us!
Office: (913) 441-0451Cell: (913) 206-4947Email: info@holliscenter.org
Visit our website or Facebook page  for more info! www.holliscenter.org
WHAT IS THE GIVING BRICK?
From The Giving Brick website www.thegivingbrick.org"We are Kansas City-based, non-profit organization collecting used LEGO® bricks to give to kids in need. We take LEGO bricks in any condition. If you have LEGO pieces or sets you would like to donate to a worthy cause, please send it to us! We will have your old LEGO items clean and part of an official LEGO set before you can say 'Everything is Awesome!'"
About the organizer


Hollis is 153 acres of secluded wooded land located 20 minutes west of downtown Kansas City with facilities for retreats, workshops, meetings and outdoor activities. Over five miles of hiking trails crisscross the property and East Mission Creek flows from its north to south.​​The Hollis Renewal Center provides a welcoming environment and experience for ​individuals and groups seeking spiritual growth and renewal.  
WHY HOLLIS?
Hollis Renewal Center has provides "a time and place apart" for individuals, small groups and organizations to pause and reflect on their mission. It embodies hospitality and gives guests the time and space to be transformed from a collection of individuals into a community.
We take very seriously the gifts of time, land, buildings and resources as we use them wisely and care for their sustainability into the future. Hollis is a place for prayer and hospitality to provide opportunities for reflection, learning, and renewal for groups and individuals.

Physical Address: 11414 Kansas Ave. Kansas City, KS 66111

Mailing Address:    PO Box 402, Bonner Springs, KS 66012
Email: info@holliscenter.org
Office Phone: 913-441-0451
Mobile Phone: 913-206-4947