A workshop about the impact of domestic violence on children.
About this event
1 in 15 children are exposed to intimate partner violence each year, and 90% of these children are eyewitnesses to this violence.* Children and youth who witness or are exposed to domestic violence experience emotional, mental, and social damage that can affect their developmental growth. Often times, they are the silent victims of abuse and are at a high risk of experiencing violence later in life. Boys who witness domestic violence are twice as likely to abuse their own partners and girls are twice as likely to be abused as an adult. As a community, we must do more to address this trauma. In this interactive workshop, learn from experts about the effects of domestic violence on children and learn how you can take action to break the cycle of abuse in our society.
Free parking, light refreshments served.
Registration starts at 9:30 AM, program begins at 10:00 AM.
Featured Speakers:
Sara Ali, Mental Health Counselor
Sara Ali is a licensed Mental Health Clinician at Guided Restoration, serving the needs of her clients through individual and group therapy settings. Over the last 7 years, Sara has helped individuals struggling with depression, anxiety, stress management, relationships, grief and loss, trauma, and domestic violence. She has supported behavioral research projects at M.D. Anderson Cancer Center, and serves as an advisory council member at Olive Branch Muslim Family Services and Aid to Victims of Domestic Abuse. Additionally, Sara is a peer reviewer for the Journal of Muslim Mental Health, and a contributor at The Family and Youth Institute and SEEMA Mental Health. She presents on various mental health topics for conferences, faith centers, schools, or nonprofit organizations. More writings and insight from Sara can be found on Facebook @saramindsonline.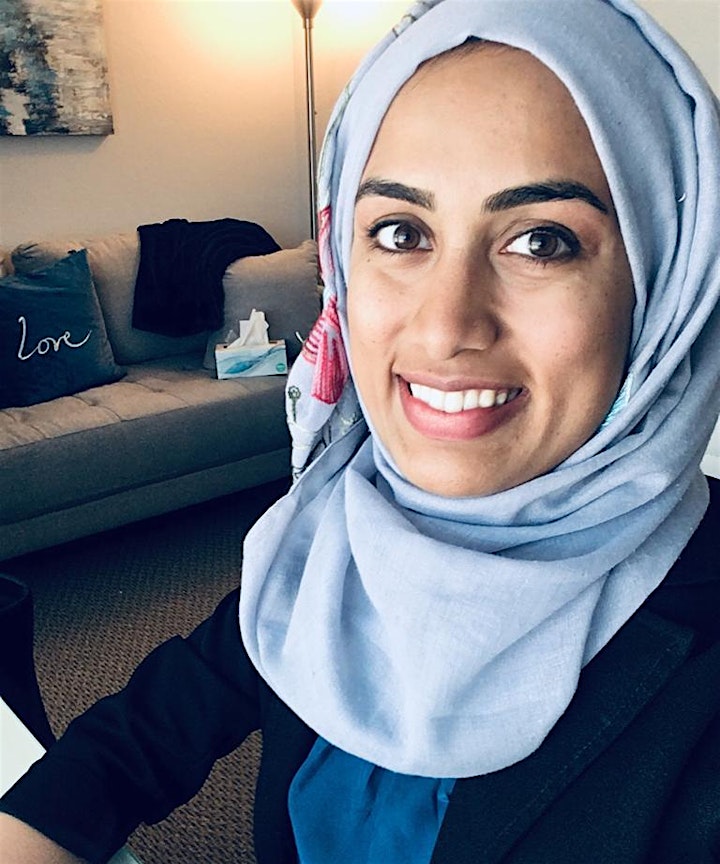 Barbie Brashear, Executive Director of Harris County Domestic Violence Coordinating Council
Barbie Brashear is the Executive Director for the Harris County Domestic Violence Coordinating Council, a non-profit organization that works to coordinate a community response to domestic violence in Harris County, Texas. She attended Indiana University where she earned a Bachelor's Degree in social work, and the University Of Houston Graduate College Of Social Work where she earned her MSW. She has worked in the domestic and sexual violence field for 26 years and has provided leadership to sexual assault programs, domestic violence programs, and long-term housing programs for over 20 years. She is an expert witness in domestic violence cases. She is an expert trainer in Domestic Violence Dynamics, Safety Planning and Lethality Assessment, Screening and Assessing for Domestic Violence in the Healthcare Setting, Understanding Risk Assessment for Battering Intervention, Coordinated Community Response, Case Management with survivors, Trauma Informed Care with Survivors, Self-Care for Professionals, Domestic Violence Impact on Children, The Intersection of Domestic Violence and Homelessness, Understanding Domestic Violence and Mental Illness, Crisis Intervention for Survivors, Boundaries and Stress. She has presented and trained at multiple local and statewide conferences on domestic and sexual violence for over, and she has provided training to hundreds of law enforcement professionals, health care professionals, advocates, social service providers, criminal justice system professionals, teachers, students, and general public. She has provided case management and advocacy services to victims for over 20 years.