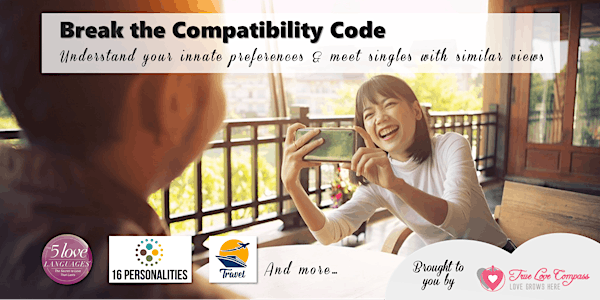 Break the Compatibility Code | Singles Workshop
Spend an engaging morning understanding your innate preferences and meeting singles who share your worldview. Get to mingle over tea too!
Date and time
Sunday, April 23 · 10am - 12:30pm +08
Location
Arabic Council 100 Orchard Road, Concorde Hotel & Mall #03-04 Singapore, 238840 Singapore
Refund Policy
Refunds up to 7 days before event
Eventbrite's fee is nonrefundable.
About this event
2 hours 30 minutes

Mobile eTicket
The happiest relationships are those where people are compatible in terms of the type of support they need and the type of support the other person intrinsically loves to give
All so often, we hear from our singles community that they have no clue what type of partners is right for them or they have lost confidence in their ability to select compatible partners. Such feedback has motivated our team to create this unique workshop that helps singles break the compatibility code.
This is an interactive workshop where singles get grouped based on their personality traits, and key compatibility factors. They will be encouraged to make conversations with others who share their worldview, perspective and interests.
During the workshop, time will be allocated for refreshments and light snacks. Hence, you will get ample opportunities to continue conversations with anyone who caught your attention. More importantly, you will get to make friends, have a good time and learn why compatibility matters!
This workshop will cover the following content
Learn about the different aspects of compatibility in relationships
Be aware of your innate qualities and preferences
Connect with others who share your worldview and interests
Get matched (post-event) with singles who are mutually keen to stay in contact
Whom it is for: Singles who are keen to learn how to assess relationship compatibility and expand their social circles.
When: 23rd April 2023, Sunday
Timing: From 10.00 am to 12.30 pm (2.5 hours)
Venue: Arabic Council | 100 Orchard Rd, #03-04, Concorde Hotel & Mall, Singapore 238840
Cost of this event: SGD39.90 (before EventBrite fees)
Here's what some singles have shared about their positive experience in previous workshops:
"𝙉𝙤𝙩 𝙝𝙖𝙫𝙞𝙣𝙜 𝙩𝙝𝙚 𝙥𝙧𝙚𝙨𝙨𝙪𝙧𝙚 𝙤𝙛 𝙖 𝙨𝙥𝙚𝙚𝙙 𝙙𝙖𝙩𝙞𝙣𝙜 𝙚𝙫𝙚𝙣𝙩 (𝙞𝙨 𝙜𝙧𝙚𝙖𝙩) 𝙖𝙨 𝙬𝙚𝙡𝙡 𝙖𝙨 𝙩𝙝𝙚 𝙢𝙚𝙣𝙩𝙖𝙡𝙞𝙩𝙮 𝙩𝙤 𝙚𝙣𝙘𝙤𝙪𝙧𝙖𝙜𝙚 𝙨𝙤𝙘𝙞𝙖𝙡𝙞𝙯𝙞𝙣𝙜 𝙖𝙨 𝙛𝙧𝙞𝙚𝙣𝙙𝙨 𝙛𝙞𝙧𝙨𝙩."
"𝘿𝙤𝙞𝙣𝙜 𝙩𝙝𝙚 𝙥𝙚𝙧𝙨𝙤𝙣𝙖𝙡𝙞𝙩𝙮 𝙩𝙚𝙨𝙩𝙨 𝙖𝙣𝙙 𝙡𝙚𝙖𝙧𝙣𝙞𝙣𝙜 𝙖𝙗𝙤𝙪𝙩 𝙨𝙩𝙧𝙚𝙣𝙜𝙩𝙝𝙨 𝙖𝙣𝙙 𝙬𝙚𝙖𝙠𝙣𝙚𝙨𝙨𝙚𝙨. 𝘽𝙚𝙞𝙣𝙜 𝙖𝙗𝙡𝙚 𝙩𝙤 𝙪𝙨𝙚 𝙩𝙝𝙤𝙨𝙚 𝙥𝙤𝙞𝙣𝙩𝙨 𝙞𝙣 𝙢𝙚𝙖𝙣𝙞𝙣𝙜𝙛𝙪𝙡 𝙙𝙞𝙨𝙘𝙪𝙨𝙨𝙞𝙤𝙣𝙨 (𝙬𝙞𝙩𝙝 𝙤𝙩𝙝𝙚𝙧𝙨)."
"𝙄𝙩 𝙬𝙖𝙨 𝙖 𝙩𝙝𝙤𝙪𝙜𝙝𝙩𝙛𝙪𝙡 𝙖𝙣𝙙 𝙬𝙚𝙡𝙡-𝙤𝙧𝙜𝙖𝙣𝙞𝙨𝙚𝙙 𝙚𝙫𝙚𝙣𝙩 🙂"
Please like our True Love Compass Facebook page and be kept informed of exciting singles events coming your way.
Let's make Socialising fun again!
About the organizer
Singles Events Organiser | Social App Creator | Relationship Coaches
True Love Compass was incorporated in Singapore in 2020. UEN: 53432879B
With 15,000+ members in our community, we are committed to bringing together more singles in Singapore via our innovative events, insightful workshops, and community-focused social app.
First time joining our events? Check out our Event FAQs here: http://tlc-dating.com/?page_id=473