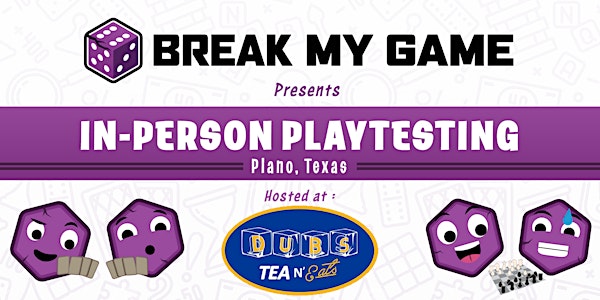 Multiple dates
Break My Game Playtesting - Plano, TX - Dubs Tea N' Eats
Come playtest board games designed by local independent game designers!
Date and time
March 12 · 2pm - December 3 · 5pm CDT
Location
Dubs Tea N' Eats 3131 Custer Rd Ste 178 Plano, TX 75075
About this event
Have you ever had an idea of how to make a game better? If you have ever played a game and thought "this would be better if..." then you would love playtesting with Break My Game! We are looking to help designers make their games better by providing feedback during their design process. Your voice could make a good game GREAT!
We are bringing Break My Game to DFW!! The event will take place on the 1st Sunday of every month at Dubs Tea N Eats in Plano (address in the link below). This event starts at 2pm and will go to 5pm
Designers, please use our Eventbrite to register your game for playtesting!
If you wish to attend as a player and won't be registering a game to playtest, there is no need to request a ticket. Simply join us on the day of the event and join in on the fun!
There are 8 tickets available, first come first serve! You will have a table reserved for your playtest for 90 minutes (including teach time and feedback).
There is no cost for these events, but if you wish to make a donation to support the Break My Game community, you can do so through Eventbrite!
Break My Game, Inc. is a 501(c)(3) charity, and your donations are tax-deductible.