Description

Bread Making 101 with Chef Cleo
Presented by The Trustees
Join us in The KITCHEN to learn just how easy and satisfying it is to make bread in your own home. A classic favorite, the honey-wheat loaf featured in this class is great for sandwiches or to round out any dinner. Mix, knead, and shape your own loaf to take with you and bake at home, and sample the finished product with local cheeses from the Appleton Farms cheese shop at The Boston Public Market!
It's never too late to start making your own bread, and once you do, you'll see why you'll never go back!

This is a family-friendly version of this class. Kids age 5+ are welcome to attend with an adult.
Bread Making 101
Thursday, April 20
5:30-7:00 pm
The KITCHEN at the Boston Public Market
100 Hanover Street
Boston, MA 02018
This classes will sell out quickly. Please purchase your ticket in advance.
Tickets: $36 per Trustees member and $45 per nonmember. Child Member $22, Child Non-member $28. Members must bring their current member card and number. Join The Trustees and save! Members save between 20-50% off all classes in The KITCHEN. Join here.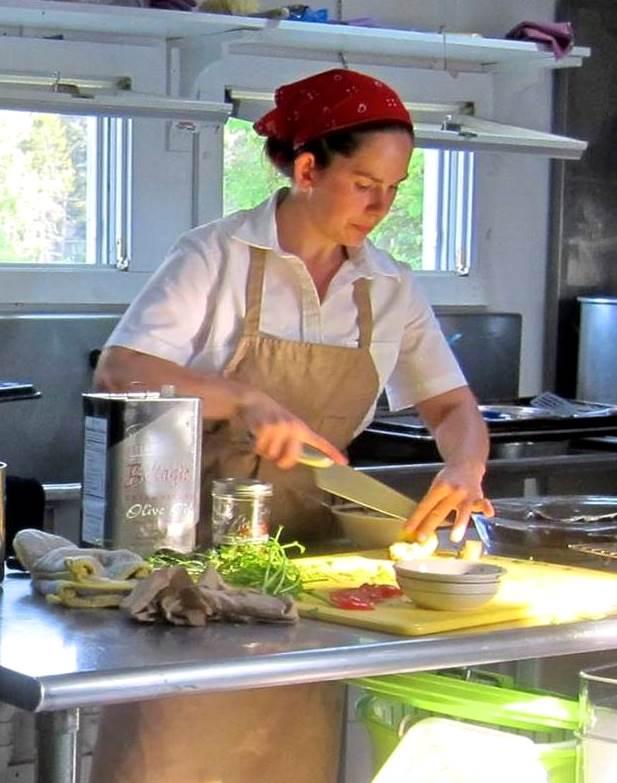 About Chef Cleo Bell
Cleo was born and raised in Washington, DC. She attended McGill University in Montreal and has a BA in Cultural Anthropology. After graduating, she moved back to DC and began working at local restaurants, such as Againn, a British Isles-inspired gastro-pub and Komi, a high-end Mediterranean restaurant. She has spent 2 summers as the Head Chef for the Hog Island National Audubon Society summer camp in Maine, working with local farms to bring fresh food to the Island and to happy campers. Cleo is thrilled to have the opportunity to cook and teach at Boston Public Market, with the whole Market to source from and the whole of Boston to serve.
At first glance, it might seem a strange road from cultural anthropology to cooking, but food and cooking are integral to the expression and transference of culture. As they say: culture begins at the table. By concentrating on serving local, sustainable foods, Cleo hopes to elevate the experience of the diner and to make a positive impact on the local food community.
About The Trustees and The KITCHEN
As one of the largest owners of agricultural land and the premier steward of the cultural and natural landscape of Massachusetts, The Trustees extends its leadership to transform the local food system by connecting residents and visitors back to the land and sharing the Commonwealth's collective agrarian heritage through innovative retail and educational experiences at the Boston Public Market in the heart of downtown Boston.
The KITCHEN is a community gathering place, managed by The Trustees, that is restoring the craft of seasonal cooking in Massachusetts, New England, and beyond through hands-on classes and educational experiences that celebrate the farmers and artisans of this region. Partnered with the Boston Public Market, The KITCHEN embraces a whole-food approach to eating and promotes cooking as an essential cornerstone of a sustainable food system.
Join The Trustees and receive 20%-50% off all classes, workshops, and events at The KITCHEN and all Trustees properties.