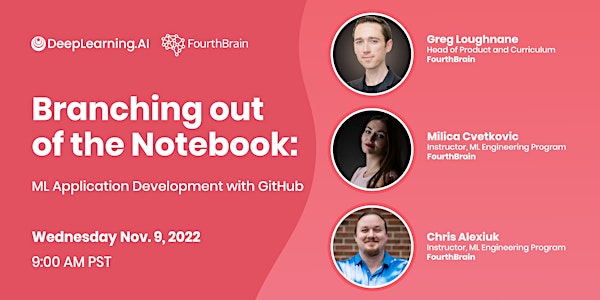 Branching out of the Notebook: ML Application Development with GitHub
Join us for an interactive workshop on version control best practices, GitHub branch development, and pull requests.
About this event
Welcome to your first week on the job as a Silicon Valley Machine Learning Engineer! Your first task is to use code from an existing containerized ML web application to deploy a new state-of-the-art, open-source text-to-image diffusion model for internal stakeholders.
Join us for a live, interactive workshop that covers how to accomplish this task using industry-standard version control best practices, including GitHub branch development and pull requests.
This 1-hour hands-on session will be hosted by Greg Loughnane, Ph.D., Head of Product & Curriculum at FourthBrain, and will be supported by Milica Cvetkovic and Chris Alexiuk, experienced Instructors from FourthBrain's Machine Learning Engineering Program.
MacOS will be used for the demo, and all setup and deployment code will be provided.
Those with a non-technical background are welcome to attend as well. Special thanks to FourthBrain for co-hosting the event with us!
Who should attend the event?
Learners who are curious about branch development and pull requests..
Learners who aim to quickly deploy state-of-the-art diffusion model apps..
Learners who want to add version-control to their ML app development.
Why should you attend the event?
To learn how to do branch development and how to work with pull requests.
To see an example of an end-to-end mlops diffusion model deployment.
To see how Git workflows integrate with a VSCode development environment.
Event Agenda
40-minute interactive workshop
10-minute Q&A: Taking live questions from the audience
How to attend the event:
When you register, you will receive a Livestream link via email three days before the event.
Can't attend the live YouTube event? Don't worry. Register now to get the recorded session after the live event.
​​About the instructor:
Dr. Greg Loughnane is the Head of Product & Curriculum at FourthBrain, where he leads their portfolio of Machine Learning Engineering and Machine Learning Operations (MLOps) courses. Over the past decade, he has worked as a product manager, data science consultant, and ML researcher, but his real passion has always been in teaching. He is fascinated by what the workforce of the future will look like and enjoys coaching young and career professionals on how to future-proof themselves against 21st-century technologies like AI and 3D Printing.
Milica Cvetkovic, has been an active organizer in the startup world and feels passionate about the startup communities. By day, Milica is a data scientist and machine learning engineering instructor. Outside of work, Milica is passionate about the outdoors and trekking. She loves winter camping and enjoys spending her polar vortices outside.
Chris Alexiuk, is an Instructor at FourthBrain, as well as a Founding Machine Learning Engineer.
About FourthBrain
FourthBrain's mission is to bring more people into the growing fields of Machine Learning and Artificial Intelligence. We are increasing the talent pool and enabling more people to make an impact in this field with our flexible, accessible education programs that create pathways into ML and AI careers.
We offer 2 Programs:
1. MLOps Program: Our 10-week program will help get you prepared with the MLOps tools, skills, and best practices for deploying, evaluating, monitoring and operating production ML systems.
2. Machine Learning Engineer Program: Our 16-week program will prepare you with the technical skills to be a machine learning engineer including web analytics, deep learning, computer vision, and time-series analysis.
With FourthBrain's live, online, instructor-led programs in Machine Learning, you can join a career path that has been ranked as one of the best in the world. Our programs are designed with a flexible and practical curriculum, paired with hands-on projects that apply the concepts you've learned to make you career-ready. FourthBrain is backed by the AI Fund, which was founded by Dr. Andrew Ng in 2017.