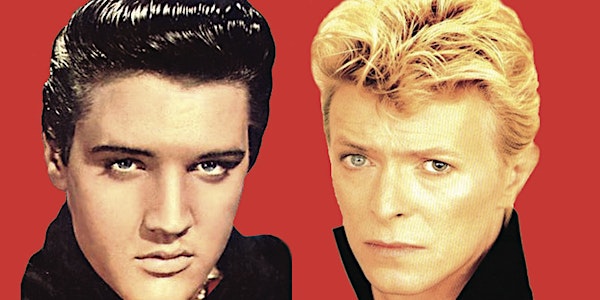 Bowie & Elvis Birthday Bash 2023 - TICKETS AT THE DOOR!
Bowie & Elvis Birthday Bash 2023 Edition - ADMISSION AT THE DOOR Saturday, January 7, 9:30pm-2am
When and where
Location
Milk Bar 1840 Haight Street San Francisco, CA 94117
Refund Policy
Refunds up to 1 day before event
About this event
ADMISSION AT THE DOOR - ADVANCE SALES HAVE ENDED - STILL JUST 5 BUCKS!
Bowie & Elvis Birthday Bash 2023 Edition
Saturday, January 7, 9:30pm-2:00am 
Milk Bar, 1840 Haight St, San Francisco
DJs and special performance by Kitten on the Keys
Celebrate 2 legends with their music and visuals all night. DJs playing all David Bowie and Elvis Presley: Shindog (New Wave City), with Cammy, Moonshine, Andy T. The event features a special live performance by San Francisco's Kitten on the Keys, at 11pm.
Here's a chance for fans of either or both acts to celebrate their music, personas, and lives. The annual Bowie & Elvis Birthday Bash returns in its 12th year, and uniquely among other events, presents the music, image and legend of these two iconic artists who each changed popular culture as none other – we'll never see the likes of them again.
2022 was a big year from these artists. Baz Luhrmann's "Elvis" movie has been a tremendous global success, as well as critically acclaimed, and brought the story and music of Elvis to a huge audience. Bowie also made it to the movie screens with filmmaker Brett Morgen's documentary "Moonage Daydream," the first film to be officially authorized by Bowie's estate, using previously unreleased footage from Bowie's personal archives, and featuring some new mixes and renditions of Bowie songs.
Kitten on the Keys aka Suzanne Ramsey is a Bay Area native, singer and multi-instrumentalist, known for her unique interpretations of a wide variety of songs from various decades of the last century. She has. Kitten was awarded a 2003 SF Weekly Music Award she's traveled with Burlesquefest and Devotchka, opened for the legendary band The Damned, has hosted major burlesque events across the U.S. and Europe, and performs regularly in San Francisco, including at Madrone Art Bar, Rite Spot, Piano Fight, and Royal Cuckoo. David Bowie is a particularly inspiration for Kitten, and she was one of the performers at the sold-out Marc Huestis Tribute To David Bowie after his passing in 2016. Her haunting performance of Bowie's "Lazarus" can be found on YouTube: https://www.youtube.com/watch?v=9YKsaanVd3E
Another Kitten/Bowie performance, of "Space Oddity": https://www.youtube.com/watch?v=rbXn56oVZK4
At the Bowie & Elvis Birthday Bash 2023 Edition, enjoy a piece of Presley/David birthday cake. Dress up in a look inspired by Elvis Presley or David Bowie. Dance to their songs, both their best known, and rare tracks. Watch video performances on their songs, and visuals chronicling their careers and lives.
From Modern Love to a hunka hunka Burning Love, from Flaming Star to Ziggy Stardust, from Good Rockin' Tonight to Rock 'n Roll Suicide, the Bowie & Elvis Birthday Bash has it all.