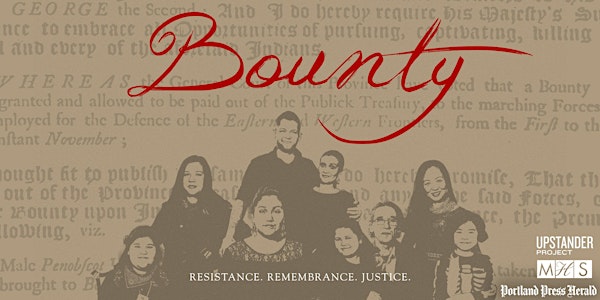 BOUNTY Live World Premiere + Q&A
Presented by Upstander Project, Portland Press Herald, and Maine Historical Society
About this event
There will be two screenings of Bounty on November 10th. This page is for the 7pm ET / 4pm PT screening. THIS SCREENING IS NOW WAITLIST ONLY. You can sign up for the later screening of Bounty at 9pm ET / 6pm PT here.
Join us for the world premiere of the new Upstander Project film, BOUNTY. Here is the synopsis of the film, by Dawn Neptune Adams, Maulian Dana, Adam Mazo, Ben Pender-Cudlip, and Tracy Rector:
We are citizens of the Penobscot Nation. For this film, we bring our families to Boston to read our ancestors' death warrant. This abhorrent proclamation, made in 1755 by the colonial government, paid settlers handsomely to murder Penobscot people. It declared our people enemies and offered different prices for the scalps of children, women, and men. Bounty proclamations like this, some even paid in stolen land, persisted for more than two centuries across what is now the United States.
The memory of being hunted is in our blood. We know this to be true, and the science now affirms that trauma can be passed down from generation to generation. In BOUNTY we step into the future together with our children into the colonizer's hall of injustice, to read their hateful words and tell the truth about what was done to our ancestors. We exercise our power by sharing the horrors of this hard history as an act of resistance, remembrance, and a step toward justice.
Join Penobscot Nation Tribal Ambassador Maulian Dana, film participant Dawn Neptune Adams (Penobscot), Upstander Project learning director Mishy Lesser, and filmmaker and Upstander Project director Adam Mazo for a conversation after the film.
Learn more about the film at bountyfilm.org.
EVENT SCHEDULE (all times Eastern)
7:00 PM - 7:20 PM: Film Introduction
7:21 PM - 7:30 PM: BOUNTY film
7:31 PM - 8:30 PM: Film Team Q&A
FAQs
How will I access the screening?
The screening will occur on the OVEE website. Once you register we will automatically send you a link to access the streaming. This link will be sent a couple of days prior the event.
If you have not received your link the day before the event, please check your spam folder for the email containing the link.
What device can I use to watch the live stream?
A computer or large screen device that you use to watch movies is ideal. As long as your device is able to stream video from the internet you are all set. A tablet or phone that can stream video will also work. The screening platform works best on the latest versions of Firefox and Chrome browsers. Please test that your device and browser are compatible with the screening platform here: https://ovee.itvs.org/diagnostics
How do I know if I am in the right place for the screening?
Using the link we will provide to you via email prior to the event you will land in a virtual waiting room and once the screening is opened you will automatically begin seeing the video content that is playing there. After you follow the link for the screening you are all set, no further action is needed.
Why does the platform say I am too young to enter the screening?
If you see a message that says you are too young to enter the screening, this is because you have entered a birthdate that puts you under 18 years old. If you have done this by mistake, you must clear the cookies on your current browser, or you may open the screening link in a different browser and enter the correct birthdate.
What's the refund policy?
As this event is accepting donations only we do not typically offer refunds. If you are unable to access the screening and would like a refund please email us.
Why do I have to enter my birthday on the OVEE streaming platform?
This is to ensure that you are over 18 years old.