About this Event
ABOUT BOTTLEROCK BUS PROGRAM
We know that driving can be stressful and troublesome so leave that up to us; sit back, and relax on a shuttle to BottleRock Napa Valley!
Buses will run on Friday, May 24 // Saturday, May 25 // Sunday, May 26 with convenient pick up times to get you to the festival out of Fairfield, Mill Valley, Oakland, Palo Alto, Sacramento, San Francisco, San Jose, Santa Rosa, and Sonoma. Buses will have a designated shuttle drop-off/pick-up location within the venue lots and close proximity to the main entrance!
We are now only selling Single Day Round Trip Shuttle Passes. Single Day Round Trip passes and selected times will sell out, we recommend buying now!
If you are attending the festival 1 day, you will only need to purchase 1 single day round trip pass.
If you are attending 2 days, you will need to purchase 2 single day round trip passes.
If you are attending 3 days, you will need to purchase 3 single day round trip passes.
You will select your departure date/ time at check out. 3- Day passes are no longer available.
RETURN TIMES FOR ALL CITIES
You will not select a return time at check out. ALL buses are guaranteed to be there at least 1 hour post final act. Buses however will not leave EARLY unless they are full. They will begin staging to depart at ALL locations at 9pm.
Buses will be staged for return transfers where you were dropped off at (the orange tent at 1000 Soscol Ave).
BUS SCHEDULE
At the checkout page please select the date you would like transportation (Friday 05/24, Saturday 05/25 or Sunday 05/26) and select the pick-up time for each day where applicable (see options below).
Travel times to the festival are NOT guaranteed though we certainly do our best to stay on schedule traffic permitting. If there is a particular act you would like to see, please take the earliest shuttle time to be safe.
The date and time that you choose will be the ONLY time your bus ticket will be guaranteed. If you miss your specific bus time, FestDrive will do our best to get you on to the next bus but this is not guaranteed.
Bus passes include round trip transportation to and from the festival. When you arrive at the bus pick up, please check in with FestDrive staff to receive your wristband. If you purchased a 3-day pass, your wristband will be valid for 3-days. If you purchased a 1-day pass, your wristband will be valid for 1 day. If you are only using the round trip pass to return to your selected city after the event, you will be able to check in with our staff, and get your wristband.
DEPARTURE CITIES / TIMES / PICK UP LOCATIONS
FAIRFIELD
$52 Single Day Round Trip
Departs at 11am or 1pm
Cordelia Junction, Red Top Road Park and Ride. Red Top Road @ I-80 (across from Sunnyside Dairy)
MILL VALLEY
$62 Single Day Round Trip
Departs at 11am ONLY
Manzanita Park and Ride lot
OAKLAND
$62 Single Day Round Trip
Departs at 10am or 1pm
Rockridge BART Station, 5664 College Ave. Meet at the base of the escalator in front of the yellow Rockridge sign
PALO ALTO
$69 Single Day Round Trip
Departs at 11am ONLY
Caltrain Station, 95 University Ave, Palo Alto. Meet staff on the West side of the tracks at the corner of University and Urban Lane
SACRAMENTO
$62 Single Day Round Trip
Departs at 11am ONLY
James Marshall Park - Meet staff at corner of J and 28th on park side
SAN FRANCISCO
$69 Single Day Round Trip
Departs at 10am or 1pm
Asian Art Museum (Larkin and Fulton Street)
SAN JOSE
$72 Single Day Round Trip
Departs at 11am ONLY
Diridon Caltrain Station, 65 Cahill St. Meet staff at main entrance
SANTA ROSA
$68 Single Day Round Trip
Departs at 11am ONLY
Park & Ride, Bennett Valley Rd, Santa Rosa
SONOMA
$52 Single Day Round Trip
Departs at 11am or 1pm
The Lodge at Sonoma Renaissance Resort & Spa, 1325 Broadway at Leveroni & Napa Roads, Sonoma (Parking at the Resort is for paying guests only. The Lodge does have street parking and you are more than welcome to park along the road in any direction) (Do not contact the hotel with any questions, please direct them to tickets@busbank.com)
TICKET INFORMATION
Once you purchase, you will receive an order confirmation email from Eventbrite on behalf of FestDrive. All bus tickets purchased on this page will be delivered as e-tickets. You will need to print your ticket(s) or show the electronic ticket on your smartphone to ride the bus.
IMPORTANT: If you do not see your order confirmation in your inbox, make sure to check your junk/spam folder.
If you are having any other technical ticketing-related issues with your order, please contact Eventbrite. For non-technical bus ticketing questions, contact FestDrive by emailing tickets@busbank.com.
Please note that the date and time listed on the Eventbrite ticketing page (Date and Time) and top of your ticket is regarding the shuttle service as a whole (Fri, May 24, 2019, 10:00 AM – Sun, May 26, 2019, 10:30 PM PDT). Your designated departure time is stated on the bottom of your ticket under REGISTRATION INFORMATION.
Please contact FestDrive with any questions by emailing tickets@busbank.com. Please reference "BottleRock Bus Program 2019" in the subject line. There are no refunds, but ticket transfers are permitted. Buses operate rain or shine.
BAG POLICY
Please note the new 2019 Bag Policy: All bags are limited to two-pockets or less and must measure 14″ x 14″ or less. No backpacks are allowed. For expediency, we recommend using a clear bag. Fast Lanes will be available for guests entering with NO BAG!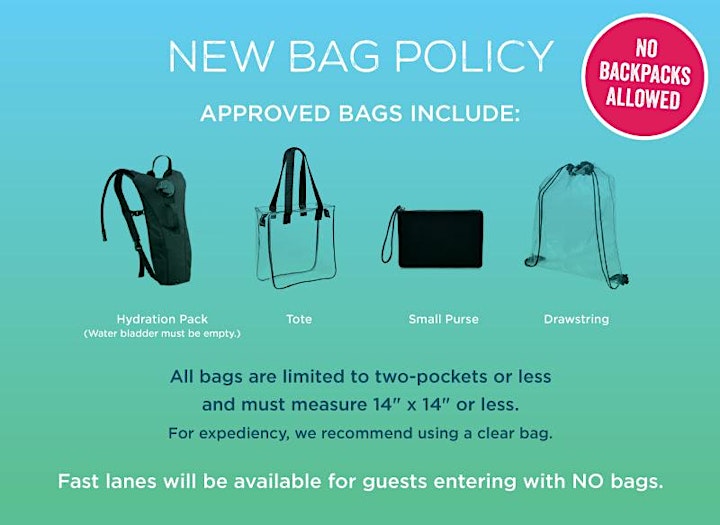 CHARTER BUSES TO BOTTLEROCK
If you have a large group and are looking to charter an entire bus, FestDrive can help as well. Click here and book your private charter in just three simple steps! Enter your trip details, choose your vehicle, and reserve now, pay later. If you have any questions, please contact FestDrive directly at tickets@busbank.com.