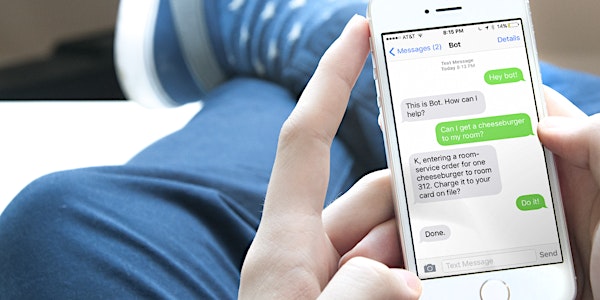 BOT-UX WORKSHOP | Intro to creating great conversational-bot experiences
When and where
Location
4055 Tejon St Denver, CO 80211
Description
ANYONE CAN MAKE A BOT - DEFINING THE RIGHT EXPERIENCE IS THE HARD PART.
You've likely heard it - no UI is the new UI. TIME called today's 'bot-craze' "the next platform for applications and services".
Who'd have thought that a bot could reduce 40% of a major brand's customer support costs, increase revenue by 30% or boost NPS scores from 36/100 to 70/100?! With new bots being brought to life daily by startups and huge household brands alike, you can now use a bot to order a sandwich, make a payment or donation, read the news, remind you of an appointment or even make an appointment. Washington DC, even has a bot for their 311-public services hotline. The list goes on and on.
This WORKSHOP is free and open to anyone interested in exploring bots and creating your own great conversational-chat-bot experience - open to all UX designers, software developers, product, marketing and customer support professionals, etc...Anyone with an interest in bots!
OUR CURRICULUM is focused on the anatomy of great bot experiences, best practices and the nuances of creating useful, not gimmicky bots - all hands-on, along side skilled mentors.
Brought to you by Botonauts - check out www.botonauts.com if you're interested in expanding the knowledge and possibilities for humans and bots.
Share this event on Facebook and Twitter

------------------------------
*Bring your laptop or be prepared to share with someone!
Bots, bots, bots! Beer, beer, beer! Pizza, pizza, pizza!
If you want to present a bot or pitch a bot concept, please email us at bot@botonauts.com
------------------------------
Parking: For easiest access to our Tejon Street entrance (4055 Tejon), please park on Tejon or 41st. See map below for details and please contact us directly if you have any questions!