Description
ABOUT THE EVENT
An interactive design workshop that matches professionals into small teams to develop a concept urban or vertical farm for a pre-selected site in Boston. Participants will benefit from a crash course in hydroponic and aquaponic vertical farming, economics of urban agriculture, and mentorship throughout the workshop.
At the conclusion of the workshop, an audience will gather on December 3rd at 4:00pm at Greentown Labs. Workshop teams will present their concept farms to the audience and to a panel of judges who will select the winning team.
Click here for a short video summarizing Agritecture Workshops

HOW IT WORKS
This workshop is strictly limited to 30 participants, who will be divided into three teams. We do our best to balance the teams to include at least one of the following professionals:
-Architect
-Grower
-Entrepreneur
-Engineer
-Financial Professional
-Marketing Professional
-Sustainability Manager
-Student
Workshop participation tickets are now SOLD OUT. Presentation only (with networking) tickets are still available.

Presentation Only Tickets

If you choose to purchase a presentation only ticket, please be invited to join us beginning at 4:00pm on Saturday, December 3rd at Greentown Labs. There will be tours and networking available leading up to the keynote speaker (James Miner), team presentations, and the networking to follow.
Tentative Schedule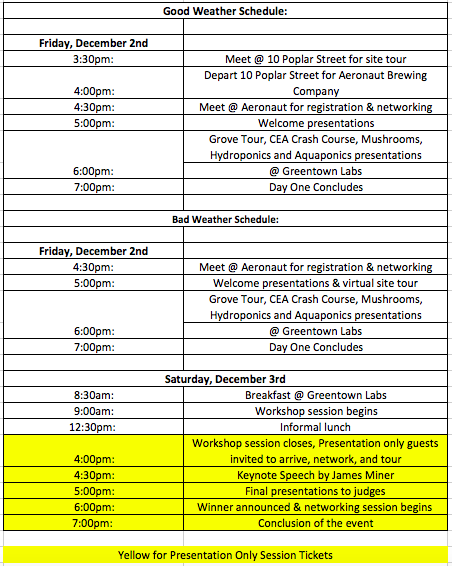 ** We will notify workshop participants on day event of via email regarding whether we will use the good or bad weather schedule **
Student Tickets
Students get free entry. Email henry(at)agritecture.com from your student email to request a free ticket.
Judges:

James Miner, AICP - Managing Principal, Sasaki - Watch James's TEDx Talk here
Dr. Deane Falcone - SVP, Plant Science, FreshBox Farms - View Deane's Bio here
Rose Arruda - Urban Agriculture Coordinator, MA Department of Agricultural Resources (MDAR) - View info on Rose's department here
Gold Level Sponsors: FreshBox Farms, Sasaki, & City Soil
Event Planning & Coordination Sponsors: Greentown Labs, Grove Labs, Captus Group LLC, and Blue Planet Consulting
If you're interested in sponsoring, please contact andrew(at)agritecture.com for details.
Past Workshops:
Check out past workshops held in New York, Las Vegas, Atlanta, Minneapolis, Fresno and London.
Website:
Visit http://agritecture.com/workshop for more info.
Location:

Greentown Labs
28 Dane Street
Somerville, MA 02143