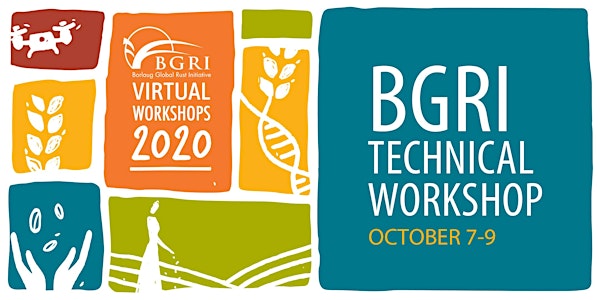 Borlaug Global Rust Initiative Technical Workshop 2020
A virtual gathering of the world's scientists working in wheat and rust research, delivering innovations to farmers across the world.
About this event
The Borlaug Global Rust Initiative's (BGRI) virtual technical workshop will bring together scientists at the forefront of wheat science for cutting-edge training and knowledge sharing. Experts from global institutions such as Cornell University, CIMMYT, ICARDA, and the John Innes Centre, with presenters from Ethiopia, Kenya, India, Australia, Finland, Mexico, the United Kingdom and United States, will lead in-depth talks and discussions on the most pressing challenges facing global wheat security.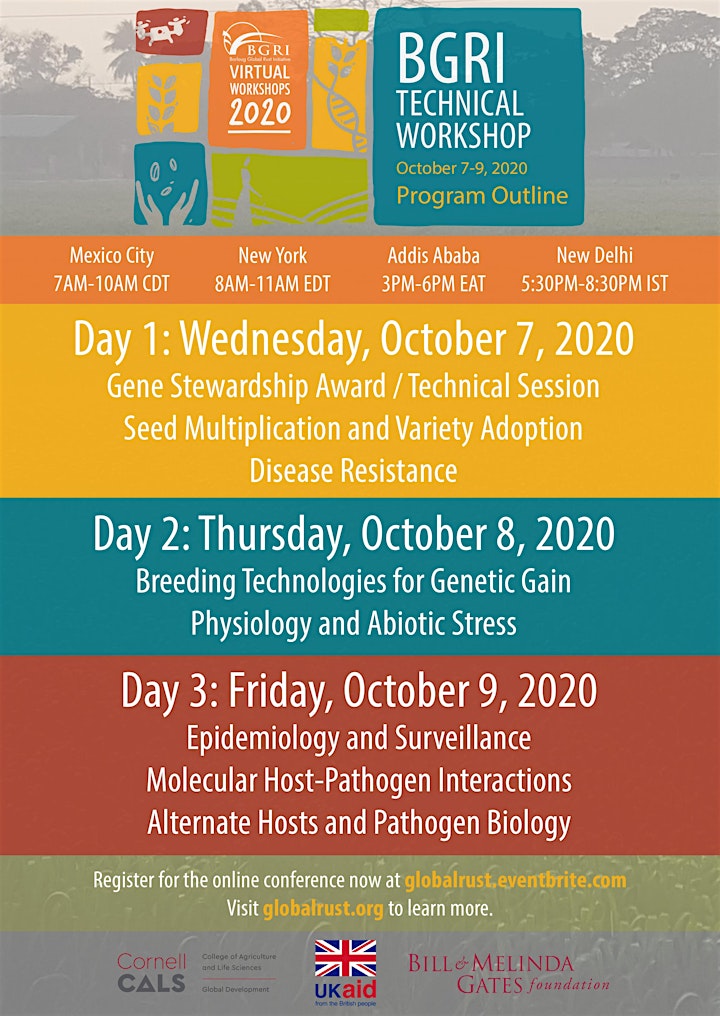 Program Outline
The BGRI will be presenting online daily virtual sessions October 7-9, 2020 at 12:00 ETC
7AM-10AM CDT (Mexico City)
8AM-11AM EDT (New York)
3PM-6PM EAT (Addis Ababa)
5:30PM-8:30PM IST (New Delhi)
Day 1: Wednesday, October 7, 2020
Gene Stewardship Award
Seed Multiplication and Variety Adoption
Disease Resistance
Day 2: Thursday October 8, 2020
Breeding Technologies for Genetic Gain
Physiology and Abiotic Stress
Day 3: Friday, October 9, 2020
Epidemiology and Surveillance
Molecular Host-Pathogen Interactions
Alternate Hosts and Pathogen Biology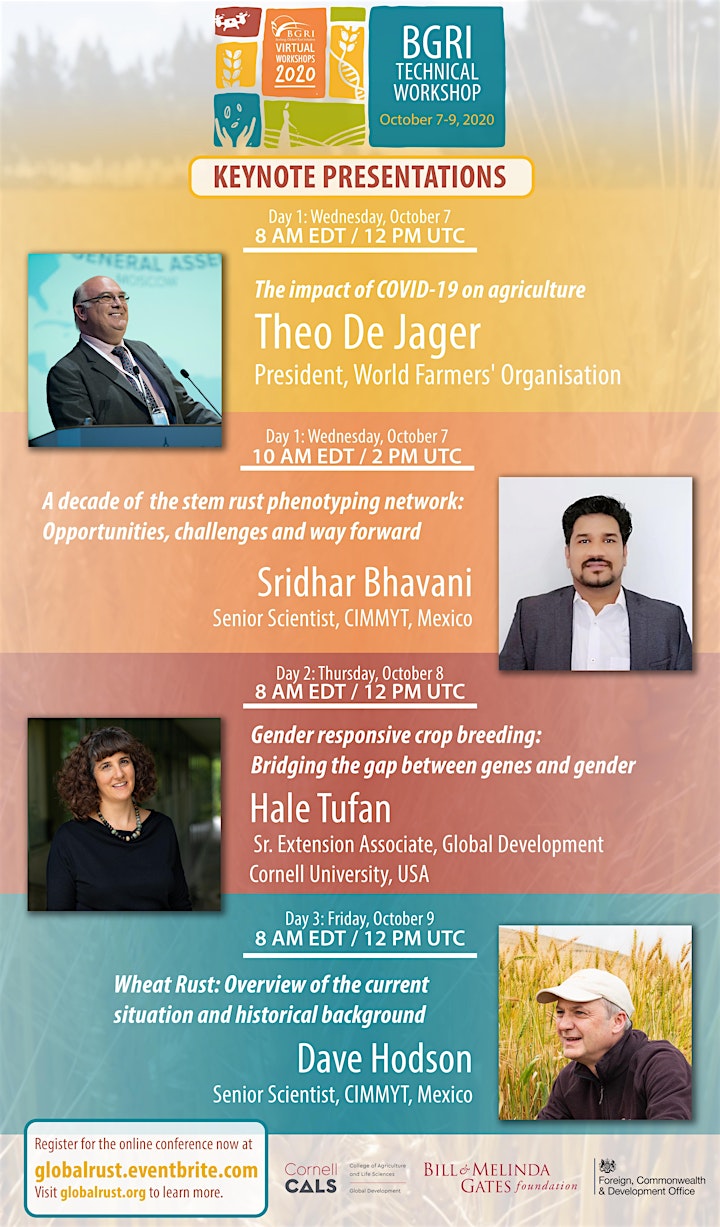 The BGRI is a strong proponent of responsible gene deployment to ensure the efficacy of disease resistant genes available to breeders. Since 2012, the BGRI has bestowed the Gene Stewardship Award in recognition of excellence in the development, multiplication and/or release of rust resistant wheat varieties that encourage diversity and complexity of resistance. The winners of the 2020 BGRI Gene Stewardship award will be announced at the workshop.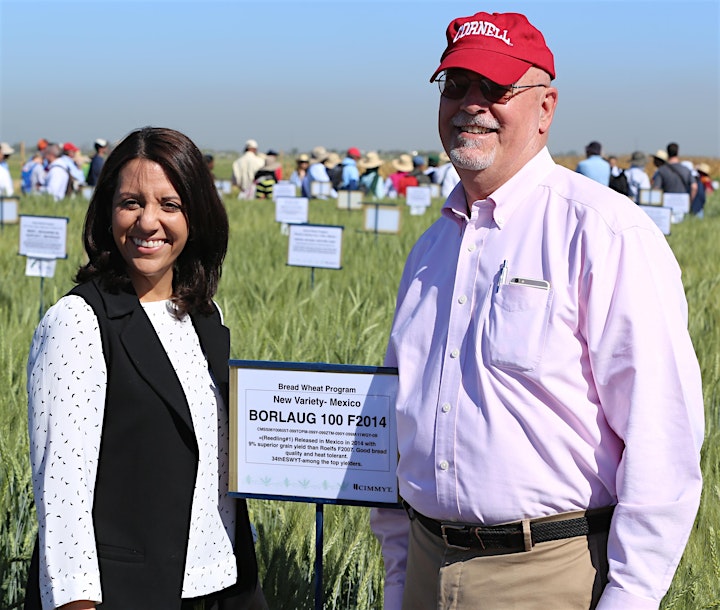 "Right now we are witnessing the devastation that the global spread of disease can cause, and it underscores the continual threat that diseases pose to our most important food crops. Devastating wheat epidemics would be catastrophic to human health and wellbeing. October's workshop is an opportunity for wheat scientists to converge virtually for the practical training and knowledge-sharing we need to fight numerous challenges."
Ronnie Coffman, vice-chair of the BGRI and an international professor in Cornell's Department of Global Development and School of Integrative Plant Science
"The BGRI has been at the forefront of developing the next generation of wheat warriors, especially in strengthening the technical and professional skills of women and men scientists from developing countries. We are taking a global approach to help reduce the threat of diseases that can overwhelm farmers' wheat fields. Issues related to improving world food security, especially in the face of climate change, can only be addressed by a diverse and united global community."
Maricelis Acevedo, associate director for science for the Delivering Genetic Gain in Wheat (DGGW) project and researcher in Cornell's Department of Global Development
Wheat is one of the world's largest primary commodities, with global production of over 700 million tons, grown on over 215 million hectares. Eaten by over 2.5 billion people in 89 countries, wheat provides 19% of the world's total available calories and 20% of all protein.
Over the past 20 years, the global area under wheat production has not increased. To produce the required amount of wheat needed to feed the world's growing population, researchers predict wheat yields must increase at least 1.4% per acre through 2030.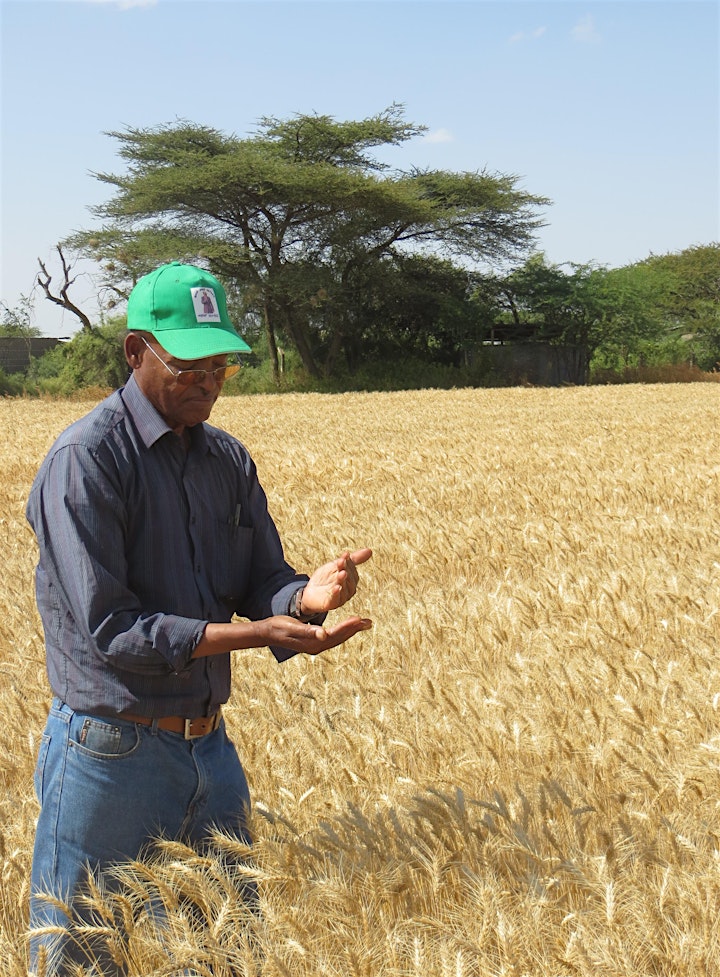 Wheat faces pressure from the changing environment and diseases, especially rust diseases increasingly prevalent in wheat-growing regions everywhere. The BGRI was formed in 2005 in response to a novel strain of rust discovered in East Africa known as Ug99 that posed risks of epidemic proportions to global wheat production. Norman Borlaug galvanized global scientists and donors in a bid to combat Ug99 and other disease pressures.
"The world averted disaster thanks to the commitment of researchers and farmers from all over the world who participated in the BGRI's coordinated global response," said Coffman. "With the backing of far-sighted donors, the BGRI focused on delivering rust-resilient varieties of wheat to farmers around the world, and dedicating our efforts to small-holder farmers in wheat-producing countries in Africa and Asia — men and women who do not always have access to new technologies and improved seed."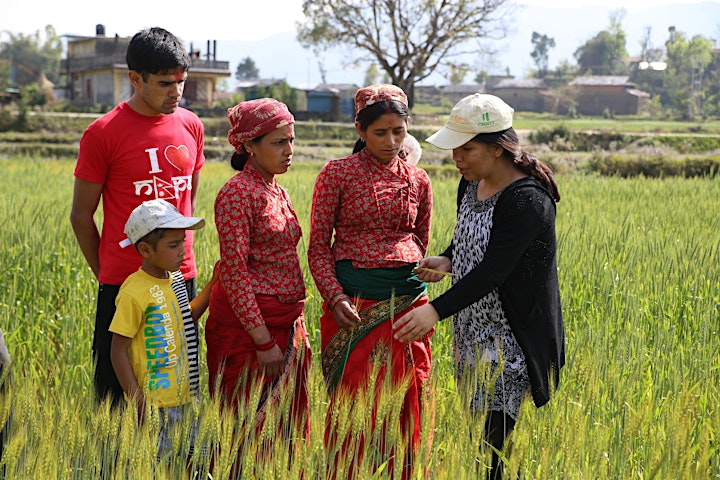 The BGRI is a community of hunger fighters dedicated to protecting the world's wheat. The initiative receives funding through the DGGW project, supported by the Bill & Melinda Gates Foundation and UK aid from the British people.