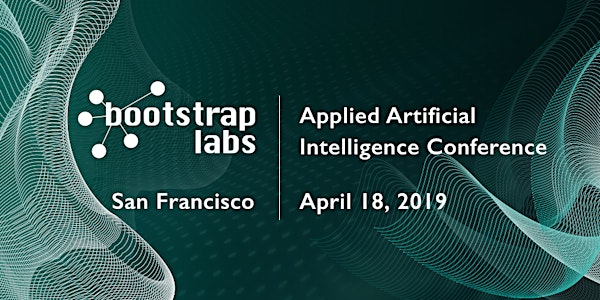 BootstrapLabs Applied Artificial Intelligence Conference 2019
When and where
Location
Bespoke Events (Westfield San Francisco Centre - Level 4) 845 Market Street #Suite 450 San Francisco, CA 94103
Description
BOOTSTRAPLABS APPLIED ARTIFICIAL INTELLIGENCE CONFERENCE AAI19
HOW APPLIED ARTIFICIAL INTELLIGENCE IS CHANGING ENTERPRISE, GOVERNMENT, AND SOCIETY
---
BootstrapLabs Applied Artificial Intelligence Conference returns for its fourth year on April 18, 2019, in downtown San Francisco.
The one-day conference brings together the brightest and most experienced professionals in the field of AI for an immersive day of learning, discussion, and connection. This year's agenda focuses on the latest trends and impact of the technology across a breadth of sectors: Mobility, Healthcare, Finance, Agriculture, the Future of Work, Enterprise, Internet of Things (IoT), and Cybersecurity, Impact and Policies.
The event captures the deepest insights available within the AI ecosystem including world-class perspectives on AI research, entrepreneurship, investing, and business transformation. Throughout the day, experts share practical and methodological wisdom on how to take advantage of AI's powerful potential.
The BootstrapLabs Applied AI Conference is a must-attend event for those involved or interested in the most current AI trends, applications, technologies, and products. Join industry leaders for a day filled with thought-provoking keynotes and panels about how AI is reshaping business, society, and life as we know it.
For general questions, please email events@bootstraplabs.com
---
This year's speakers will include:
Walter Robb, Principal, Stonewall Robb Advisors, Entrepreneur & Former Co-CEO, Whole Foods Market
Danny Lange, VP of AI and Machine Learning, Unity Technologies
John Apostolopoulos, VP & CTO for Enterprise Networking Business, Lab Director for Innovation Labs, Cisco
Dharmesh Syal, CTO & Partner, BCG Digital Ventures
Kay Firth-Butterfield, Head of Artificial Intelligence and Machine Learning, World Economic Forum
Irakli Beridze, Head of the Centre for Artificial Intelligence and Robotics, UN
Erin Kenneally, Portfolio Manager, Cyber Security Division, Science & Technology, U.S. Department of Homeland Security
Jason Hoffman, President & CEO of MobiledgeX
Tom Campbell, Founder & President, FutureGrasp, LLC
Dr. John Rumsfeld, CIO at American College of Cardiology; Professor of Medicine at University of Colorado
Natalie Pierce, Shareholder and Co-Chair, Littler's Robotics, AI & Automation Practice Group
Oliver Brdiczka, AI Architect, Adobe
David Rothzeid, Director of Acquisition Pathways, Defense Innovation Unit
Sabrina Atienza, Founder & CEO, Valued
Karim Galil, Founder & CEO, Mendel Health Inc.
Alex Holub, CEO, Vidora
Cathrine Andersen, Co-Founder, Roger.ai
Margaretta Colangelo, Managing Partner, Deep Knowledge Ventures
Nicolai Wadstrom, Founder & CEO, BootstrapLabs
Rahul Sachdev, Co-Founder & CEO, Fortella
Dr. Jonathan D.T. Ward, Founder, Atlas Organization
Herb Kelsey, Founder & CEO, Quantum Vault Inc.
Ben Levy, Co-Founder, BootstrapLabs
Simon MacGibbon, CEO & Co-Founder, Myia Labs
Adam Greenberg, Founder & CEO, iUNU
Nada Hanafi, Chief Strategy Officer, Experien Group
Dr. Allan Steinhardt, Chief Scientist, AEye
Christopher Hale, Founder & CEO, Kountable
Matt Man, Founder & CEO, indus.ai
Philip Reiner, Executive Director, Technology for Global Security
Fiona McEvoy, Tech Ethics Researcher & Founder, YouTheData.com
Melissa Oh, Managing Director, Silicon Valley Innovation Program, DHS Science & Technology, U.S. Department of Homeland Security
Jonas Svensson, Head of Global Innovation and Technology, UNOPS
Bahman Bahmani, Director of Data Science, Rakuten
Dinkar Jain, Head of Machine Learning, Facebook Ads, Facebook
Daniel Riedel, Founder & CEO, New Context
Noelle LaCharite, Director & Developer Engagement, Microsoft
Vidya Raman, Director of Product Management & Machine Learning, Cloudera
Mike Haley, Senior Director of AI & Robotics, Autodesk
For more information on our speakers, please see our website.
---
Conference Agenda:
8:00 am – 8:55 am
9:25 am – 9:55 am
Panelists:
9:55 am – 10:20 am
10:20 am – 10:45 am
10:45 am – 11:10 am
11:10 am – 11:35 am
Panelists:
11:35 am – 12:00 pm
12:00 pm – 12:25 pm
12:30 pm – 1:30 pm
1:30 pm – 1:55 pm
1:55 pm – 2:25 pm
Panelists:
2:25 pm – 2:40 pm
2:40 pm – 3:10 pm
3:10 pm – 3:35 pm
3:35 pm – 3:55 pm
3:55 pm – 4:25 pm
4:25 pm – 4:50 pm
4:50 pm – 5:15 pm
5:15 pm – 5:30 pm
5:30 pm – 8:00 pm
---
WHY SHOULD YOU ATTEND THE APPLIED AI CONFERENCE 2019?
The BootstrapLabs Applied AI Conference represents a unique opportunity to deepen your knowledge about trending AI applications and technologies.
Meet leaders driving disruption across all industries using applied AI.

Recruit new talent and network with fellow executives, entrepreneurs, investors, and developers to discuss the current status and possibilities of Applied AI.

Learn AI best practices and the landscape of challenges and opportunities from leading AI experts.
In attending the conference you will discover new ways to become an AI advocate and thought leader in your organization and community.
WHO WILL YOU MEET?
The BootstrapLabs Applied Artificial Intelligence Conference brings together a community of Founders, Intrapreneurs, CTOs, CIOs, Corporate Development Executives, Innovation Officers, Product Managers, and AI/ML Experts including Directors of Engineering, Data Scientists, Executives, Professors, Researchers, and Investors interested in AI.
COMPANIES THAT HAVE PARTICIPATED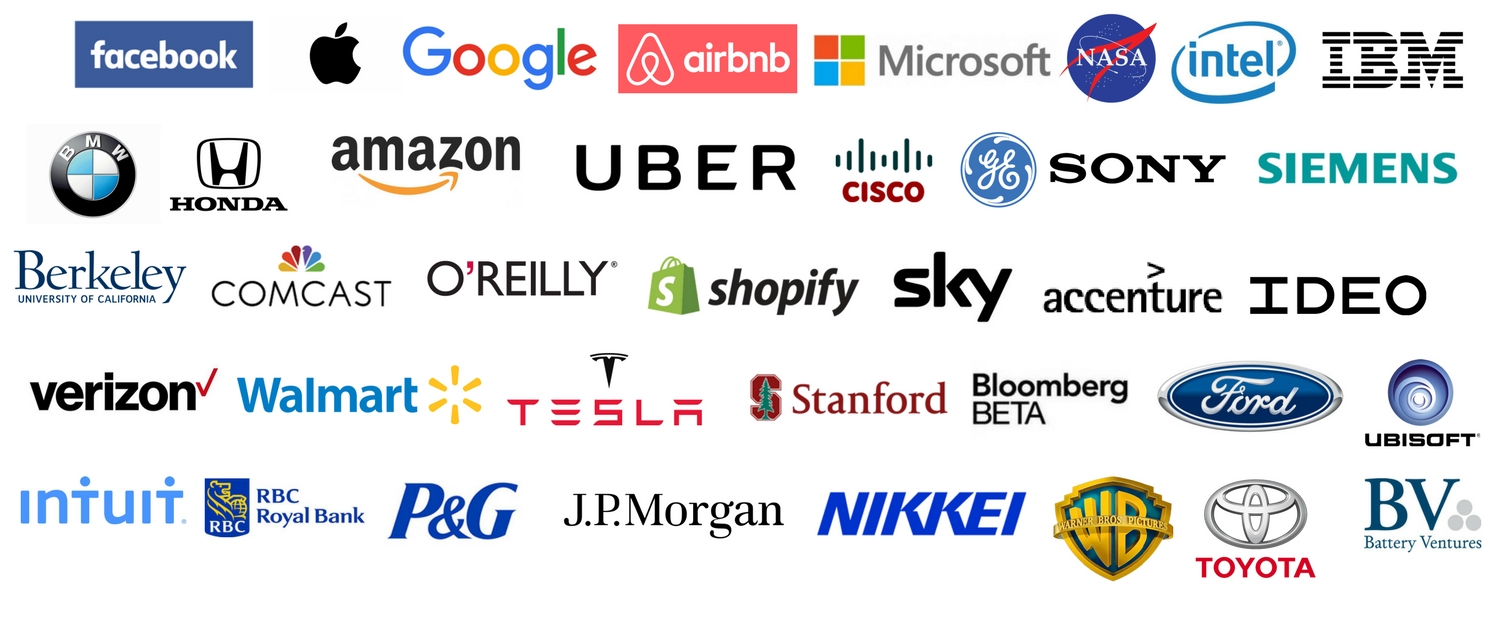 ---
APPLIED ARTIFICIAL INTELLIGENCE WORKSHOP 2019 (FOR EXECUTIVES)
Discover how to apply AI to real-world business problems, hear about real results from industry AI practitioners and learn how to tangibly deploy AI solutions into your organization. This day-long workshop will be held on April 17th at The Battery, one of San Francisco's most exclusive members-only club. Designed to cut through all the noise and buzzwords in Applied AI, this event is specifically geared towards CIOs, VPs, Directors, Senior Managers, and any experienced leader in software engineering who has the power to help make critical decisions for their companies. A limited number of seats are available and attendees will be vetted to ensure they meet the qualifications to attend based on their role or title.
You can find more information on speakers and agenda here.
---
SPONSORSHIP INQUIRIES
---
PRESS REGISTRATION
Limited press passes are available to full-time reporters or freelancers working for established print, online, or broadcast news organizations.
Journalist inquiries regarding the Applied AI Conference 2019 should be directed to press@bootstraplabs.com with email subject: Journalist AAI19 or fill out this form.
---
PRIOR ATTENDEES & SPEAKERS
Last year's sold-out conference hosted over 800 top executives from Fortune 500 companies, AI startups founders, venture capitalists, researchers and AI developers. The day was packed with insightful, practical and inspiring conversations and keynotes from AI thought leaders from companies like Facebook, Uber, AirBnb, Amazon, IBM, NASA, BMW, Sentient, Singularity University, Stanford University, Bloomberg, and Accenture.


---


TICKET POLICY
All sales are final and tickets are non-refundable. Tickets can only be used by the ticket holder, but may be transferred to another person if the request is made within 10 days of the conference.
---
FAQs
What are my parking options for getting to and from the event?
Fifth & Mission Garage #51 - This is closest and most convenient parking structure and is located across the street from the Bespoke Conference Center. We recommend parking here if you're attending the event via car.
Where are the main entrances to the BootstrapLabs Applied AI Conference/Bespoke Conference Center?