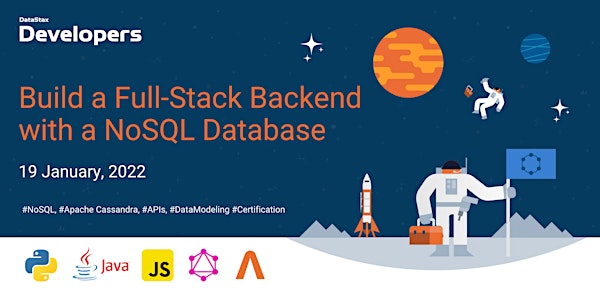 Bootcamp - Build a Full-Stack Backend with a NoSQL database
In this session you will be coding your full-stack backend with Cassandra Drivers!
About this event

About the Bootcamp:
Each week will see 2 hours of live teaching by the DataStax Developers in the form of a workshop. Like any online course, there will be a number of homework assignments to complete during the course of the week. The total learning time per week including live teaching and homework tasks is approximately 3 hours.
You can decide to tackle as many or as few weeks as you want. There is no penalty for not completing the homework tasks, however we highly recommend that you do in order to prepare for the certification exam and to claim your voucher to sit the exam for FREE!
Each week is standalone, meaning you can come and go as you please.
Note: You will need to register for all 4 workshops separately. Scroll down for additional event sign-ups.

Build a Full-Stack Backend with a NoSQL Database
If you attended our previous sessions, you now have your database running and data model ready to rock. It is now TIME TO CODE !
In this session you will learn how to connect, build queries and execute any workload on top of Cassandra via the native drivers. These are available in multiple languages and so you can choose Java, Javascript or Python as your language for the hands-on.
If you have any questions you can jump on the DataStax Developers Discord community. There are a lot of people in the chat and you will always find help from more experienced community members, as well as the DataStax Developers themselves.