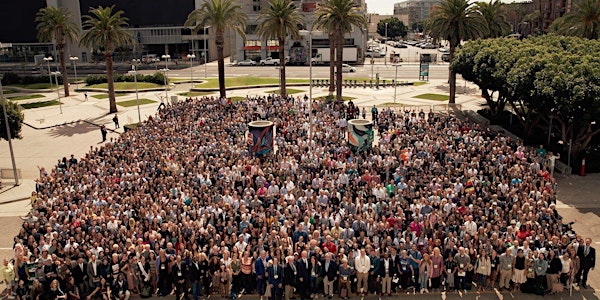 Boot Camp: Everything you need to know to give great Climate Reality talks
By Climate Reality: Sacramento Chapter
Date and time
Sunday, October 14, 2018 · 1 - 5pm PDT
Location
St. Ignatius College Preparatory 2001 37th Avenue San Francisco, CA 94116
Refund Policy
Refunds up to 7 days before event
Description
Whether you were recently trained as a Climate Reality Leader in Los Angeles, CA or trained months or even years ago, you are invited to join our upcoming Bay Area Climate Reality Boot Camp to help you strengthen your skills as a climate presenter. The Boot Camp will be held on Sunday October 14th from 1:00 - 5:00 PM at St. Ignatius College Preparatory School (address below). From 12-12:45 there will be an optional brown bag lunch with the chapter co-chairs and leadership.
During the interactive Boot Camp, you will:
Receive road-tested ideas on how to market and land upcoming presentations
Practice telling your own personal story on what motivated you to become a climate leader
Gain ideas on how to present to student groups as well as adult groups
Learn how to respond to tough questions from your audiences
Learn how to create and insert your own customized slides into your presentation deck
Present 15-20 slides from the CA version of "Truth in Ten" to a small group of colleagues
Get and give honest feedback on what worked best and what can be improved in the talks
Meet, get to know, and have some fun with your fellow Climate Reality Bay Area Leaders
During the brown bag lunch (bring your own lunch), Steve & Wei-Tai will share a brief overview of the chapter, all that's happening, and how to get involved. Meet members of the leadership committee and learn about various initiatives that they are spearheading. And most importantly have great conversation about ways that our chapter can have the biggest impact going forward and how you can participate.

There is a $5 registration fee to attend which helps cover the cost of refreshments at the meeting. The session will be limited to the first 50 sign-ups. We will meet at St. Ignatius, 2001 37th Ave, San Francisco, CA 94116.
The Boot Camp will be facilitated by the following session leaders:
Gary White (Toronto 2015) is the leader of the Education Committee of our chapter and a former high tech executive in Silicon Valley who is now retired. He has given over 165 presentations to date to over 10,000 people. He was a mentor recently in LA and is also the Group Leader of the Citizens' Climate Lobby - San Mateo.
Wei-Tai Kwok (Chicago 2013) is the co-chair of our chapter and spearheaded NorCal "meet ups" back in 2015. He currently works in the solar and renewable energy industry. He was a climate mentor at the Miami, Manila, China and LA trainings and has given over 75 presentations.
Steve Richard (Miami 2015) is also co-chair of our chapter and previously an organizer of NorCal meetups. He has presented Climate Realty talks via innovative formats, including the use of props and print-outs while leading local climate hikes. He delivered 10 talks in his first year, been a mentor in Denver, Seattle and LA, and now completed over 50 acts of leadership.
Karen Harrington (Denver 2017) is a founding member of CRP Bay Area and a retired nonprofit fundraiser. She is on the Fundraising Team and Speakers Bureau of 350 Bay Area. She has logged 40 acts of leadership, including 16 presentations. As a frequent traveler, she offers to give presentations wherever she lands. She has given talks in Thailand, Italy, Chili, St. Maarten, NYC, and St. Louis.
Michael Thomas (Denver 2017) is part of the leadership team of our chapter and a retired teacher, counselor, and coach at St. Ignatius College Preparatory in San Francisco. He has given over 30 presentations and has completed more than 35 acts of leadership. He is currently training to be a coach in Resilient Neighborhoods, a program in Marin county that trains groups of people to significantly decrease their carbon footprint on a daily basis.

Dan Linehan (San Francisco 2012) specializes in multiplatform storytelling and in science education, outreach, and communication. Addressing climate issues has been a daily activity of his for well over a decade. Dan has given over 80 multimedia presentations covering climate change and other science-related subjects.
David Kunhardt (Denver 2017) has given 18 presentations in the 18 months since being trained, and served as a mentor at the L.A. training in August. He is a finance professional who transitioned into solar energy for schools and municipalities in 2007. He was elected to the Town Council in Corte Madera in June 2018, and aims to commence a "100% Campaign" there this year.
Julian Aldridge (Denver, 2017) is a passionate advocate of the power of thinking and acting like a Challenger. Over the past nine years he's been working with companies to help them uncover, define and enact their Challenger DNA and story – from start-ups like Rebel Athletic to major corporations like Visa, Charles Schwab and Lexus. Julian has given ten Climate Presentations in the past 18-months, and has been helping with the 'Earth' campaign aimed at the November 2018 elections.
Steve Levin (San Francisco 2012) in addition to being a Climate Leader is a volunteer with Business Climate Leaders, an action team of CCL, to support productive engagement with business leaders to lobby for climate change legislation. He is expert in meeting design, facilitation, and participant engagement. As an executive coach and organizational consultant, he has supported hundreds of leaders to make their presentations more compelling and engaging.
Jodi Cahn (Denver, 2017) is a graduate of one of the earliest Bay Area chapter BootCamps. She has worked professionally over the years in writing, directing, and producing independent music and film projects. Additionally, she is an experienced corporate trainer specializing in negotiation skills classes.
p.s. Assuming enough interest, SF Bay Area Chapter plans to hold this BootCamp in Sacramento and San Jose later in the year. Let us know if you'd like to come or can help find a free venue.
About the organizer
Welcome to the The Climate Reality Project: Sacramento Chapter.  Led by Climate Reality Leaders personally trained by former US Vice President Al Gore on the challenges and solutions to the climate crisis, we welcome all citizens who wish to work together to learn and to advance solutions to climate change in the Sacramento Area and beyond.