Description
Join us on an evening event to explore the future of Swiss innovation through diversity, technology and networking.
Innovation is an important element for a company's success. Predicting innovation is becoming harder as the pace of change is accelerating.
Disrupting markets through innovation creates value that did not exist before. As well as the technological route to innovation, much of today's innovation is often generated by diverse groups brought together through online platforms.
How can we assure that we keep pace and boost innovation today and tomorrow? In this event we present and discuss the tools that are needed for innovation in today and tomorrow's world, focussing on Diversity, Networking through platforms and Technology.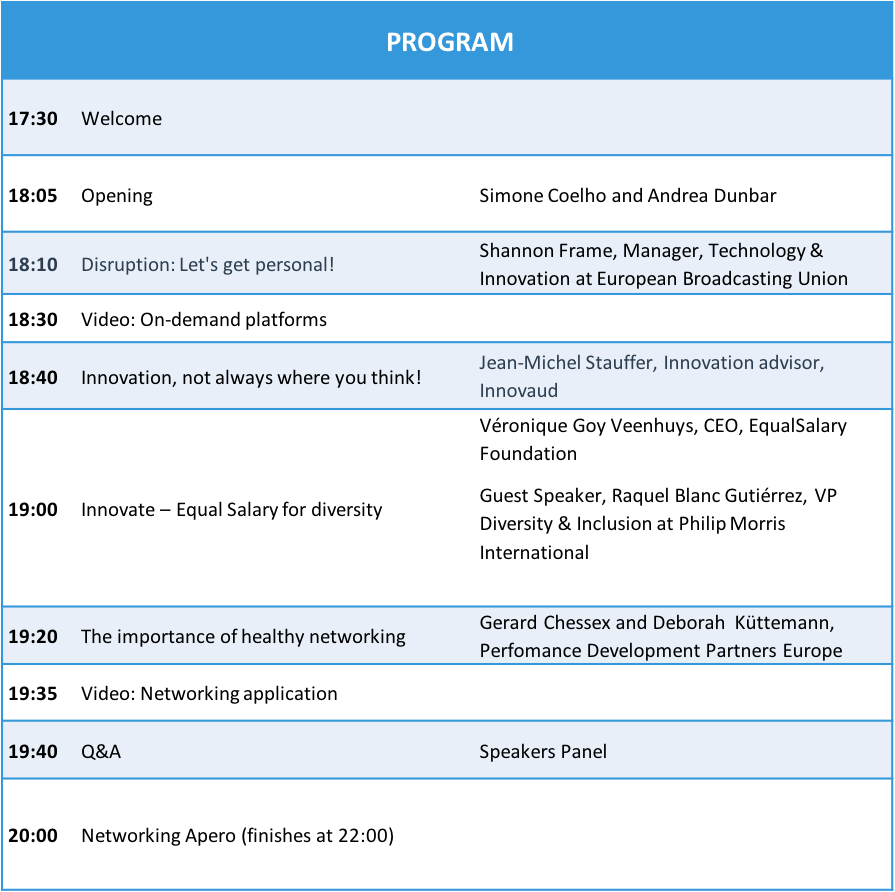 Sponsored by:

Supported By:

Raquel Blanc Gutiérrez

Philip Morris International

VP Diversity & Inclusion

Deborah Küttemann

WayBeyond Communications

Executive Coach (ICF ACC), Communications & Marketing Management Executive, Lecturer

Gérard Chessex, MBA

Perfomance Development Partners Europe

Senior consultant and lecturer

Shannon Frame, MBA

European broadcasting union / Eurovision

Technical editions manager, Technology & Innovation

Jean-Michel Stauffer

Innovaud

Innovation advisor

Veronique Goy Veenhuys

EqualSalary Foundation

Founder and CEO